Interview with Jonathan Torgovnik
The most famous body of work by Israeli born Jonathan Torgovnik (1969) is Intended Consequences – a powerful series of portraits of women who were brutally raped in the Rwandan genocide and the children they bore as a result. An estimated twenty thousand children were born of rapes that occurred during the 1994 Rwandan genocide. Eighteen years later, the mothers of these children still face enormous challenges, among them, being stigmatized within their communities for bearing a child fathered by a Hutu militiaman. Torgovnik documents the experiences of these women, giving them an opportunity to tell their stories. Torgovnik is also a co-founder of the Foundation Rwanda, a non-profit organization that supports the secondary school education for children born of rape in Rwanda.
Jonathan Torgovnik's photographs have been widely exhibited and published in numerous international publications, including, but not limited to, Newsweek, Aperture, GEO, Sunday Times Magazine, and Stern. He has been a contract photographer for Newsweek magazine since 2005, and is giving lectures in the faculty of the International Centre of Photography School in New York. He has received numerous awards such as The National Portrait Gallery Portrait Prize, World Press Photo prize, The Open Society Institute Documentary photography Project Fellowship Grant, and Getty Images Grant for Editorial Photography.
I met Jonathan for a short conversation in Arles where he later that week was awarded the Discovery Award of the Photography Festival Rencontres d'Arles.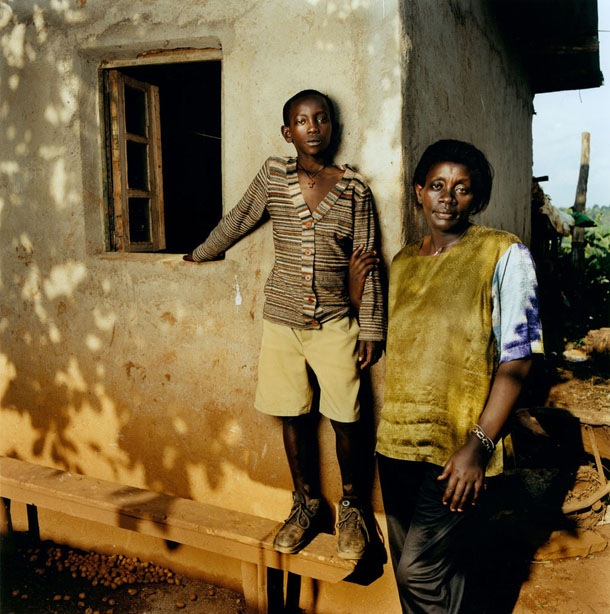 How would you introduce yourself to someone who is not familiar with your work?
I'm a photographer! I'm a photojournalist and very interested in social issues. It's curiosity about the humanity that drives me. I'm sometimes investigating issues that I feel underreported. I try to publish my work and get it out to the public.
You work on very difficult subjects. When I first discovered your work on Rwandan women and their children, I was wondering how something so beautiful could hide such a heart-breaking story…
In a way, that was something I wanted to achieve – to show these beautiful portraits with dignity, especially, in an exhibition site where someone doesn't know what it's about. When you're in the exhibition, you see portraits in the environment but then you start reading about it and then you're surprised, or shocked. That is what I wanted – to be able to use the medium, the photography, and to raise awareness and hopefully spread the word about this issue. People sometimes get tired of documentary, so you need to find a way how to use this genre, I did it through the portraiture. I didn't feel like photographing the daily life, I wanted to engage people, so they know more about the subject. The text, of course, is very important to this project.
What is your story of becoming a photographer?
I've been interested in photography since a very young age. My mother and my great grandfather were painters, my mother was also a curator at the museum. I borrowed a Nikon from my father once and started taking pictures. I begun to have some photography classes when I was in high school and I felt that was something I wanted to explore. Then I did my military service, partly as a photographer. Without any former training, I had to photograph different units, operations and this is when I really felt the photography but I also knew it would rather be documentary than war photography. I am a big fan of Mary Ellen Mark's photography, for instance. Her documentary portraits are simple but beautiful and with something in them that makes them successful. It's hard to get! Then in 1992 I went to New York and studied at School of Visual Arts. I had this dream of being in an art school in New York and this photography programme gave me a lot, even though I can't say it was a defining moment. It gave an exposure to people, to New York and it was inspiring and I grew as a person and prepared myself to do what I am doing. I did the Eddie Adams workshop at the last year of my school and then travelled to Asia for six months. I was exposed to Indian industry of Bollywood and I saw what a big influence the cinema was on the social identity and culture of Indian people. With a Kodak award I won in 1997 I decided to do a project there. I was very naive; I didn't know much, didn't have any contacts, just bought a ticket and landed in Bombay. That became my first big project which took me five years to complete. It takes a long time for me in general to finish a project and then I need time in between to start a new one. I really need something deep inside me, to feel passion that takes me to a place where I start a project. So, at first there was not a lot of interest in my India project, but then Bollywood became this really fashionable thing and I was the one who had a big body of work. So, I published my first book with Phaidon. It was when I really started my career. It's not easy for a photojournalist but I didn't have any doubts about photography, ever. It's really the only way to succeed – to believe that this is your calling.
What are you doing in South Africa now?
I moved to South Africa about a year and a half ago. I really wanted to do more work in Africa, and after 19 years in New York, it felt I needed a change. I still love New York but it was very spontaneous – I spoke with the agency I work with and they supported my idea.
Are you working on a project now?
No, for a moment I only work on assignments. I'm really busy, travelling all the time, so I don't honestly have time to engage in a big project. I have a few ideas I want to work on though. To be honest, I chose South Africa just as a base where I can have a reasonable quality of life. I can't claim that I came to South Africa to get fascinated about the South African politics. I am interested personally, but not in my work. Being in Africa, of course, makes you more involved. It has a very complex history, I'm closer to the issue and it makes me do more work.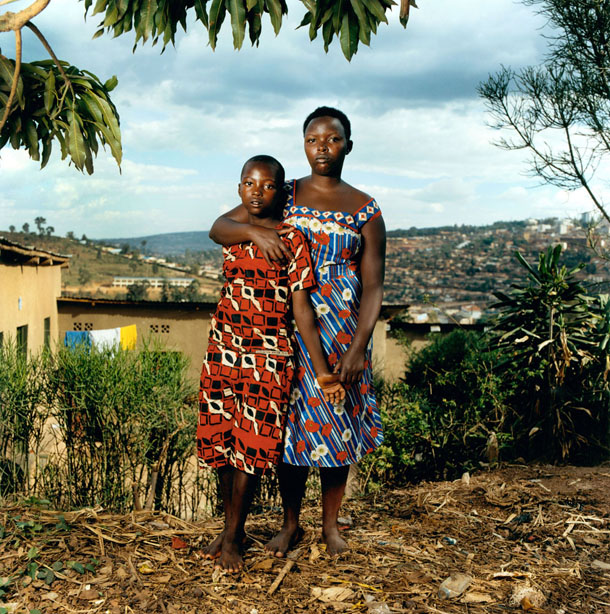 Please, tell us more about the Foundation Rwanda!
The Foundation Rwanda was something that I started as a result of the photographic work I did in Rwanda. When I interviewed those women, the last question I always asked was: "How do you see the future?" They always answered that they didn't, that they had to live through today, that they had problems to resolve and that they weren't capable to think for the future. Then I asked if they had means, what would they do? And they always said that they would make sure that their children get the education. I found that amazing! After all that happened to them, the complexities they had – many of them were diagnosed HIV positive, the fact they are very poor, the first thing they think about is the education for they children. It was beautiful that they understood the value of education. So, I thought how I could help them. Initially, I thought I would just ask some friends and family if everyone can give $100. But in that process I asked Stern Magazine who were the first to publish this work if they were willing to mention that we were raising the money. From that publication alone 100,000 euros came in! It was shocking! Then Telegraph Magazine published it and from that, 70,000 pounds came in. I was hoping to publish but I didn't really believe in it. I was sceptical because the magazines tend to avoid these kinds of subjects. Yet, the way I presented it – through beautiful portraits, it worked. That was the seed money we started the foundation with. Now we have raised almost two million dollars and we support around 860 families in Rwanda. I'm not working at the foundation day-to-day anymore, I'm at the board, monitoring. It happened in an organic way and I'm happy we were able to use photography to change the world. I believe in that and I'm a proof that it's possible.
How does the inspiration that leads and comes from your work go together with the difficult subject you choose?
I think inspiration and difficult subjects go together, that's where inspiration comes from – people. I'm inspired by people, the stories they tell, I'm inspired by strong people who have a voice to express who they are, what they are because of the circumstances. I feel that the photographers, journalists, writers, artists can give a voice and help provide these people with a platform, to share their stories to the world. Specifically, in this case, these women don't have ability to express themselves, they are wrongfully judged about what happened to them. They are the most innocent, beautiful, strong people I've ever met. But they were raped, the families were murdered, they have these children, they have HIV but still people are against them because of the stigma. In these cultures, people put them away, not help them. Where I grew up, in my world, that's wrong. So it's my choice to try to help them, maybe even we can change the way of thinking. It is naive in a way but I do believe that there are things we can change. I believe that every little bit counts. It's better to do something than standing aside and analyzing for years. I believe in taking actions. Thousands of people have been killed in Syria while the UN is thinking. It's outrageous! But that's politics, we're artists. See, I don't owe anything to anyone, I can say what I want and I can do what I want, people can criticize me but I can do it.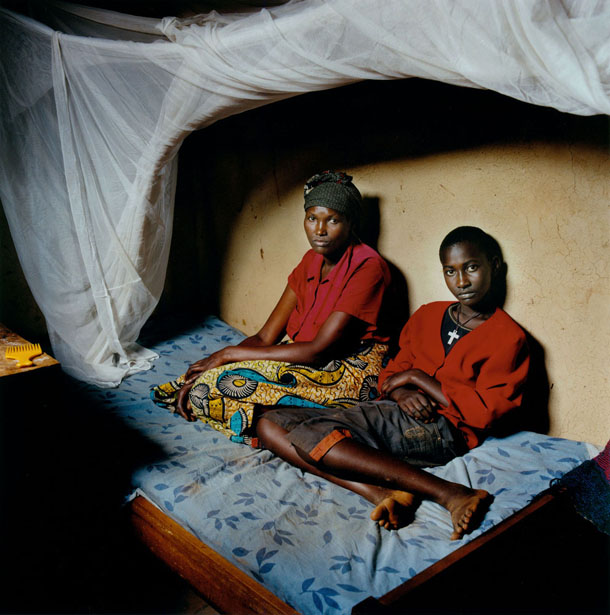 I was also thinking about the choices people make. For example, the people in your series Meth Epidemic in America have a choice, but instead of a healthy life, which is easy to have in the Occident, they choose misery. Whereas Rwandan women would choose a different life if it was possible…
You're right. You need to make choices in your life, we all do. It's true and not because in some of those environments it's not easy to make the right choices. Example of that family, that was the first time for me to see a really poor white American family. What choice do you have when your father had started using when he was 14? What father figure do you have? Yes, you have a choice but this drug is so addictive and the father who's supposed to guide you to the right place, guides you to the wrong place and make you an addict. That's the life you know. What are you going to do when you're 22? Go to the university? You know nothing else, you've been arrested for many times, you sell drugs, you're an addict. This is what they know. But I'm not giving any excuses, you have all the opportunity in the world if you take advantage.
You have travelled so much and met a lot of amazing people. Has it somehow changed you?
The Rwanda project changed me the most as a person. Maybe not changed but influenced me, my thoughts and affected me, my thinking, my work and emotions. It's the most important thing I've done so far. The encounters with those women, the time I was working on the project is the most gratifying, mind-boggling. It made me think about myself, of life and humanity. I'm glad I was there and the success of the project, what I learnt, is that for us – photographers, journalists – to be able to succeed, to tell these stories, we need partnerships. I was lucky to have several institutions that came to help me. Aperture is a big one – they published my book and organized an exhibition. Also, the Open Society Institute, which supported the travelling exhibition, must be mentioned. The Foundation Rwanda is, of course, another kind of support system, too. Media Storm, who did the film, and Amnesty International which developed the curriculum about the human rights that is a guide for educators to teach about the consequences of sexual violence and genocide at schools, also took part in the project. We all came together to collaborate on this project. And again, it all happened in an organic way. It's difficult to do it alone.