Photography as a solution
John Fleetwood (1970) is the Head of the Market Photo Workshop, a school and gallery for photography in Johannesburg. The Photo Workshop, founded by David Goldblatt in 1989, offers courses and multi-layered development programmes that respond to the complex conditions of South African education, culture, and identity. Fleetwood guides both the educational and artistic frameworks of the place. During his ten year tenure at the Photo Workshop, he initiated the Photo Workshop gallery, one of a few galleries dedicated to photography in South Africa, as well as the Photojournalism Documentary Photography Programme, the sole photojournalism training programme of nature on the African continent; as well as various mentorship programmes for developing photographers, including the Edward Ruiz Mentorship, the longest established photography mentorship on the continent.
Is photography popular in South Africa?
I would say that photography is genuinely popular but perhaps there might be different understandings of different sections of public. I think that broad African public are probably not as much consumers of photography practice in the professional sense, they would not necessarily go to the galleries. There are several layers of economic reality in South Africa, so we're talking about the middle class and the rich people. I'm sure there are many of them that are able to access the galleries but I would still say that the majority of South Africans are very rarely able to go to the galleries. I also think that it is pretty much the question of representation. Historically, South Africa has had lots of images photographed through the eyes of white practitioners and it brought some resistance of the Black public. That's where the Market Photo Workshop comes in. We are very dedicated to trying to address that issue, we are building up a new crowd of young people looking at photography. At the same time feeling that it is representing something of life. If I have to talk about the workshop, I think we have a good support from public, it is important for us to slowly but surely grow. It has a potential to become more popular than it is now.
What is the role of the Market Photo Workshop? What do you do?
The Photo Workshop is a school of photography on the one hand and on the other hand, it wants to serve public in a broader sense of engagement in photography. As a school, we run several different courses – there are foundation and intermediate courses, also the advanced programme and courses in photojournalism and documentary photography and there are two and three months and a year and two years courses. They are short in comparison to typically 3-years university courses but they are structured in a way so that people could access photography in the education field, regardless of the time of the year. After long time we have realized that contextual realities of arts and education are not just drawing people in the classroom, you have to think about other ways that are more specific for a post-apartheid colonial reality and we have to develop projects through that. One of the projects, for instance, we worked on was Back and Forth on migrant workers, traders between Johannesburg and neighbouring countries, focused on the living and working conditions of traders – particularly the factors that make them vulnerable. The other project is Heritage Project which was looking at the political history of an area called Makweteng. It's about 100 km out of Johannesburg where, as the city extended, there were forced removals in the 1950s and 1960s to new suburbs. These projects are vehicles for us and for photographers, after a formal training, to create a new layer of understanding of photography in a real working environment and also to give them something for their CV's, so they have a more relevant portfolio. It's also important for us to choose these kinds of projects because we believe we can build social awareness through them towards the public in broad but also we are hoping that we create a certain method, a template for the young photographers, so in future they would consider methods in more careful way. It's a good way to practically be able to follow of what people are doing.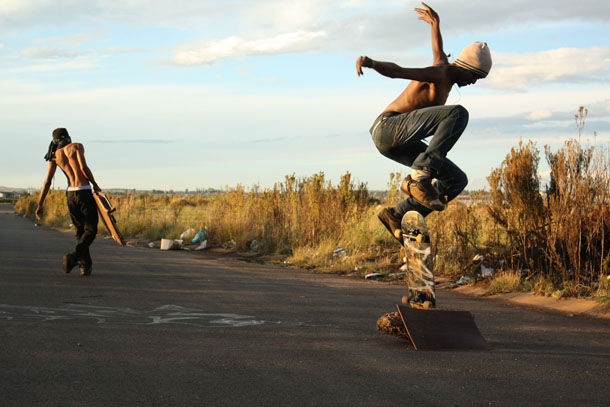 Who are the teachers at the workshop?
We have a range of different teachers, the majority of them are freelancers, so they work as photographers on a daily basis. The importance of that is that we want to expose the students to the widest group of trainers as possible but it is also important to get students to understand the different realities of work. We have important photographers coming in, in particular, the mentorships that we run and through which we support the photographers to do work with a particular mentor. Photographers that might be well known to Europe, as Jo Ractliffe, Mikhael Subotzky, even David Goldblatt at a certain time, became mentors in these processes, and I think it is an important exposure that helps to realize that becoming a serious photographer in the world is attainable, it's quite possible.
On the whole, how important formal education is?
Formal education is important but it shouldn't be the only focus. We can greatly understand the luck of formal school education, there are huge questions around the language and by that I don't mean English but the comfortableness of dealing with critical concepts and being able to articulate and critically think through the process of expression. There are very basic questions that South African education is dealing with. Despite that, photography is very much practice-based process, therefore it is important for young photographers to understand that theory and practice merge intrinsically, there is no separation and it doesn't help to do the theory and not to do the practical work and vice versa. I also think that learning is a life-long process; you probably learn a certain amount of photography to give you an access to learn further, for us it's critical. It's a stepping stone to become a photographer, not to become a photographer in one year. Many photographers from the workshop would struggle during a few years to get a voice. It's particularly through the opportunities like mentorships that people have an ability to develop a body of work and once you have it, looking back, you've hopefully learnt all the aspects you should have learnt. It's a good balance between theory and practice that's necessary. The Photo Workshop is an important non-formal educational space and we believe that the way of training people is a process of practice, experience, and engagement. When people go to different exhibitions, when they start to engage with the world out there, that's when the theory starts to make sense. It's important for them to be exposed and engaged.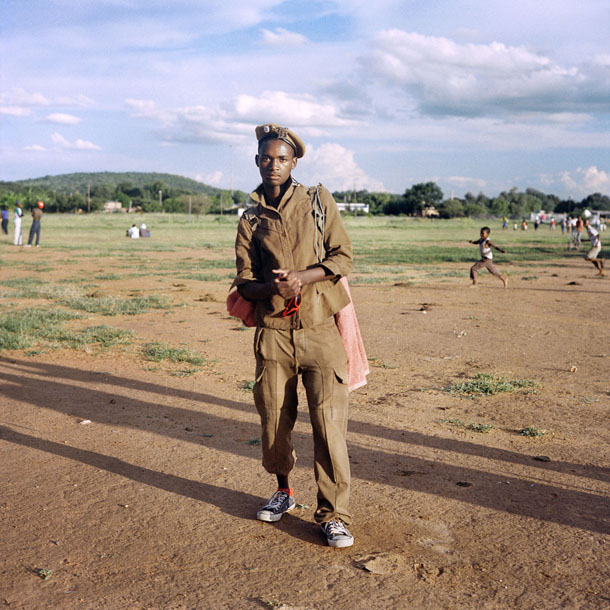 Do you think that photography is space and content-determined? If yes, what are South African particularities?
I think that all photographers work to some extent from a localized perspective. That's where we start. The function, the role of photography in the developing world is different, we need to acknowledge the intersection between art, education, and social imagery. There is a particular convention in South Africa that is very strong and that stems from struggle that had developed a very clear understanding of photograph as a vehicle for resistance rather than a document of art. The deception has for a very long time lingered in South African context where images had been used to describe things like identity as a document. It's still very important, the identity needs to be defined and it's only in time that it will become more clear. The principle is, as these identities get clearer, when the debate or definition gets exhausted, people and photographers move on. I think that there are signs of that in different, more conceptual ways. South African photographers are very much influenced by the world and the industry out there, there is a particular market, and the market buys a particular kind of images. The photographers around the world assume that they should follow that trend. It's very important for us to help photographers to understand that it is not necessarily very healthy for an artistic development. At the same time, it is also a role to ensure that the photographers do engage and the industry become independent, so it's a bit of a catch for the institution, as the Photo Workshop. Broadly speaking, there is a very clear South African identity around photography – the images are typically engaged around social issues, often around historical present, there is much thinking about where we are now. I think it's very necessary, it's amazing how photography reflects solutions for a country. I'm a firm believer that culture is a way to find answers to your problems. And problems in South Africa have very much to do with the identity, therefore identity is very relevant and present in photography.
You also run a gallery. Is it directly related to the Photo Workshop?
The gallery came into being by the importance of showing people's works. The gallery has two purposes; one is to showcase, to try to identify young, emerging photographers and give them a platform to show their work. The other is again the critical learning, it is about the space where a broader public would be able to interact with the photography and understand that the photography is not just often about the outcome, it's also about the process. We are trying to expand the exhibitions that have the ability to facilitate progress in the development of a body of work, giving people clues in terms of history, influences, so that photography is not understood as two-dimensional artwork but that it also makes one think about the consequences of the process. We are very interested to see how the gallery can make such a linkage. Unfortunately, photography is often seen only as pretty pictures and we want to give South African public in particular, the engagement with the imagery that need information and context to involve better, and we hope that the gallery can do that.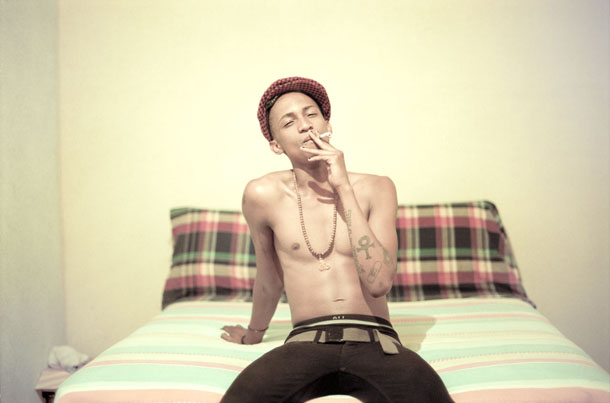 Do people buy photography in South Africa?
Unfortunately, the reality is that South Africa is a third world country and often in the developing world, there are very little extras. With the emerging middle class, there is potential to create a stronger market but I'm not sure if that has developed and it's nobody's fault, I guess. Somebody has to build a very serious awareness campaign to be able to support in a better way. Some galleries in South Africa, especially, Stevenson gallery, are doing very well. They are taking risk by showing young photographers, I think it's quite remarkable, it's not often seen. We mostly work with student work, we have not been able to really bridge an understanding of working between a non-profit space, which we are, and starting to sell images to a larger commercial market. We investigate at the moment as a way of fundraising, strategizing around how we can distribute images but at the moment we don't sell. I think the operational, commercial galleries will tell you that the majority of the clients are international.
But do you agree that in general, painting and other art practices are still easier to sell?
If you look at South African arts landscape, the photographers are particularly successful internationally. The galleries are thus able to sell photography probably equal to the rest of art practices. But there is an obvious tendency towards the painting, yes, it's much more consumable. It's about the contents as well, as I've spoken earlier, the content's shift is becoming more relevant and because there is an international name to South African photographers, I think that local people are starting to think about it. But it could be more accessible, as it's still upper middle class and rich people who buy photography.
What is your background?
I started with political studies and then did a photography course. It's also about the particular moment when I grew up that was very much embedded in a very strong apartheid memory. As a student, it was quite extreme to be in South Africa, it was a very particular space. Personally, it was a huge transition in understanding of what human rights are, what they really mean in a society where you were taught around national ideas. As I started with the Photo Workshop, I engaged through practice and sharing with a wide group of people and I've been very fortunate with colleges and boards I've set up to support the Photo Workshop, there has been a fantastic learning for me as an individual. Again, the question of formal and non-formal education, I probably learnt the most relevant aspects of my job through working at this workshop.