10 minutes with artist Astrid Kruse Jensen
Astrid Kruse Jensen (1975) is a Danish visual artist who has specialized in photography. The author creates enigmatic works, mostly in darkness or twilight. Photography is a medium that similarly to memory can merge imagination and reality. Jensen's photographs are held in several private and public collections, including the archive of the National Museum of Photography in Denmark. Also, the author has received several international awards and this year she got nominated for the prominent award Deutsche Börse Photography 2014.
Astrid Kruse Jensen is one of those 16 authors, whose works are currently exhibited at the Riga Art Space in an exhibition Viewfinders. Contemporary Baltic and Nordic Photography organised in the framework of the Riga Photomonth. The exhibition offers works from Jensen's project The Construction of Memories, 2006 -2009, which has been created as a visualisation of the author's memories, feelings and imagination. The show is open till 5 June.
All your pictures in this series are made in the dark. What is so special about being in the darkness?
What I like and always have liked about working in the dark is that I don't show the surrounding as it is. At night, I can manipulate and interpret the surroundings while the photograph is being taken. I can underexpose or over-emphasize certain areas of the picture. For example, the forest, I want to keep a part of the motive in the darkness. By photographing in the dark and by letting parts of the motive be in complete darkness, I also want to intrigue the viewer. To make him feel that, even though he kind of knows the place, there will be elements, which are unknown. Some images that seem to be completely dark from far away become clear and it is possible to see specific elements only when you get closer to them. It's like when the eyes are slowly getting used to the darkness. By letting parts of the motive be dark, I also create the space where the viewers can put their own stories.
As I work analog, there is a lot of testing to find the wanted result. For example, for creating the image She was looking for herself, I made many tests to find the right exposure so you actually could see water while keeping it in a complete darkness.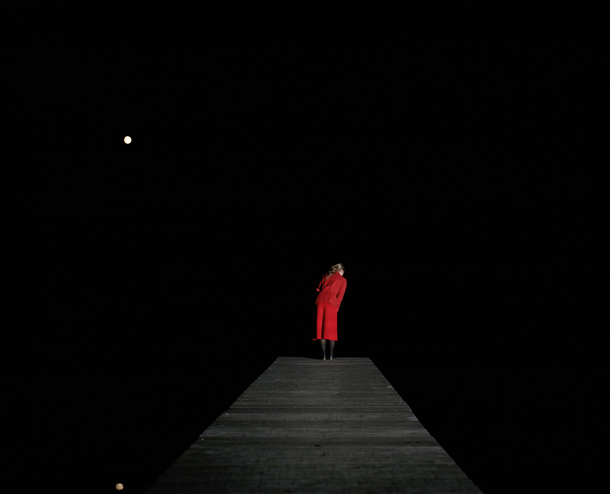 But then you use artificial light to highlight some elements?
Yes, sometimes. It's a way to take a concrete element of reality and push it a bit away. In a lot of works I use the lighting that is on the location. Sometimes I combine them.
It looks like it requires a lot of preparation before making a picture. What does it involve?
The pre-work involves writing and exploring the place. I have a lot of pictures that have been written; I just have never found a place for them. For example, here in the picture with a tree I wrote the image in the studio one and a half a year ago before I found the tree.
That's a unique approach to write the image at first, but how do you find the right place to make it?
You know I was really looking for this specific tree. It was interesting, I went to Sweden to find the tree, I took a lot of pictures with different trees, but it never worked and then I found this tree that is very close to my house where I live with my family.
Some of the places are familiar. For creating the picture She was looking for herself I couldn't find a place, where I could create the work in complete darkness. I really needed a place that was isolated. Sometimes I even looked at Google Maps. I really spend time trying to find the locations. Often photographers bring their camera right away, while for me it is different – I write the image first and then the last thing is to find a place that is right to make a photograph.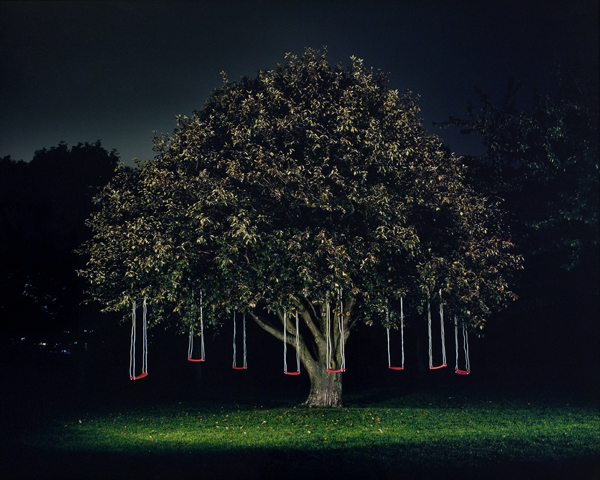 Is the text somewhere published?
No, never. Well, maybe one day.
How is photography related to your own memories?
Photography is so much related to memory; we always photograph those important events of our lives. But I always have been interested in how that actually creates our memory.
There is often a woman in the pictures – is it your self-portrait?
It is a self-portrait, but it is not really a self-portrait. I rather see it as a symbol for a woman who is pregnant and the whole thing – when you feel that it is the biggest thing in the whole world and that this thing inside you is bigger than you.
Another image is called Creating angel in the snow while there is no snow there. For me it was very much an idea that as an adult you forget those things – we learn there is no snow so we can't create that, but as a child you just imagine. So it was about creating a work for me as an adult. Therefore I made an image in a space that is so green for a contact between the real world and the imagination. I like that in some of the pictures you don't see the staged elements while in other ones it is really obvious.
If this project is complete, what are working on now?
Yes, this one is complete, but I am still working with the idea of memory.