Vivian Maier – Still Missing
The recent movie Finding Vivian Maier has reawakened the discussion around Vivian Maier (1926 – 2009) – the nanny/photographer from Chicago discovered a couple of years ago. For most of her life Maier worked as a babysitter, and alongside her duties she was busy photographing the world around her. Now after several exhibitions and publications of her work, Maier has been proclaimed as one of the greatest street photographers of the 20th century. She photographed some of Chicago's most sombre districts, and when she turned her lens to the wealthiest members of society, her gaze often accented the grotesque features of their thick fur coats and long pearl necklaces. At the end of her life, Maier lived in poverty. She didn't own an apartment or a house, and at one point she could no long afford to pay for the storage of her archives that included more than 150 000 negatives, undeveloped films, and tons of old newspapers, amongst other things. All of this was sold in auctions, where her possessions were bought by collectors.
The majority of her archive was purchased by the historian, real-estate broker and amateur photographer John Maloof, who has now also become a director. Together with Charlie Siskel, Maloof created the film Finding Vivian Maier. Maloof has worked hard to create a Hollywood type of story out of her life and photos, that tells of a talented nanny (a parallel to Mary Poppins appears several times), who hid her amazing photographs all of her life, and a young man, who finds these images by accident in an auction, and buys them for almost nothing. Suddenly, he got the attention of the world.
Maloof takes part in the movie – as himself, no surprise. He tells his story of how Maier's work was discovered, and how the search for her life story is still very much ongoing. At the beginning of Finding Vivian Maier he asks a question that seems to puzzle him a lot, and thus becomes one of the main problems the movie tries to solve: "Why is a nanny taking all these photos?" The movie critic Anthony Lane reacted to this with the only possible answer, in his opinion: "Why not?" Here lies one of the main problems of both the film and the marketing strategy of the entire "Vivian Maier business" – the story constructed of this person is based on a very stereotypical view of 'how things should be'.
Really, why couldn't a nanny also be a talented photographer? Why should anyone who is good at taking pictures or likes to do it, try to become famous with their work? In her comment on the movie – Vivian Maier and the Problem With Difficult Women – in the New Yorker, Rose Lihter – Marck stresses that the conventional divide between domestic work and artistic ambition is very present in the movie, and nobody can really understand why Maier has chosen the first one out of the two.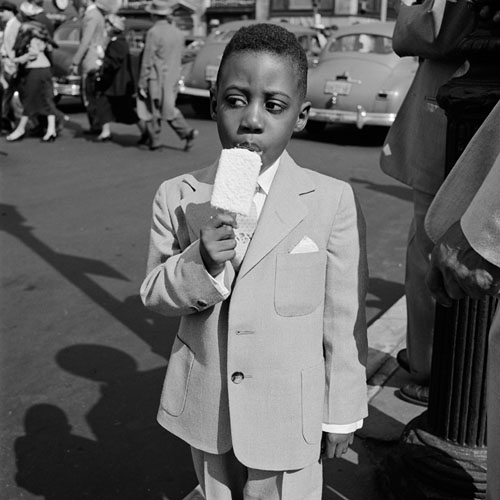 Finding Vivian Maier emphasizes the moodiness of the photographer, her weird habits and above all – her 'dark side'. She dislikes the wealthy and despises men; all of this gives a certain air of mystery to her character, which arouses suspicion. What made her so extravagant and reserved? Why isn't she married or dating? Is this because of some childhood trauma? Sexual abuse? Lihter – Marck mentions Yoko Ono, Marie Curie and Emily Dickinson as similar cases, where "stories of difficult women can be unflattering even when they are told in praise. The unconventional choices of women are explained in the language of mental illness, trauma, or sexual repression, as symptoms of pathology rather than an active response to structural challenges or mere preference."
Lihter – Marck's feminist critique is accurate, because, really, it seems unfair, that such a strong person as Maier – who was fearless, and went to photograph the darkest corners of the city, who travelled around the world – South America, Asia, Europe – by herself in the fifties and sixties – is reduced to some kind of strange lady that we should feel a bit sorry for. This makes one wonder whether the question shouldn't be turned around, and instead of asking what was wrong with her that she made such unconventional choices, we should ask – what is wrong with ourselves that we're choosing such an unflattering angle to look at a person of great strength? Why is her courage and spirit being reduced to possible trauma or abuse? These questions are especially important if we keep in mind that there is no real evidence to prove that Maier was made a victim at any point of her life..
In the movie Vivian Maier Mystery, made by the BBC, the researcher Pamela Pannos emphasizes that today Vivian Maier is someone invented by people who love a good story. In this film (Maloof refused to take part, as during this time he was making his own) Maier isn't shown to have been such an estranged and odd creature – a feeling we get from the interviews conducted with Maier's previous employers in the movie made by Maloof and Siskel. The people interviewed in the BBC film, who knew Maier from the time she spent in France as a young woman, characterize her as smart and genuine.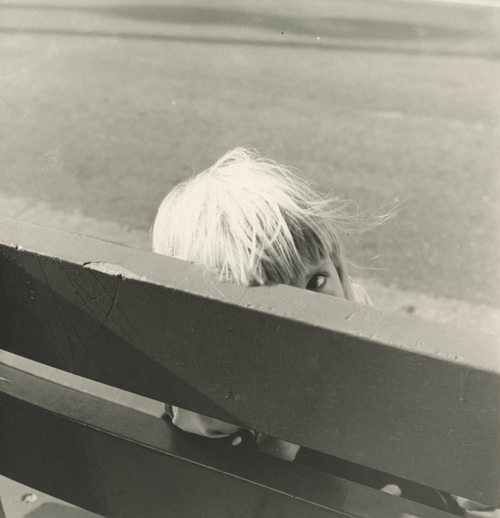 In one of the interviews conducted in Finding Vivian Maier, someone who was an employee in a photography shop where Maier used to go, admitted that for him the story of her life is more interesting than the photos themselves. The movie follows this idea – even though Maloof goes to visit some important photographers – Joel Meyerowitz (he participates as an expert in both movies) and Mary Ellen Mark – in order to talk about Maier's photos, the context and analysis of her work is secondary. Of course, it's possible to argue that the movie is about Maier's life, not a tour through the history of photography, but at the same time I believe everyone is fully aware of the fact that she wouldn't have become famous due to her large newspaper collection. Thus, it's important to keep in mind that no matter whether Maier was or wasn't slightly dark or peculiar as a person, the questions regarding her character should not overshadow the importance of her work.
There are a lot of problems regarding Maier's archive – editing, copyrights, printing techniques, etc. In the BBC film, Meyerowitz is open about his concerns: "What kind of editors are they? What would she have edited out of this work? What would she have printed? How do any of us know what the real Vivian Maier is?" His questions are right to the point, as all of these aspects are important in the creative life of every photographer. There are many important choices to be made besides the one of when to release the shutter button – which photos to exhibit, how to present them, in what order, etc. Meyerowitz is asking us to change our perspective and to think of 'who is Vivian Maier' by the artistic choices she's made, instead of choosing to analyze why she was or wasn't nice to the kids she babysat.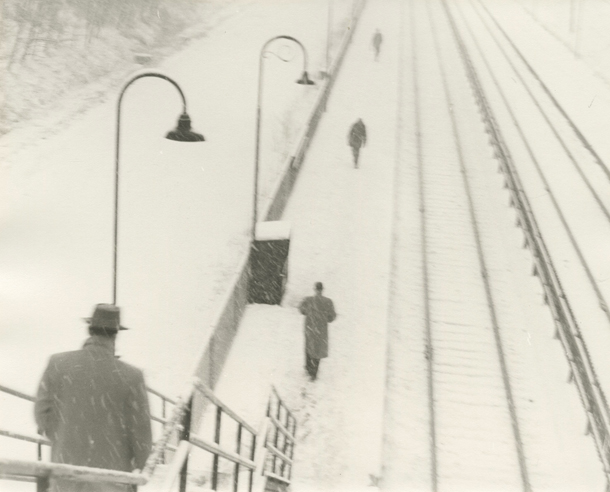 Michael Williams, who was one of the employees of a lab where Maier used to come to develop her films, emphasized that Maier experienced reality through photography. Perhaps that's why she didn't see any contradiction between the fact that she was working as a nanny and at the same time, taking hundreds and thousands of pictures. Perhaps she didn't have the ambition to exhibit her work or to become famous because she didn't like attention, but she was interested in collecting her experiences with photography, just as she collected newspapers and other seemingly useless things. She photographed only for herself, and perhaps this kind of inner necessity to react to the world is something that people (and especially photographers!) should think about in this oversaturated world of social media.
Taking into account everything said and described before, Finding Vivian Maier can't really be seen as anything more than a part of the "Vivian Maier business". The movie stresses the peculiarities of her personality and the unusual context of her work (let's not forget that she was just a nanny). Thus the story of the movie is based on well-oiled stereotypes, which definitely speak to more people than only those who know who Mary Ellen Mark or Joel Meyerowitz are. All of this could even be tolerable, if it wasn't for the hypocrisy involved. Maloof pats himself on the back for what an important job he's doing – in his own words, he's "discovering an artist", he cares for Vivian's story. These noble aims seem a bit fake. Solely the fact that Maloof feels the need to create such a discussion around the lifestyle of Maier, seems to indicate that he himself doesn't believe in the artistic potential of her photographs – otherwise, wouldn't they sell themselves?