Between realities and fictions. Discussion with the authors of Latvian Photography 2018
This year the publication Latvian Photography 2018 boasts the photo projects of Alnis Stakle, Līga Spunde, Toms Harjo, Andrejs Lavrinovičs and the winner of last year's FK Prize – Juris Zemīts, which focus on relationships between reality and fiction. The publication will be launched tomorrow, 8 May 6pm, at NicePlace Telpa in Riga and is one of the events of this year's Riga Photomonth festival. The editor-in-chief of FK Magazine Arnis Balčus sat down with all the authors of the yearbook.
Arnis Balčus: You represent various industries, yet photography as a medium plays an important role in your everyday activities. What is the significance of photography in your lives?
Andrejs Lavrinovičs: I work in photography as an amateur photographer; I take a lot of images on a daily basis, but I often don't show the outcome to anyone. Sometimes I collect photographs, including screenshots of art films. I also use 3D modulated objects, which are distanced from photography, but at the same time function as a close-up of the image, which could be perceived as a photograph, because it is often difficult to see the difference. I like if photography interacts with the object. For example, I am inspired by two artists Timur Si-Qin and Katja Novitskova, who have made the images spatial. To my mind, if photography works both conceptually and aesthetically, it is a big advantage.
Juris Zemītis: In my everyday life I am very closely connected with an image – I am a lighting technician in film production. I am engaged in photography because I don't have skills in anything else. I cannot draw, paint or play a musical instrument. Therefore I started to take photographs already in the elementary school. I am interested in photography from various aspects – starting with the definition of photography and ending with various opinions questioning whether it exists at all. It is a versatile medium, which I am currently trying to examine.
Toms Harjo: This field is relatively new to me. I became acquainted with contemporary photography by reading the FK yearbooks. I am interested to use photography as a tool to tell a personal story through making sequences and using editing. This kind of story is read in a completely different manner than in literature, for example. Currently I am also making a living with photography.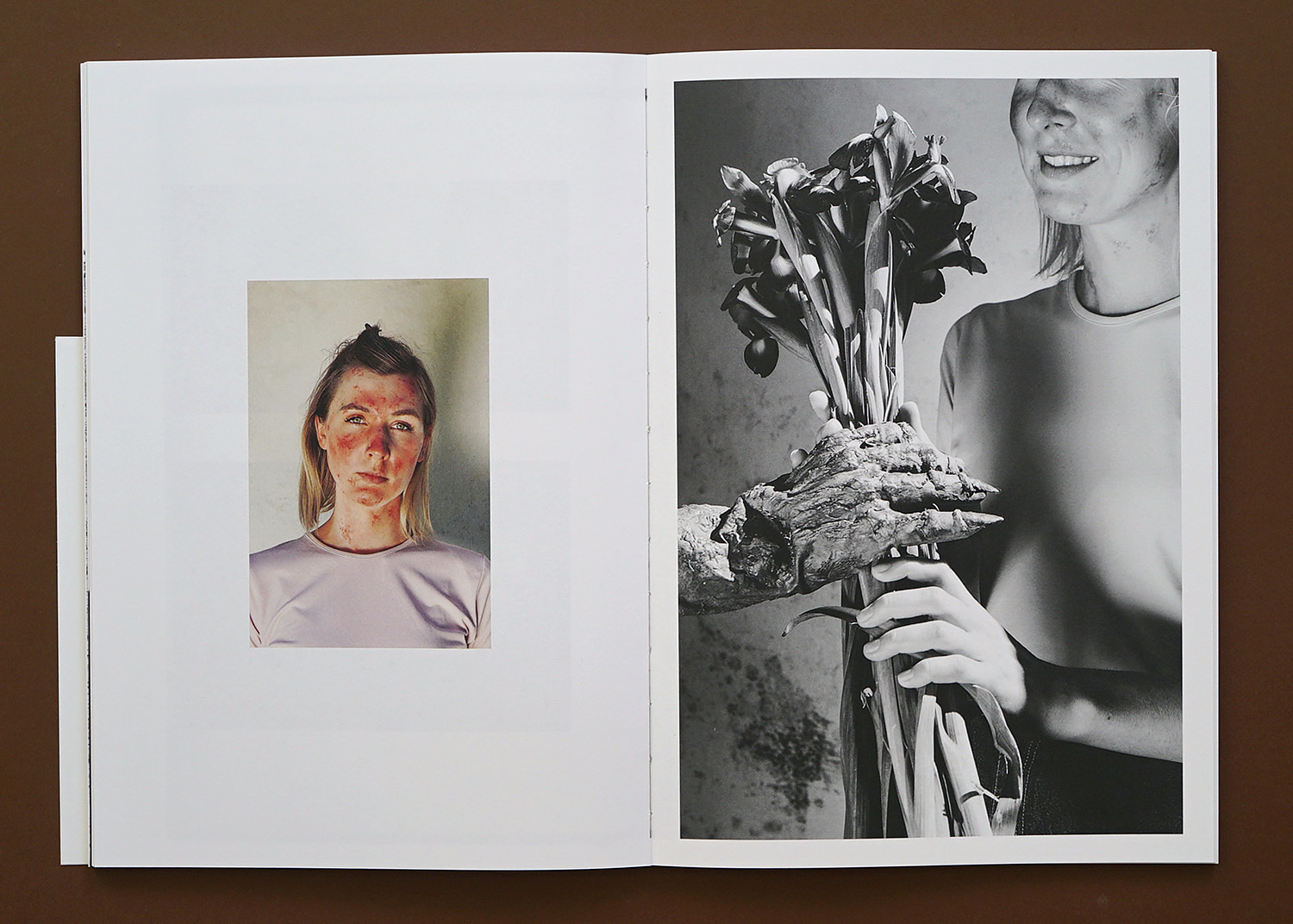 Līga Spunde: Nowadays the use of photography is very wide. Its role is increasing in various industries appearing almost everywhere. I work with visual images on a daily basis, and often these images are photographs. It takes a huge proportion of my everyday life. I like to play with the idea that photography is the depiction of reality, which nowadays is a controversial question.
Alnis Stakle: The role of photography in my life is permanent. I perceive it as a language, which we use collectively, in order to talk about different topics. I like to practice photography, as well as to look at the images, which have been inspired by anthropology or ethnicity-related topics and tell about bizarre, interesting places, people or lifestyles. Contemporary photography is like a quote of quotes, like an onion made by an artist. As a result, we don't even know the code that has served as a departure point, but we can have our own interpretation of what we see. Photography creates fake feelings, including to myself. It is fascinating. We sort of see something from reality, but in fact there are many inner processes, in which we construct our story. This is how a realist painting works. We naively believe that photography is a fragment or a copy of reality, but the brain needs only a tiny piece of information to creates the feeling that we see a landscape and enjoy its romantic or dramatic moments.
Arnis: What is your motivation when you work on the series presented in this publication?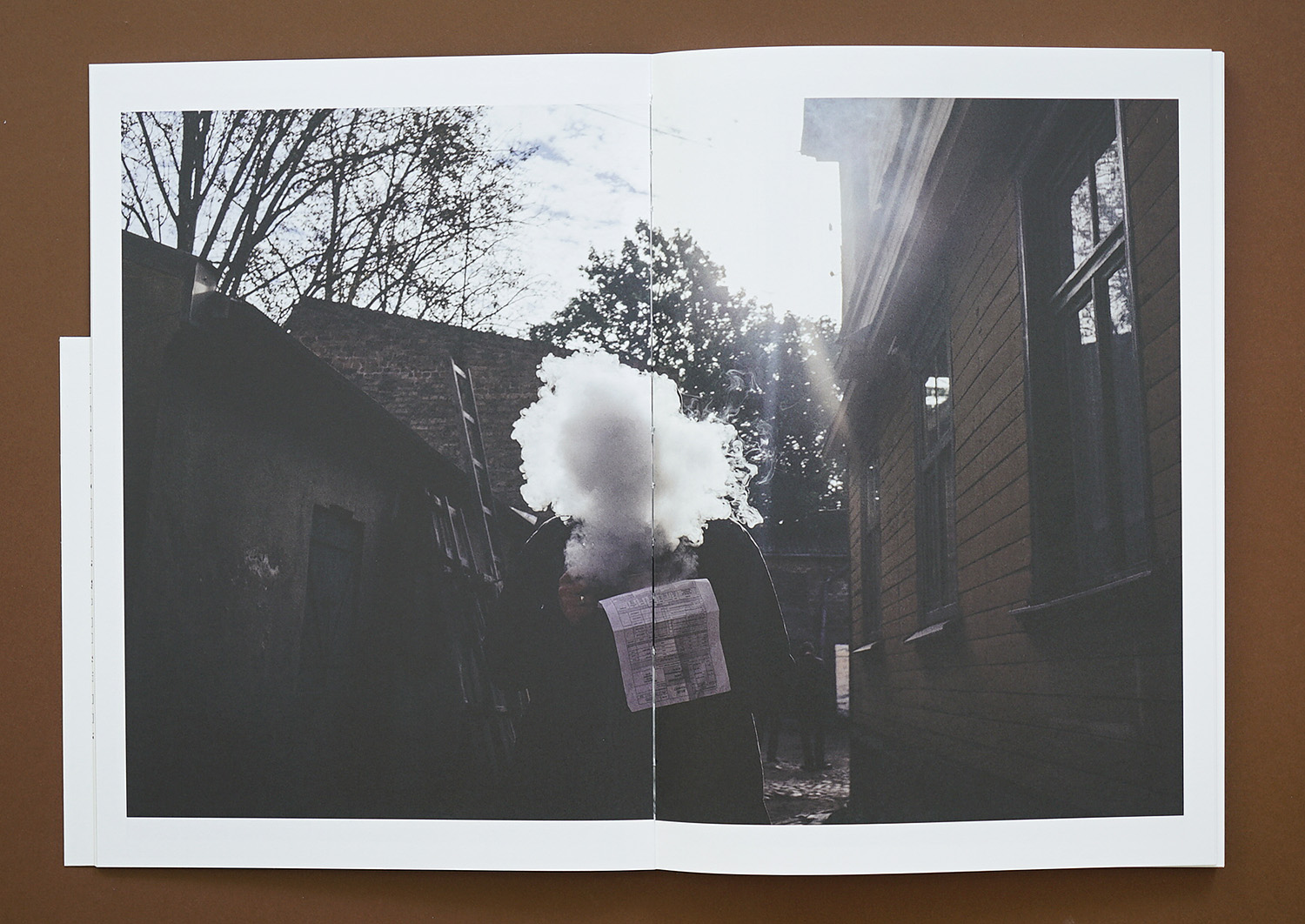 Juris: I have been working in the film industry for 12 years. To my mind, this environment is fantastic – more than the outcome. I like how absurd and funny methods are used in cinematography to create the feeling of reality. We do the same in our real lives, but cinematography is a more outstanding example. In my series I reflect on how reality is constructed with artificial means and the audiences believe in it. It is surreal and at the same time interesting, therefore I want to share my observations and reflections.
Līga: Similarly to Juris, a big part of my project is fiction. Especially the text about a fictional girl, who is a production designer in the film industry. The fact that she works in film production is a strategic decision because the project examines the incapability to connect with the situation or to adapt oneself to the situation both emotionally and physically. It is a story about alienation. Klāvs Mellis helped me to create the text, and we decided that the girl would be a production designer because it is an environment that is based on effects. The more believable the environment is, the more you will not fit in it. To us, it seemed like an absurd and interesting motif, which we used to tell the story. Eventually we added a variety of turning points to the story including real elements, too. In this series there are some key documentary images, which later obtained a layer of interpretation. One of them is an image with a waterfall. Both the fictional persona and her work in the film industry is a symbolical element that shows how much effort is necessary to achieve the effect of credibility.
Andrejs: I would say it's a challenge, as opposed to motivation. I use various digital images, as well as photography; they all create harmony. This approach immediately indicates a certain aesthetic direction. I have added brief textual information to my materials. The text can be understood together with images, or without them.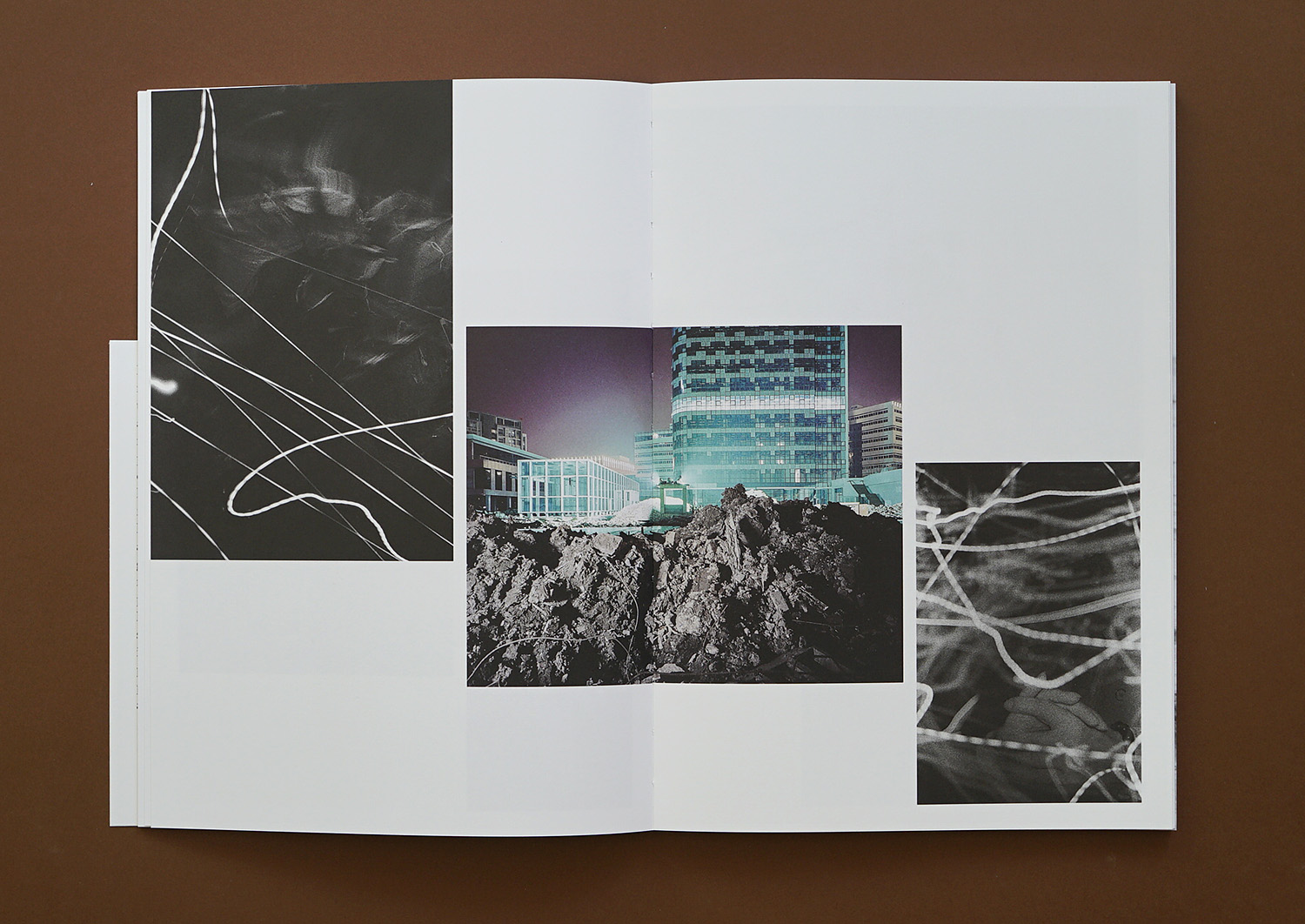 Alnis: My series was made in China, where I have been several times. I went there quite deliberately – in order to photograph. I like what is going on there – it is documentary, bizarre and exotic for a westerner. It is safe to be there. You can walk through the red light districts at night, take images on the street, and nothing will happen. It is the sense of safety in a fictive world, where you are inside and outside at the same time. In various ways I tried to explain to myself what I am doing. I read their fairy-tales and myths. One of them was Neither a Horse, Nor a Tiger, a story about the simultaneously comprehensible and incomprehensible world. I borrowed the title from it. Many films were spoiled, because there was an X-ray control in all subway entrances. One camera also broke. It was very stressful, but very exciting at the moment I developed the images. I understood that there are dancers among the smudged lights. There is such an interesting and frequent phenomenon in China as social gymnastics, which is usually pursued by pensioners. I photographed them, especially at night. It is something between dancing and gymnastics, between Eastern motifs and disco. I also took images of shopping malls, for example, Ikea, where they use an opportunity to sleep in beds and spend a long time sitting on chairs. It is a story both about China and a remote, different kind of a place in my imagination.
Toms: My project is about the quests of belonging and identity of a young person. It is viewed in a religious context on the basis of my experience as one of Jehovah's witnesses. They are people, who preach and propagate their faith by walking on the street and telling about the prophecy of the Bible. These people try to live according to high moral norms and they don't celebrate anything of pagan origin, for example, Christmas and Easter. I have been in touch with it for more than 10 years. In my works I reflect on how it is to try to fit in a group without violating self-made norms so that I would be faithful to the principles of the Bible according to which I live and try to be socially compatible with the environment where I regularly find myself. In my photographs I have documented the congress house of Jehovah's witnesses – a place, where to some extent I have grown up and where my experience and understanding have evolved. I paid attention to certain places, which seemed a bit surreal to myself, for example, the baptizing pool with a mirror above it, so that people from the last rows would be able to see what is happening. When I started the project, I created a portrait of this place. Later I visualised situations and made poetic and staged images thinking of the border crossing in terms of one's identity.
Arnis: The common subject in your projects is relationship between reality and fiction. How important are the possibilities of the photographic medium and its power to give rise to certain ideas?
Līga: Because of these reasons, I use photography deliberately. First, it is a way to show a visual idea; second, I like the initial thought that photography depicts reality. In this project, too, almost all images are staged, but all elements and situations are included so that they would create a feeling of reality. I like to play with it.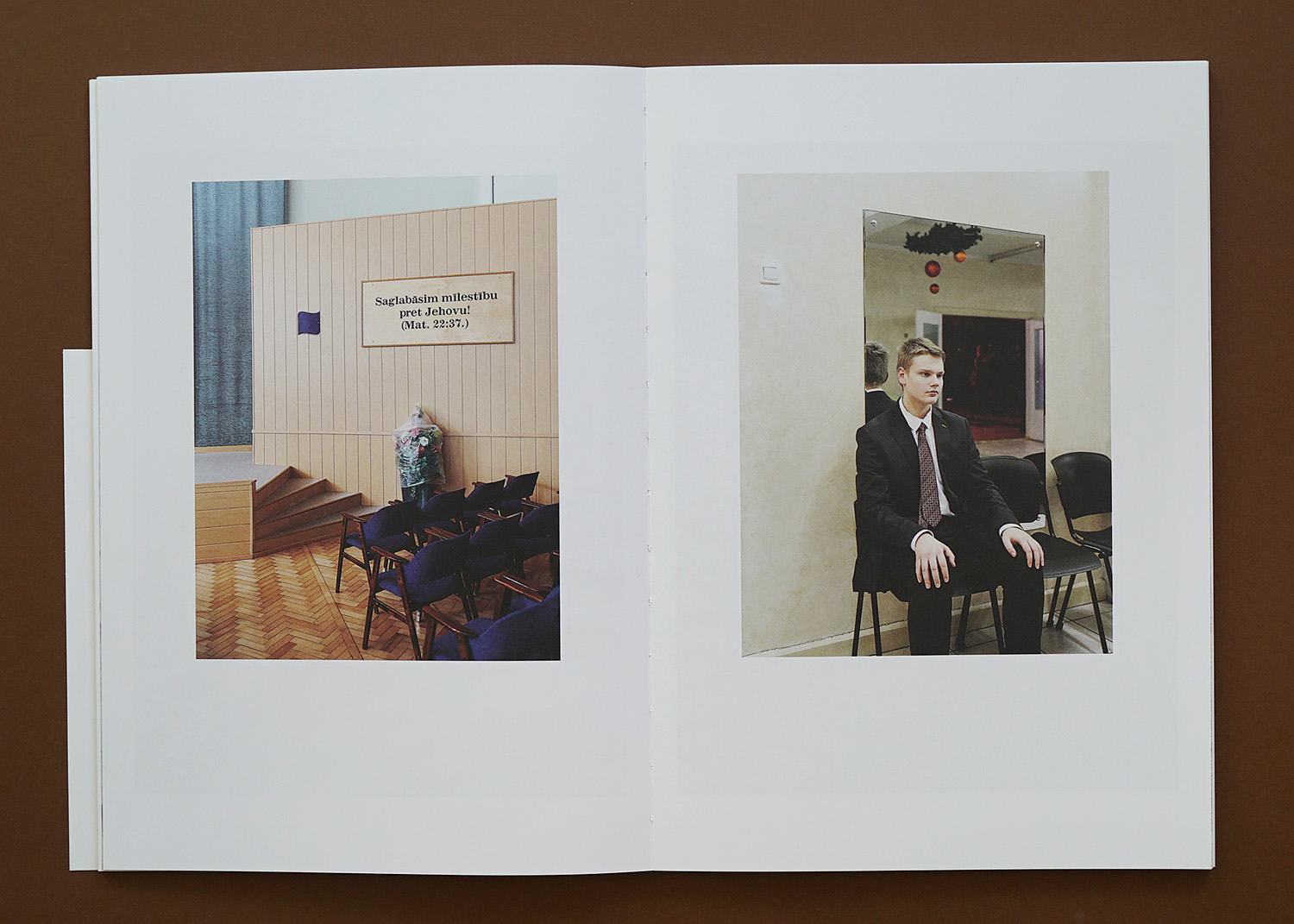 Toms: Historian Baiba Tetere and me were at my exhibition at kim? centre and we talked about the title of the series. Initially it seemed like some kind of an expression, yet the word "patiesībā" (literally translated as "in the truth") in the slang of Jehovah's witnesses means belonging to Jehovah's witnesses. If someone asks you a question "Are you in the truth?", it means "Are you a Jehovah's witness?" It refers to immaterial space, where one can simultaneously be present and absent. Baiba added that the title has a connection with photography as a medium, which alludes to the representation of reality.
Alnis: If we speak about the context of Latvia or post-Soviet space, where media literacy has not reached school curricula, the majority of people perceive photography naively – as a natural image and representation of reality, ignoring the idea that the image could be constructed. As soon as it looks like an image, the critical thinking is switched off. Many contemporary artists are aware of the mechanism how photography works in society.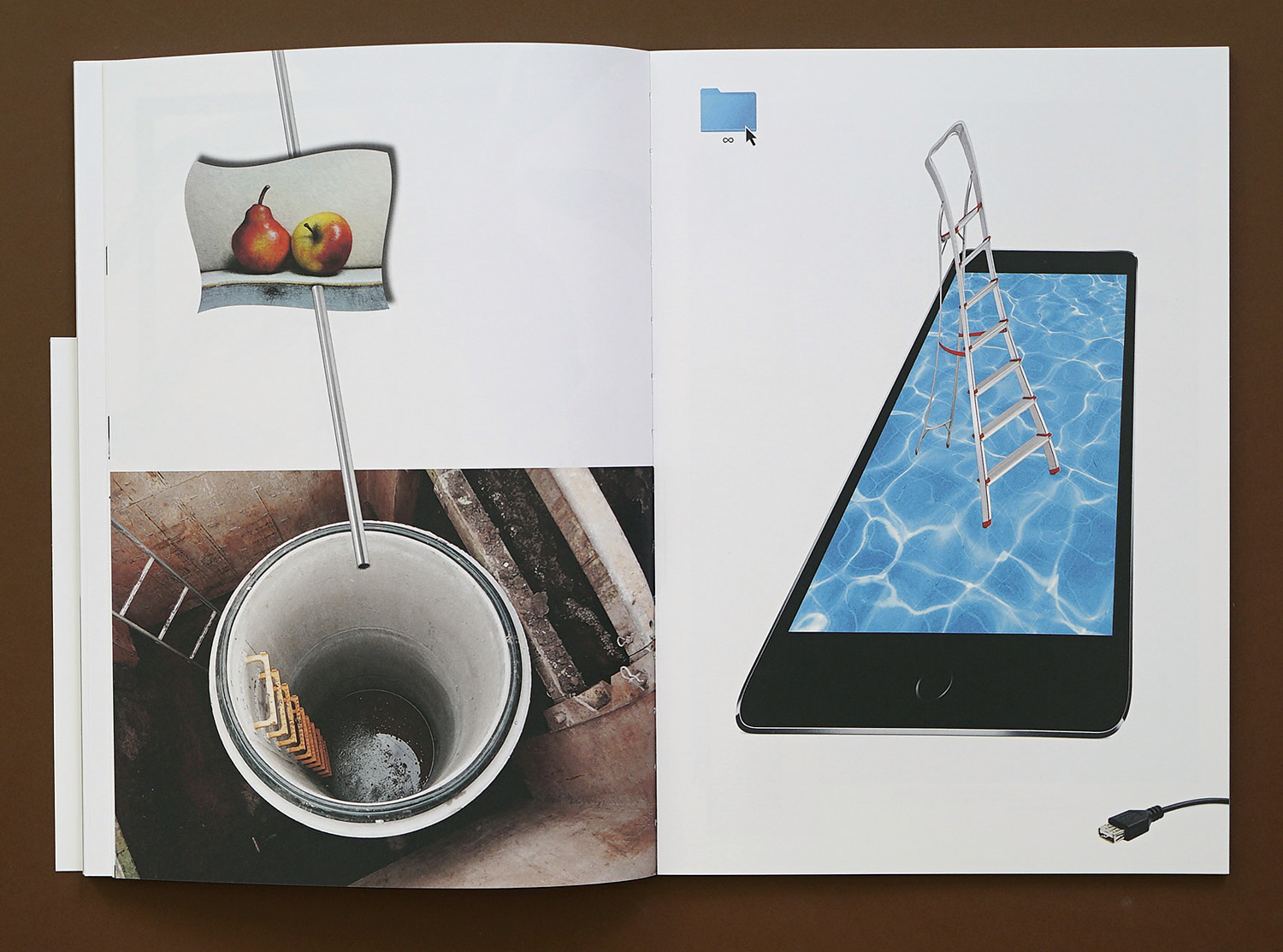 Andrejs: In my work you can see details from the photographs I have taken, which are complemented by a different kind of a digital image. It cannot be defined as pure photography, but there is something from photography. It is an entangled photography, a collage. It is a design-based illustrative approach.
Juris: I think it is complicated to talk about the depiction of truth, because I don't think that objective truth is possible. From my point of view, staged photography is not less truthful than documentary photography. If something is constructed so that it looks like it is constructed, it is perceived as truth, although I don't know whether it exists at all.
Arnis: How do you see yourselves as creative persons in the local context? What is it like to work in Latvia?
Alnis: I feel very free. There is no interest on behalf of the institutions. There are no dependencies. There are no relationships with the local environment. If you want to do something, you must be grateful if you are allowed to invest. It is, of course, ironic, but to a certain degree true. All the previous experiences have been "through the can of paint", namely, by investing my own money.
Juris: It is a good time to be engaged in photography. I can see that there are many opportunities. Although there is not a fierce competition among photographers, something does happen. There have been more activities lately.
Toms: The environment, indeed, is more active. I represent the ISSP in the European photo-based platform Parallel, which is related to international projects. Each participant has his or her mentor, and it is an excellent opportunity for an artist to develop his or her project by collaborating with other institutions of photography. There are increasingly more opportunities and favourable conditions for succeeding.
Arnis: When thinking about the centenary of Latvia, what do you think, what will be our heritage after another hundred years?
Alnis: I have harsh reflections on the use of photography in Latvia. I wrote about it in FK. The centenary competitions exploit the passion of amateur photographers to document. There are people, who use the images for public relations and corporative interests. The municipal officials organize the events for the inhabitants of their district, in order to pride themselves upon the yellow fields of rape. Even the commercial photography does not fit in there, because a commercial photographer will not participate in such a competition. The professional photography in Latvia is not maintained. For the money that has been invested, it would be possible to find cooperation opportunities with professional organizations. Unfortunately it does not happen.
Līga: To my mind, the content will not change, because nowadays people also reflect on the topics that are important to them. Photography could change in terms of technical performance. Photography is regarded a camera-based medium, yet there are also screenshots, which are classified in a similar category. I think that the technical specifications will expand.
Juris: In my opinion, interesting things in photography are already happening. It seems that everyone is fed up with photography in the art world. For example, the Tallinn Photomonth of the last year showed very well that people want something else. In the Foam talent show, too, more than half of works were not simple photographs.
You can read the full discussion in the Latvian Photography 2018, out now and available in most bookshops in Latvia, as well as our online shop.