Women in white: Interview with Belarusian female photojournalists
Media are still full of photos and videos from the events in Belarus. The key force behind the recent mass protests in Belarus are female politicians who have led the action – including the opposition leader Svetlana Tikhanovskaya – and the self-organized initiative "women in white" who have made a brave stand against the horrifying violence by the state forces. Many of the iconic images that capture the dramatic events in Minsk are made by female photographers. One such an image is Volha Shukaila's photo with female protesters that became viral in the first days after the presidential elections.
We want to introduce three Belarusian photojournalists who are risking their lives to tell the whole world about the reality of which the official media in Belarus are silent. Volha Shukaila works for the largest independent Belarusian media TUT.by, Nadia Buzhan shoots for the oldest Belarusian newspaper Nasha Niva and Tanya Kapitonova is a photojournalist for the first independent Belarusian TV Belsat.
This interview is based on the talk that took place on our Facebook page on 27 August with small additions made afterwards. Full video can be watched below. We have also extended the possibility of donating money to these Belarusian photojournalists, scroll down for details!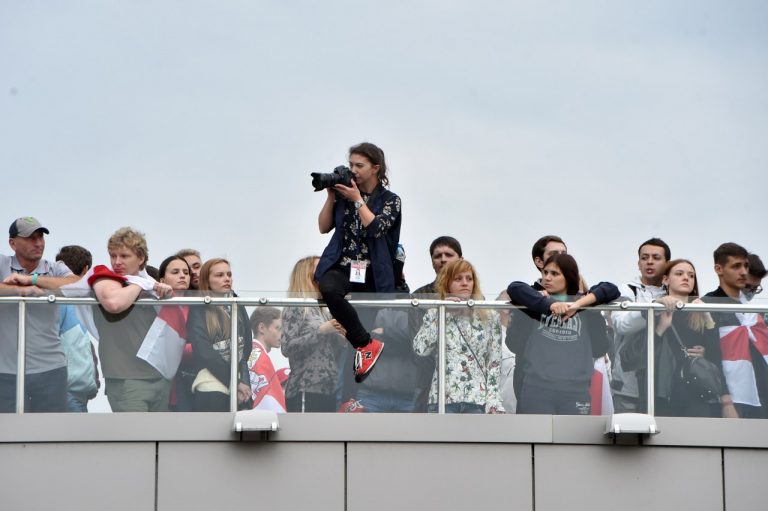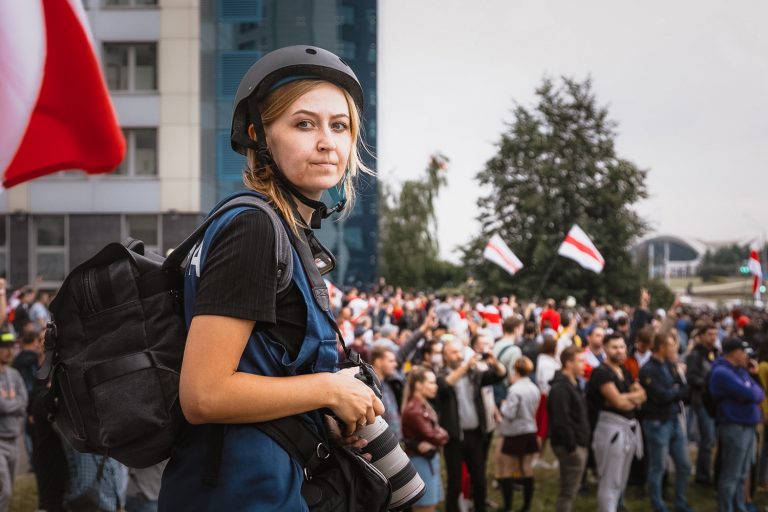 Can you tell us what you work for and what is your daily agenda?
Tanya Kapitonova: Generally, I am a freelance photographer but over the past half a year I have worked for the Belarusian-Polish TV called Belsat. It is not legal in Belarus because it shows different aspects of our country. I would say it's quite dangerous. During the protests we work with three more photographers. I don't work every day, we keep rotating. We have editors who help us find stories and photographers also propose stories.
Volha Shukaila: For 6 years I have been working for the biggest online media Tut.by. During this time I also worked as a photo editor and photographer, but lately I am just a photojournalist. I cover all kind of events almost every day – political, social, cultural topics. Usually I work Monday to Friday, but now it's my 19th working day without any days off and it's really difficult, mostly physically, because I don't have enough time for rest and sleep. We are four photographers – 2 men and 2 women, and a head of the department. The photo editor decides who and what events will be photographed. If it's a large or dangerous event we may work in pairs. For example, today at the protest we had two photographers and one of them was detained while the other continued to work.
Nadia Buzhan: I work for Nasha Niva that is the oldest independent newspaper in Belarus, which is now only online. I am the only photographer there, that's why I have to take photos of all the main events in the city. Such intensive work upsets me a bit, because I don't have time to think about any other projects.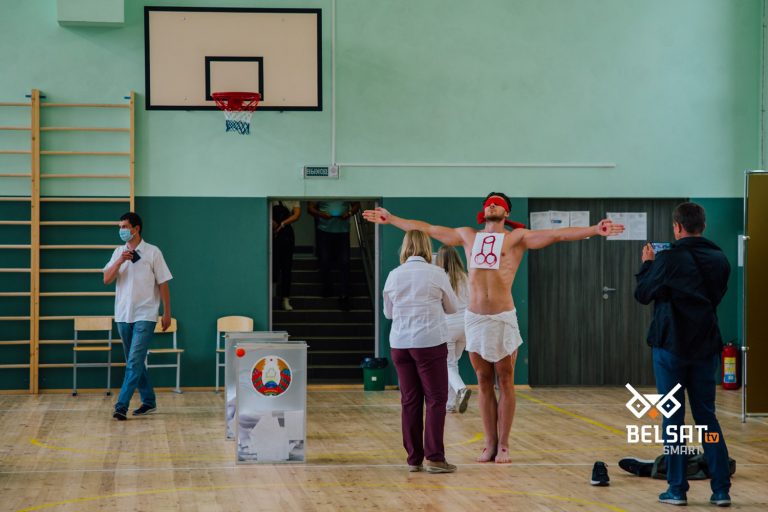 Nadia, just before this conversation you were released from detention, can you tell about your experience?
Nadia: Today was some kind of act of detention of journalists, about 50 journalists were arrested. The security forces were surprisingly polite, but we were detained for about 3.5 hours at the events hall of a local police station. At least we were happy to meet colleagues who were coming in. When they started to release us one by one, the police asked to unlock our mobile phones so they could see what kind of photos or videos we had made. This is not entirely legal because a phone is a private property. They also asked to check my camera and to erase photos and were suggesting that if I don't cooperate with them, my camera can accidentally fall on the floor and break, and I could get stuck at the police office for many more hours. I chose to cooperate but I sympathize with my colleagues who chose not to and the ones who didn't have official accreditations. I hope they all will be released this night but the dialogue with police officers made me understand the laws do not work in our country.
Volha: Few minutes ago I got information that journalists who don't agree to show their mobile phones are still detained at the police station and will face court tomorrow, but nobody knows when and where. Among the arrested people there is my friend Alexander Vasukovich who is a photographer, too. A protocol has been drawn up for Sasha on Article No. 23.34 (violation of the organization or organization of mass events).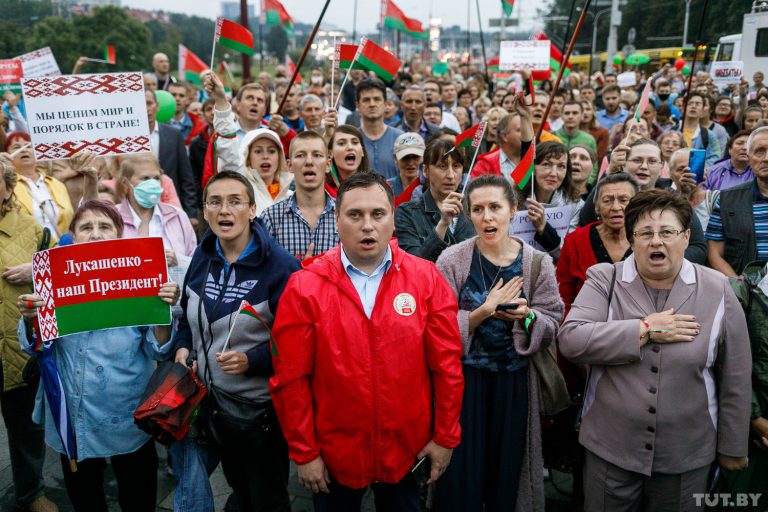 Is there some division between the journalists working for the official media and the independent media?
Tanya: I can only guess that they feel more safe. For instance, today there were some Russian journalists who support Lukashenko and they were wearing orange vests, but our press wears blue vests. Journalists in orange vests could go anywhere and police didn't touch them.
Volha: From time to time I meet some journalists who work for the government television. Before they always worked with huge cameras and tripods, and you always knew that this is a television crew. But now they try to work with small cameras and cover protests, too. What is also interesting, many state and government media now work without any visible badges and their cameras don't have any tags of the media they represent. Sometimes they cover all kinds of events but you don't know the context in which they will use those photos and videos.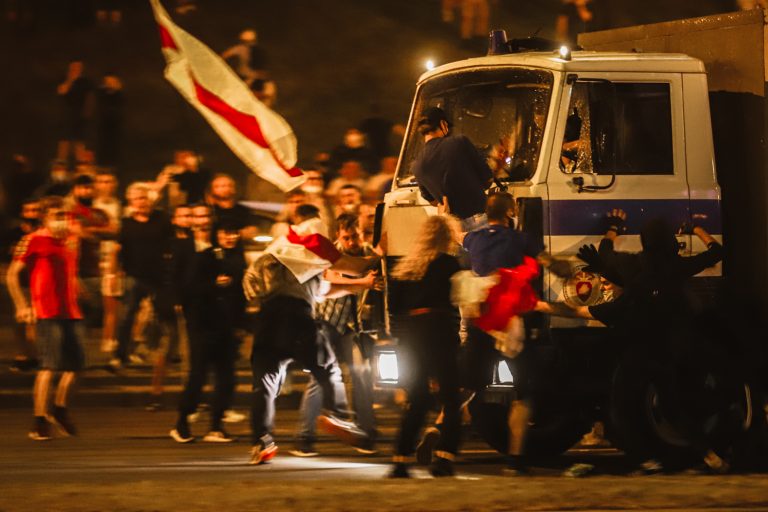 Can you stay neutral in these situations when in reality you are emotionally boiling?
Volha: Sometimes it's difficult to be neutral, but I understand that I should be. There's absolutely a different kind of atmosphere at the events of the opposition or the position. The opposition events are more positive, people are happy and they respect you, but there's a totally different situation at pro-Lukashenko events where you don't see happy faces, you feel a lot of aggression, it's difficult to make really happy pictures when you see so much negativity around you. It's important not to answer their aggression because I am not sure they really understand what's happening.
Tanya: I totally agree with you. I would say that in these days people at the opposition events are not just happy but they are also quite open to be photographed. Before all this people were kind of afraid of cameras, but now they are open to be photographed or give comments.
Nadia: It is very difficult to remain neutral. It's one thing when you read the news at home. Another is when you make this news and see everything with your own eyes. A huge responsibility. I always try to think 10 times and weigh the behaviour of people around me. In photography, the question of ethics often arises. We have guys who get into a fight with the riot police and who can get a real term in prison. Especially during political actions. And even when they defend themselves rather than attack. And there is always a choice – to make a "beautiful" photo or not. After all, you can easily identify faces from the photographs and then it will be much easier to find these guys.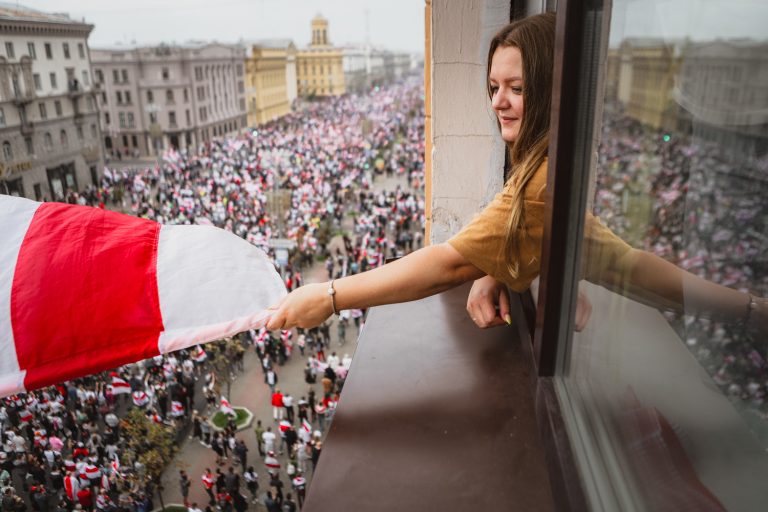 What do you think about the power of images?
Volha: Our photos have become symbols of these events. You just need three seconds to understand the picture and it's faster than reading a text. I caught myself thinking that I associate many historical events with certain images. I think our pictures are very important today. Many topics that we cover you can't see on TV, so people who don't use the internet live in a different kind of reality.
Tanya: For me it's getting harder to make new images because we already have so much information – all the videos people make and share on Telegram, which is a popular messenger here. Therefore it's difficult to make photos that would become a symbol of something, like Volha's photo of women – it's really a symbol of women's protest and all the world has seen it. Maybe nowadays it's not so important to make many photos from an event but to make one that everybody will know. But there are a lot of emotions and it's hard to concentrate on just one image, everything seems worth photographing.
Nadia: Making news is a huge responsibility. Working in this election, I especially noticed how photography affects people. It is much better to see it once than to read many times. In this case, the picture is much more effective. In any case, photography is documentation. But the caption to it is always important. The correct caption will give the correct understanding of the situation.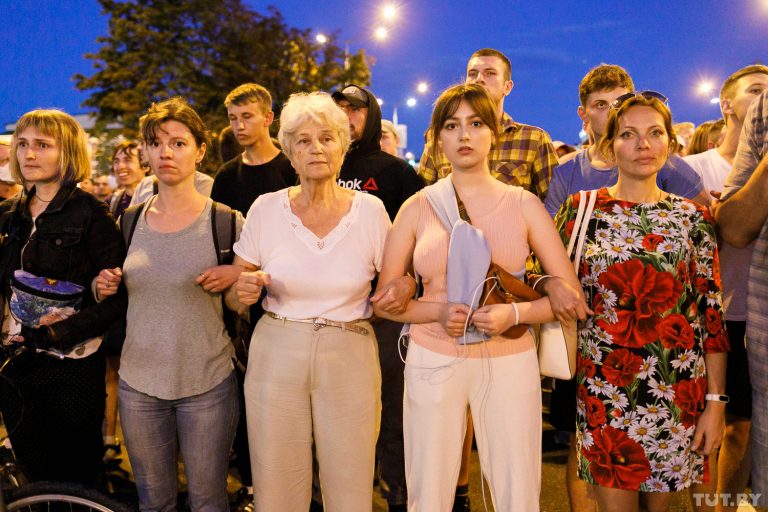 Volha, what's the story behind your iconic image?
Volha: I saw a line of protesters that were standing on the avenue. Usually it's men, but this time there were five women and I decided to take some photos. I made about 8 shots, the women were smiling and happy and this one is probably one of the last I took. I understood that it's a good picture but I didn't think about its symbolism. When I sent it to the editor, he said it's nice. Then we didn't have the internet in Minsk for 3 days and I didn't know what had happened. On Wednesday I woke up and saw a lot of messages and notifications on my phone. My photo had become viral and people were sharing it all over the internet. I think it became so popular because you don't see aggressive men, alcoholics or hooligans – the president's description of the protesters, but nice, calm women who could be your mother, sister, neighbour. I like this picture, too.
Has your life been under threat?
Tanya: It happened to me on August 10 when I was photographing those people who were shooting and throwing grenades. Now I have to take medicine for two months to make the noise from explosives in my ears disappear. But if these meds don't cure me the noise will stay forever. Sometimes I question whether these photos were worth this health damage.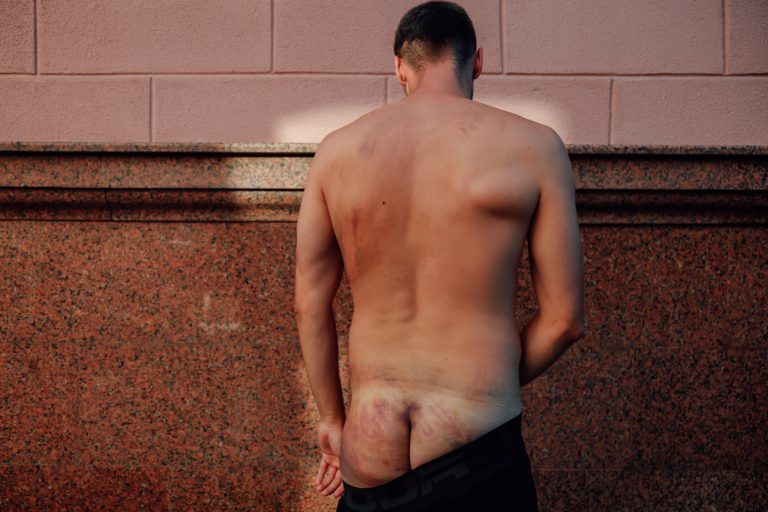 Nadia: On the first day I was working as usual, following my intuition and getting into situations, because I wouldn't expect that my life could be threatened, but I got very scared when my colleague journalist was shot on the second day of protests. And I am not ashamed to say that from that moment on I decided to be more careful and shoot from a safe distance. I am choosing positions where I can see what's happening but at the same time not risking my life. Now I also wear a helmet and goggles. I have understood that I couldn't be a war photographer.
Volha: On the election day I was taking pictures at the polling station and there was a really strange situation because there were a lot of riot police (OMON) and a few paddy wagons. It was the nearest situation to the threat. The head of the polling station forbade to take pictures inside and there was a scandal. The police officers beat me a little bit. When I saw a long cue of people I understood that the protests after the elections will grow. As a journalist and professional, I understand that I need to be alive to bring my pictures to the media, so I know that I don't need to go to the centre of something dangerous. A few days ago while we were between the riot police and protesters near the Lukashenko's Palace we had to run away with Nadia to a safer place. I think it's normal that you feel scared.
***
To thank and support these photographers we invite our readers to make a donation! The campaign will close on 6 September, after which we will transfer the full raised amount to all three Belarusian photographers, which will be shared equally among them. Please donate it here:
[Campaign has ended]