Interview with Elin Berge
The Swedish photographer Elin Berge's (1978) exhibition Queensland is open for visitors till 6 May at the Latvian Museum of Photography. For several years the photographer has documented women from Thailand, who have immigrated to Sweden with marriage and a better life prospects. As stated by the photographer, so far this has been her biggest project and it saw the daylight through collaboration with a musician and singer Frida Hyvönen. The photo series has been issued as a book accompanied by a music CD, yet it is different from the exhibition in Riga. Solely portraits have travelled to Latvia, whereas the book compiles the photos, where environment and mundane details are visible, thus opening more extensive space for interpretation.
Can you briefly explain the idea behind this project we can see now in Riga?
I should start with telling how I met all these people. As always, it was a pure coincidence. I am originally from Umeo. One day I was flying home from Stockholm and saw a Buddhist monk on the plane. I was so curious I asked what he was going to do here and he said he wanted to build the largest Buddhist temple in Europe. The following day he invited me to come to his place – it was a little village called Fredrika in Lapland. In the beginning I did a story about him for a magazine. I started to attend ceremonies at the temple. I was struck by all the people there, especially by the Thai women who were attending these ceremonies, there were hundreds of them. I particularly got closer to one woman named Noi. She appeared to be a very important person at the temple. I asked what her story was and she told me. That is how I found out that many Thai women have Swedish husbands. I was aware of the prejudice surrounding these couples. In my opinion, it is a must to see women as subjects, and not just to stay with the image of women as passive objects. I have learned that women have strong reasons for trying to find a new life elsewhere. Most people in this exhibition come from rural Thailand. There is poverty, problems with alcohol, gambling… To some degree, their reasons for emigration are pragmatic, because they want a better life. But it's not just money, they have to support their families, too. In Thailand women are the main breadwinners, because women have nothing else to offer. Every Thai man becomes a monk once in his life, as doing so will guarantee an afterlife for his parents. However, women are not allowed to become monks. As regards the Swedish men, Thai women are attracted by the way they treat women. In Sweden equality rules between men and women and that's what Thai women also want. Everything is about the perspective and changing it.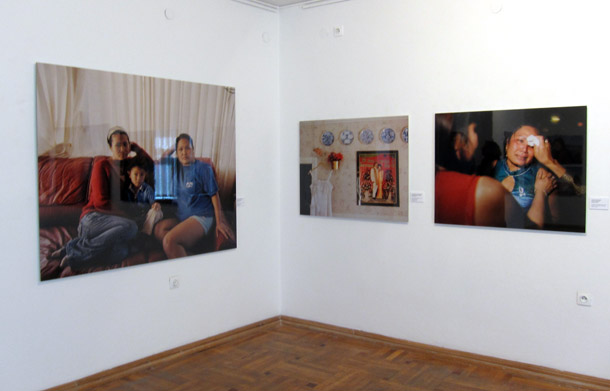 Why don't you have any landscapes in the show, although I see them in your book? I think they would add more space for your series.
I don't know, you should ask that to the curator. I let them choose the images.
People expect truth from documentary photographers. And people want some kind of truth from the exhibition. I think the question here is – is this love – but I am not interested to give any answers. How would I know, everyone has their own view on what love is and people can have adverse feelings for love that is found in different ways. If you look at people with your own prejudice, you're not going to see the people, but see the people through your prejudices. I want pictures that leave everything open. I want my images be free of any prejudices. That is also the reason why I have music in the show. I think that music and photography are very similar modes of expression in terms of experiencing it through our guts. I want music to help up open the image, and I think it works.
When did you make these series?
I took pictures between 2006 and 2008. But I met the Buddhist monk in 2004 and first I did a story for a magazine. During the process I also changed a camera, now I use 6×7. Before that, it was a small format camera.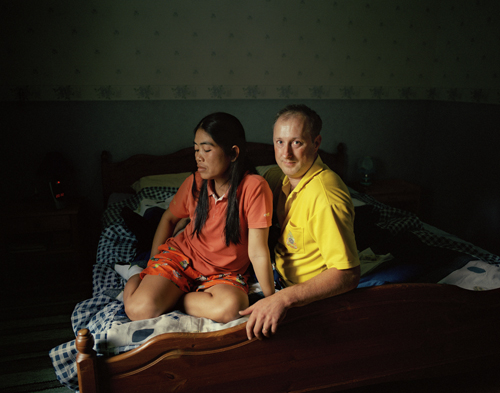 What was the usual way of approaching these people?
I was lucky to meet Noi, she was a very important person in Thai community and through her I met other people. After some time they become to recognize me. I was photographing between Umeo and Fredrika, the area known as the road of the Seven Rivers that extends from the Västerbotten coast up to the mountains. Sometimes I made some portraits first and only then I asked, whether I could visit their homes, too.
Did the monk build the biggest temple in Europe?
They have a typical Swedish house, so they have all the ceremonies there. They have arranged a place on a mountain but they don't have any money to build it.
How many exhibitions have you had with this show?
About five in Sweden and one in Norway.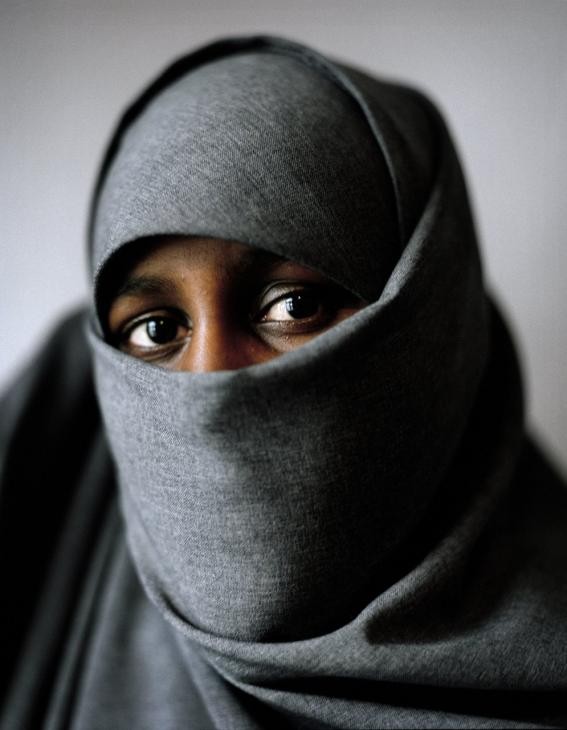 You have done projects for magazines. What is the agency Moment you are working with?
It's rather a collective of photographers. Each photographer works on his/her own projects. Some stories we sell but we work not that much on assignments but rather on our own. I have made some stories that are connected to the female bodies. Attitude towards the female bodies can never be neutral. I have been interested in clothing and unclothing. I have made a book called Veils (2006). I travelled around Sweden and interviewed Muslim girls wearing veils. And then there's the other side of it. I have photographed girls who go topless in public. It's like a network and they have done some actions in public places. They say – why can men be without tops and women can't. Also, I have taken pictures of strippers. In general, I am interested in subjects that are surrounded by men's prejudice, people that are judged by general public. I want to learn about them and open up our eyes and to look further.
What is your daily life as a photographer like? Do you do commissions?
I had a working grant from Swedish Art Committee that enabled me to do this project. Of course, it was not enough to live for two years on it, so I had to work as well. I think it's difficult for all photographers.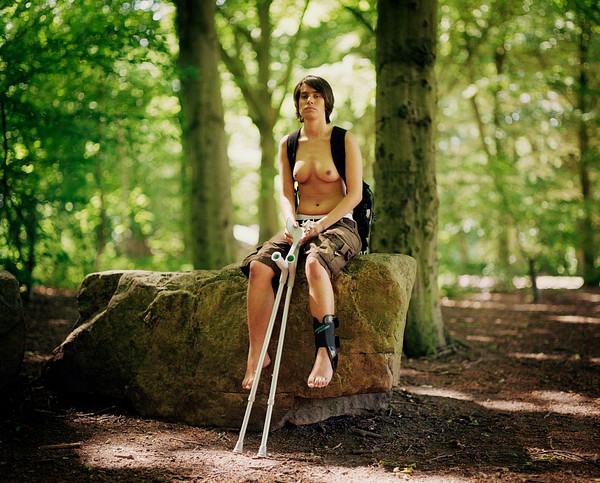 I saw your pictures also on Agency Vu. Could you explain how you collaborate?
At Moment, when we have stories, we try to promote and sell them through other agencies. I have sold some pictures, but not from this project, as I wanted to keep it private and have control over it. Veils have been published in several magazines. It's not that there are assignments, but rather that you do a story and then try to sell it. Most commissions I do are for local magazines, for instance, portraits, but it's nothing you can live from. I work as a picture editor at the Umeo University.
What's your next project you are working on?
I am working on a follow-up to one of my projects. I want to take pictures of Swedish men when they come to Thailand. The working title is The Kingdom. I think that Thai women see Swedish men with the same exotic eye as the Swedish men see the Thai women.
As regards a piece of advice I can give to young photographers – make sure you have sufficient time for each project.