Interview with Nadya Sheremetova
Photo critic and curator Nadya Sheremetova (Надя Шереметова) established the FotoDepartment foundation in Saint Petersburg in 2006. Not everyone liked her taste in photography. However, Sheremetova has stubbornly stayed on her chosen path and continued to support young Russian photographers. She is mostly interested in authors who work conceptually, rather than in the traditions of photojournalism or documentary photography. FotoDepartment houses an educational centre, organises master classes, exhibitions, as well as the Young Photography Awards (Молодая фотография). Sheremetova received her MA degree in Economics and BA at the Department of Art History of the European University in St. Petersburg.
How did you set up FotoDepartment and how has it changed over time?
It has changed very drastically. To be more specific, my view on contemporary photography has changed. This is related to the educational programme we have developed. In the beginning we exhibited documentary photography and photojournalism, organising Sergey Maksimishin's (Сергей Максимишин) exhibition, as well as thematic exhibitions by various new and already established photographers from St. Petersburg. These authors shared a love for black-and-white photography, the darkroom and traditional techniques. In 2007, we started a project Proper Name (Имя собственное) at the Library of Majakovsky in the Neva Prospect . We used the little hall on the first floor, next to the reader registration. However, there was enough space for small personal exhibitions of young photographers, who were introduced by well-known authors. The exhibitions changed every month and the project lasted for two years. Afterwards we made a selection and exhibited the works at Maneza. Everyone was shocked – the visitors' book was full of statements denying that this is photography at all. This project was the first step for some photographers who are now known all over the world. Margo Ovcharenko (Марго Овчаренко) and Dasha Yastrebova (Даша Ястребова) had their first exhibitions there. Also, Petr Titarenko (Петр Титаренко), who is currently working successfully as a commercial photographer, also had his exhibition there. Later it turned into the Young Photography Awards – a competition we organise twice a year with an international jury. It is still going on. The spectrum of themes is wide enough; we do not limit ourselves to portrait or landscape. To select photographs according to a certain genre is characteristic of other institutions – for instance, to choose nature as a theme and to create a portrait of a monkey to hang on the wall of the Etazi loft. We are still living in a world where we have to prove the worthiness of our opinion. We are still not accepted, but the more positive reviews we have in the visitors' book, the more it seems the exhibition has not been successful (laughs). But spectators often admit that they have visited our exhibitions numerous times. For some visitors, these exhibitions have to some degree changed their views on photography and what is allowed within it. Currently we are focusing on art photography; we have abandoned photojournalism. We show the St. Petersburg School less. Now we are known as an educational programme, working with young authors and motivating them to create projects and continue their development. Perhaps education will not turn them all into brilliant photographers, but it will definitely produce a wiser audience, who might one day purchase photography. We have business people studying, they are also interested in photography, while others want to learn to write about photography.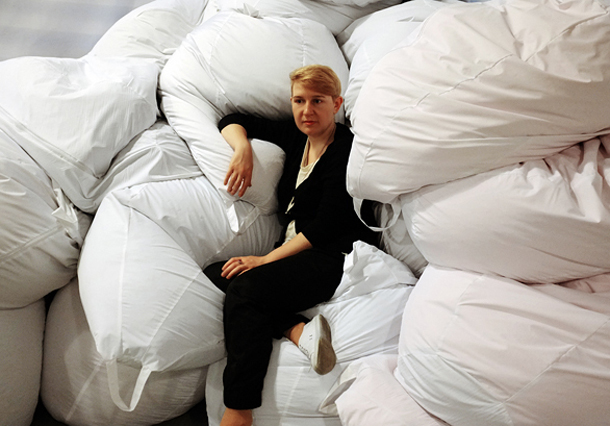 Are there new participants taking part in the competition every year or is it a certain group of people?
Thank god, they are changing. The educational programme helps attract new participants. Some of them submit their applications three or four years in a row till they get chosen. That was the case with Katya Vasilyeva (Екатерина Васильева), whose works were exhibited last summer. Next to her were the works of Tanya Vinogradova (Татьяна Виноградова), who started to study only at the beginning of last year and accomplished a lot during four months, working on a documentary project about the patients in a mental hospital, young people and their view on the world, that was published in several media portals. In the competition we cannot lobby anyone, the jury is completely independent. It consists of foreign specialists who do not know anyone. An photographer who has just picked up a camera can also be exhibited.
If you started with exhibitions, at what point did the educational programme emerge?
If I'm not mistaken, the first four-month programme started in early 2010. It was clear that we must help those who want to grow, because they did not have a place to go. Apart from the Rodchenko School (A. Rodchenko Photography and Multimedia School – E. G.) in Moscow, there were no alternatives for long-term high quality education. Besides, photography is only one of the courses at the Rodchenko School, and this is only documentary photography. There are no courses on contemporary art photography, only multimedia. People go there to study photography, but afterwards switch to contemporary art. Photography did not have an educational platform. Now we have understood that four months is not enough and neither is a period twice as long, because people stay for a year, three years and continue to participate – either go to other lecturers or attend a different programme with the same lecturer. Now we have established a two-year system, and training is carried out in two levels with several lecturers. Many students participate through the internet.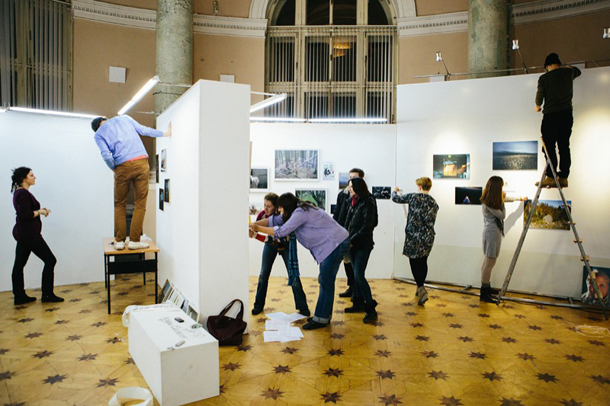 Why, in your opinion, is there a lack of opportunities to study photography in Russia?
The situation with the lecturers is difficult. There is no academic or theoretical base. In the so-called theoretical part of photography, most likely the rules of composition and the Cartier-Bresson tradition will be discussed, and that's all. And Helmut Newton will be analysed as the most contemporary photographer. Even at the Rodchenko School there is no one to teach contemporary photography. They stop at [Nan] Goldin, [Cindy] Sherman, [Wolfgang] Tillmans, the seventies or eighties at most, which are over in two or three lectures. At the same time, an entire year is dedicated to the history of photography, where they speak about daguerreotypes and photo studios. A total dissonance. It's history, but without any theoretical base. We had to learn everything by ourselves, to study and prepare lectures. I gradually try to pass it on to my students. I would like those who go to study abroad to return and teach here. Of course, many students are determined to achieve more and are not interested in returning to Russia, but the question is: how interesting will they seem to the world if they loose their identity? Perhaps they would be more interesting if they photographed here. Abroad there will be a million others with the same education, who can achieve more, know more languages or have other advantages.
Are there many students who return to Russia after graduating, or do they stay abroad?
At the moment it is difficult to tell, because everyone has just left. Dasha Tuminas (Дарья Туминас) had the opportunity to apply for a visa and look for a job after her studies in the Netherlands, and she has used this opportunity. Margo Ovcharenko recently went to New York. We will see how she manages to infiltrate the art scene there and whether she will want to come back. Margo has always said that she would like to return and work as a teacher in Russia. Yet, there are not many people who would be able to talk about photography in an interesting and articulate way, as well as to read lectures and to pass their knowledge on to others. In the spring we organised the Take & Talk conference, where we invited photographers, theoreticians, researchers, art critics and university lecturers – people of various ages – to discuss different topics within photography. Some were worried about educational problems, some – about photography as a medium. However, it was mostly only young people participating. It went well. Now everyone is asking when the next conference is going to be. This provides the opportunity to practice presentation skills – you have to prepare, you need time and to have a conversation with yourself. You cannot lie either, because it can be seen immediately who has prepared and who has not. We encouraged university students who are interested in photography to participate. It is crucial to cooperate with young scholars, in order to strengthen the academic community's interest in contemporary authors and to make sure that theoretical literature about photography as an academic discipline is published in the Russian language. Currently, there are no such specialists, even in universities. Students who want to write their thesis or term papers on photography cannot find a supervisor. We have to do the work that should have been done by universities and professors.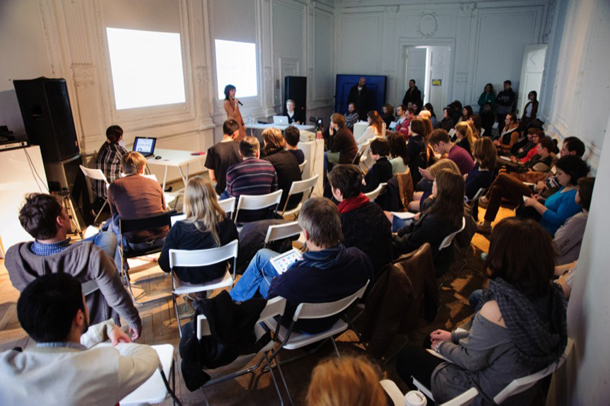 In your opinion, does Russian contemporary photography deal with the same issues as everywhere else in the world or can we talk about specific characteristics of the region or a certain school?
Recently I was asked a similar question in an interview and I did not give any answer. To my mind, it is impossible to create something if we limit ourselves only to Russian literature, Russian music, Russian photography and Russian art. How can you listen to Tchaikovsky and not know Beethoven or Wagner? How can you not read American literature, only Dostoevsky? It is impossible to not know what Nan Goldin and Cindy Sherman did. But people do not know. They are surprised. It is impossible to tell what belongs to the Russian tradition and what doesn't.
Of course, it is impossible not to know. But in Europe, too, there are schools and teachers, who leave a certain imprint on their students, making them adopt a certain viewpoint and visual language. I have the impression that Europe is currently greatly interested in Russia and the projects created in post-soviet countries.
Yet, but it is unclear what they are interested in. In portfolio showcases, everyone is interested in projects created in Russia – what is happening in this huge country with its vast territory. Everyone must be expecting some interesting, weird, unusual topics from some cultural margins that differ from their culture and lifestyle. At the same time, everyone is complaining that they mostly see villages, grandmothers and black-and-white photographs with factories and little towns. Surely, the main problem must be in the manner they have been shot – not at a high quality, in a uniform fashion, reportage type b&w photographs. The young authors copy each other and do not stand out with their own visual language. For the competition, too, we receive both, villages and grandmothers, and it creates a bad impression in general. Those who merge the European visual language with photographing in Russia, like Alena Zhandarova (Алена Жандарова) or Margo Ovcharenko, on the one hand, are accepted in the world, but on the other, are accused of not making Russian photography and not using the local visual language. What are we supposed to do? The question is how not to lose oneself and to speak in a contemporary language at the same time, without repeating oneself or others and constantly moving forward. It is always an important question to ask. We do not want to follow expectations or to act against them. In fact, we do not want to know these expectations at all, because the most difficult thing is to understand oneself, and this is not a fast process. The massive inclination to photograph grandmothers can leave a bad impression of contemporary Russian photography. Those who want to talk more seriously about their territory and belonging in a contemporary way perhaps work more slowly and are not so visible yet. Besides, were can we find this visual tradition? For example, Rodchenko is a tradition, but we are not all going to take photographs like Rodchenko, that would be silly. Of course, one can distance oneself from the tradition, or transform it and continue. But perhaps for somebody Rodchenko is not an authority and it is more interesting to observe what is happening in the world, to digest this mass of information and to create something new. It is not wise to focus blindly on the past. History must be respected and understood, but one must work in a dialogue with it and not perceive it as the only correct way of expression. From the first day we welcome the new students, we say that the most important thing is not the programme, not us, but they themselves. It is evident that the students consider it important to work in groups and to discuss their work with each other. People who totally refused to accept conceptual photography in the beginning, later started to engage in very multilayered projects.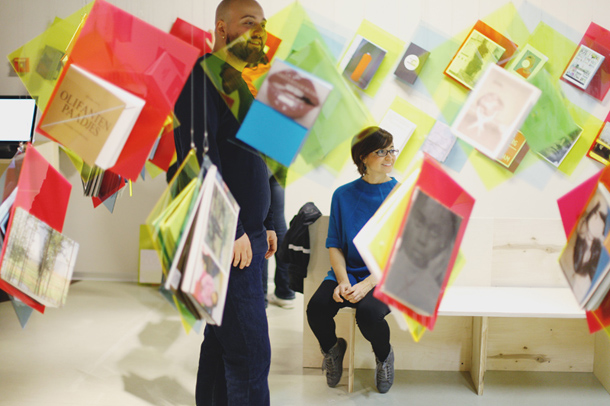 Which are the most interesting projects by Russian photographers you have seen lately?
Although it might seem strange due to my affection towards the students who work on idea and media-orientated projects, asking questions about photography and at the same time speaking about themselves and the world around them, one of the latest projects I like is by Anastasia Tsayder (Анастасия Цайдер). She does not make projects like we do at FotoDepartment. Anastasia works on documentary projects, she is interested in going somewhere, walking and pursuing visual research. Looking at her
Mzensk project, I nearly had tears in my eyes. They are simple images from people's homes in a village close to Moscow, where they lead quite a traditional, rural way of life. There is such a mixture of different epochs, icons, objects reminiscent of the Soviet Union, all this vast period of time which can be regarded as Russia. Nastya has managed to show it with interiors and light, sugar-bowls and teapots. I haven't felt so touched by documentary photography for a long time. It is important that a photographer using such a common method as going to a certain village can tell so much about the things we all share. The documentary tradition, of course, has not died. But how you work is important. For someone who is not familiar with Russian culture, these images might appear exotic, but I think some kind of sensitivity that corresponds to the view on Russian culture and the Russian soul is very evident here. These images are flooded with light, reminiscent of icons. It is not only a beautiful and clever, but also a sensitive work. Returning to our previous subject, this sensitivity is perhaps what makes Russian authors stand out from others. I cannot say that our photography is dry. Of course, I must mention our students Nastya Bogomolova (Анастасия Богомолова), Dasha Tuminas, Julia Borisova (Юлия Борисова), Fedor Shklyaruk (Федор Шклярук), Natasha Reznik (Наталья Резник), Katya Vasilyeva. But I do not want to advertise myself. There are many photographers who are not related to us, who work on their own. It is always interesting to see what they do. Of course, you can work on your own, but it is also important to discuss your ideas with other like-minded people and to establish contacts. I think this is what helps our students.