Interview with Diāna Tamane
Until October 29, Latvian artist Diāna Tamane's (1986) work The Typology of Touch is on display at the Project Fabrika as part of the HISK (Higher Institute for Fine Arts) group show And it Doesn't Matter if the Phone Rings at the 6th Moscow Biennale. Tamane has graduated from Tartu Art College and Sint-Lukas Brussels University College of Art and Design, and is currently studying at HISK, Belgium. She works mainly with photography, video and sound, exploring topics of identity, memory, family ties and distance. She has had solo shows at Tartu Art House, Recyclart in Brussels, Y galerii in Tartu and has participated in group shows in Belgium, Russia, Turkey, Estonia, Lithuania and Latvia.
What are you exhibiting at the Moscow Biennale?
I am continuing with the series The Typology of Touch I exhibited at Tartu Art House in August. In the show, which is adapted to the Fabrika space, there are four photographs showing the skin of women from my family, starting with me and ending with my great-grandmother. They are black and white images, close-ups of our backs. I like that they look like walls themselves and they are as quiet as walls. I like silence and I want my works to be silently tense. There is also as a postcard for the visitors to take away, which is a letter of advice my mother wrote me in January this year. Often, I am using biographical elements or memory as a raw material for creation. I am interested in the banal things of everyday, non-events, what is broken or not functional.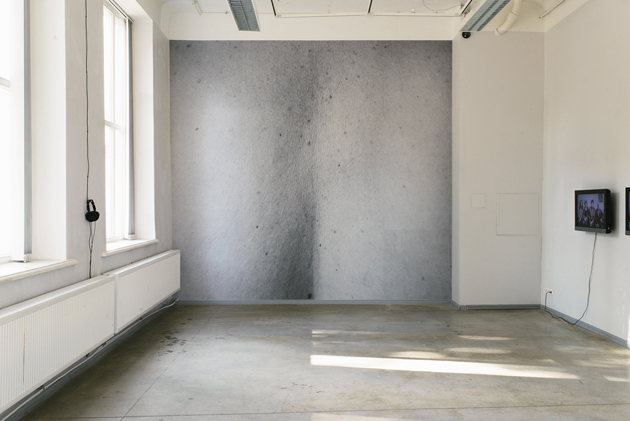 You were born in Latvia, grew up in Latvia, your family still lives there, while you yourself live and work in Belgium. Why are you perceived as an Estonian artist?
You can say I am an Estonian, Latvian or Belgian artist, it doesn't really matter for me – I have a close link to all of those places.
I studied at the Janis Rozentals Art Highschool in Riga, where in the last two years we had a photography course, mostly the analogue processes. It was then I fell in love with photography, but at the time it was not possible to get a photography degree in Latvia. I was twenty and I didn't dare to go somewhere far – so I went to Estonia to study photography at Tartu Art College. It was a great time, I stayed in Tartu for six years to finish my degree and in the end things started to happen there. I always look forward to going to Estonia, I like the art scene there and I have a good experience working there. Nevertheless, most of my works have been made in Riga, my hometown.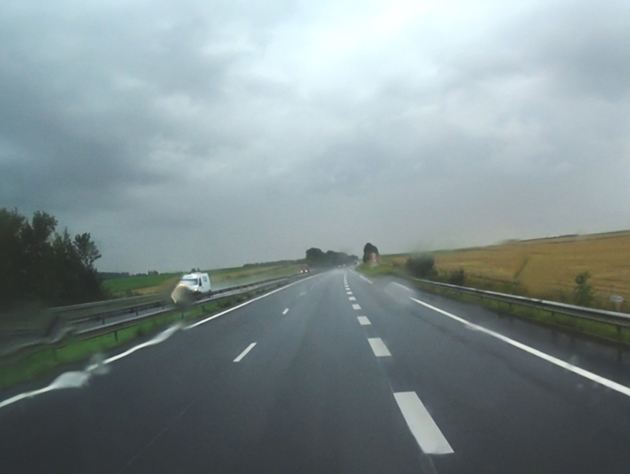 You said that that you were in love with photography, but in the last years you have slowly moved away from photography, using video and sound more often. Can you expand on why these changes happened?
I don't think I moved away from it, my way of thinking is still very photographic. I love photography in all its forms. It was just that the borders merged, as I was a bit bored with the whole idea of a photographic project: 15-20 pictures, a certain academic way of presenting them. Actually, most of my inspiration comes from films and literature. At some point I felt that I need something more than photography to make my ideas work and express myself properly. I want to be a little bit in the air, when I don't know if it's going to work or not. I want to be surprised by myself.
It is more exciting to think about the space, about the choreography of the spectator, how he will move in the space. For example, in Tartu Art House, it was the first time I felt that my work became alive after seeing it on the wall. I think it's because some parts of the exhibition came together only two days before the opening. There's a sound piece where my mom – a truck driver for the past two years – is calling me while driving. We are discussing how she should film the video piece for my show. You can only hear my mom, her growing agitation, but you can't hear my voice. In the beginning she didn't know I was going to use it. I didn't know it myself either. I was planning to remove all the sound, but in the end I realised that this tense conversation was crucial – uncomfortable and therefore the most important part. I felt that I don't want to listen to it again. For me, it's always important to test my limits and the limits of my family. If I feel that I don't want to do it, then I'm like – OK, that's what I should do! It is about being brave, which for me means being vulnerable.
How does your family feel about you putting your intimate relationships on display?
Even if sometimes they don't understand my intentions fully, they are very supportive. In the beginning my grandma, for example, did not understand, she would say – we made that video already, why do we repeat it again, it's already done.
At the same time I take a certain distance, it could be anybody's family; we become models, just references.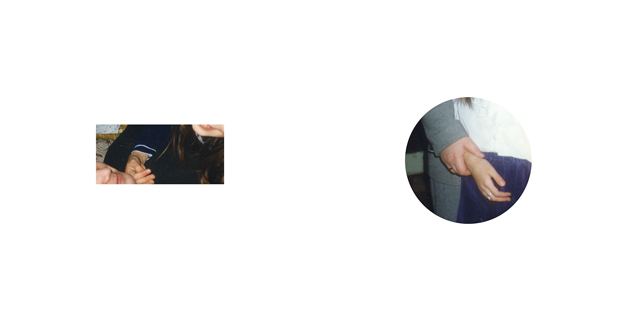 Do you mean those videos where you are all sitting still in front of the camera?
Yes, but now it's like a ritual. When I come to Riga, we sit on the sofa and stare at the camera. There are no questions about it anymore and I see that I can go further and further with them.
There were four such videos in your exhibition in Tartu. How did you start making them? Do you record them every time you come to Latvia?
It started quite a while ago, about six years ago. In the beginning I was just photographing us sitting on the sofa, every time it was the same setting. But at some point, I wanted to bring the time aspect into my work. As I explained before, it becomes a ritual, a kind of meditative process. The moving image gives some kind of tension, a totally different feeling than photography, and I like it. Now I just film every time I go to Latvia, because I don't know how long we will be there together. My great-grandmother is 92 years old.
Metaphorically speaking, it is like zooming in and out. It feels a bit like when you can't focus your camera in the darkness. Trying to approach from different angles, not knowing how close to be or how distant.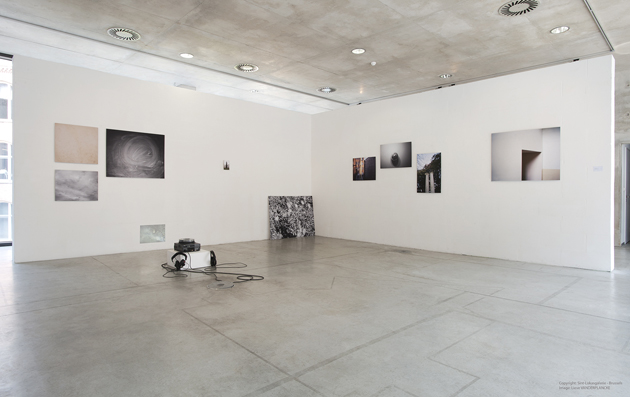 Male figures are absent in your work.
My grandfather and great-grandfather passed away quite a while ago. Yet, I am intrigued by the nature of mother-daughter relationships. For me it was very surprising that there is this chain of women, which can be very intense.

You mentioned that the cinema and literature have had a big influence on your work. Could you name some examples?
Some years ago I discovered Chantal Akerman. The stretching of time is very important in her work – time becomes heavier and you feel it more and more. The character of her mother often appears in the fictional works of Akerman, as well as in her experimental documentaries. As with Clarice Lispector, the Brazilian writer, she doesn't use grammar in a proper way – sometimes a sentence starts and you lose the gravity. She brings you somewhere, you don't really understand where. Her use of language is amazing, and I like this feeling of floating. Sophie Calle from the fine art world, but she also uses a lot of videos and text.
Could you tell me more about your experience at HISK? Has it changed your approach to your work?
Already before HISK I was looking for a change and it probably happened. But I think I will see it more clearly after I graduate as it is a very intense experience I am totally in now.
Here at HISK we are 26 artists from different fields, everyone has their own studio. Every month we meet international curators, theoreticians, artists – they come to our studio, we discuss work and they give some feedback later. But for me the most amazing thing is these different artists coming from all around the world, and the exchange and the dialog between us makes HISK a unique place. There are a lot of warm and generous everyday moments of sharing ideas, food or the dance floor. Seeing all these different approaches, use of different mediums… for me this everyday communication is so precious.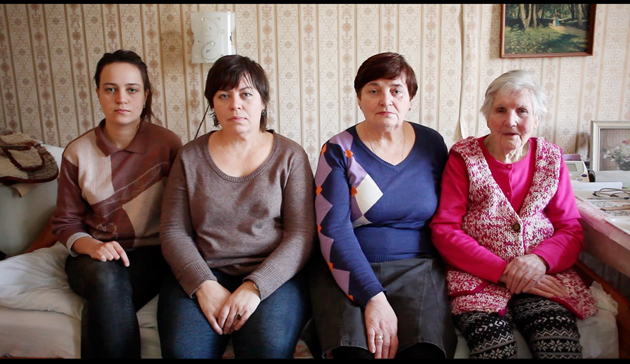 Are you planning to continue to work on the subject of family?
At the moment I am starting to work on a new project – Retrospective – that differs visually as well as in my approach – it's not related to family in a straightforward sense. But I'm also planning to continue recording the videos of my family.
We are talking a lot about family, but it's not only that – for example, my previous project, You can't have me for real, a narrative sound and space piece, wasn't about family, but about belonging, not really being part of something. It was influenced by me moving from one country to another, having to start over and over again, and adapting. It was about photography, about the story behind, which can be different for the same picture. Maybe next time I can use the same photos, but there would be another story behind them.
I'm interested in human relationships generally, trying to unwrap feelings. But at the same time, I always want to work with a topic I'm really obsessed with – it has to be very present for me from the moment I wake up.
On October 13 Diana posted on Facebook: Today I received a mail from mom. She and her husband were in Dunkirk (France) with their truck and they had to take a longer break. At night they woke up from someone trying to get into the cabin, those people also sprinkled something into the face of my mom's husband through the small gap in the car window. They were trying to open the door, breaking it partly. Mom said there were about 6 people. In the end nothing bad happened, they got scared and run away. At the end of the letter mom wrote: "I told you this, because I thought maybe it will be useful for some of your projects. Have a nice week!"