Runaway with Synchrodogs
Synchrodogs is Ukrainian artist duo Tania Shcheglova and Roman Noven, whose surreal photographs have gained them international recognition both in the fashion and art worlds. The eye-catching images, often featuring Tanya herself in various unusual poses and costumes within picturesque landscapes, cannot be rationally explained. Their work balances between the real and imagined, drawing the viewer into an unconscious, wild and dream-like world. Their creative career is also a force of nature – a myriad of publications in fashion and style magazines such as Vogue, Vice, Esquire, Dazed, and even a collaboration with Lady Gaga has undoubtedly made them the most fashionable Ukrainian photographers around.
Riga Photomonth has organized their exhibition Back to Nature that will run from 21 May until 2 July at kim? Contemporary Art Centre in Riga. On 21 May 4pm Synchrodogs will also held an artist's talk.
How did you both meet? And how has your relationship changed over the years?
We met on a photography website where we both had accounts, as we were from two different cities eight hours by train from each other. We started spending time together and that automatically meant shooting together (for two photographers, that's the most obvious way of passing time). Our intentions were pure: we wanted to discover the world, to get to know ourselves and our abilities. It also seemed entertaining to not spend any time doing something ordinary. We both graduated from technical universities. Tania studied information technology, Roman – the automation of technological processes. We think that the fact we never received any art education played a huge role in our lives, as we were able to just become our own selves – we had no temptation to copy anybody else's art, neither were we aware of the trends of the modern world while living in small cities in Western Ukraine. For many years we worked on constant self-development and progress, trying to create something innovative, irrational, awkward, but still powerful that would irradiate beauty in its widest sense.
How do you usually get from having an idea to the result?
The most important thing is always the idea. We collect ideas during our everyday lives, make notes all the time, and when the time comes to work on a project, we begin to shape those ideas to make them as good as possible. We often use our night dreams as a main source of inspiration, experiment with our own meditation techniques when trying to fall asleep – it helps us attain wonderful visions. We investigate, we sketch, we create accessories and props, we look for locations… whatever it takes. Sometimes a year goes by between the first and last stage of this process. We take it very seriously, as seriously as only two perfectionists like us can. We rarely give away the details of our practice. In general, we experiment a lot with different materials, examine how each works and can be used for our art. The same goes for location scouting – sometimes we literally take every turn to check where the road leads us to, and this approach has never disappointed.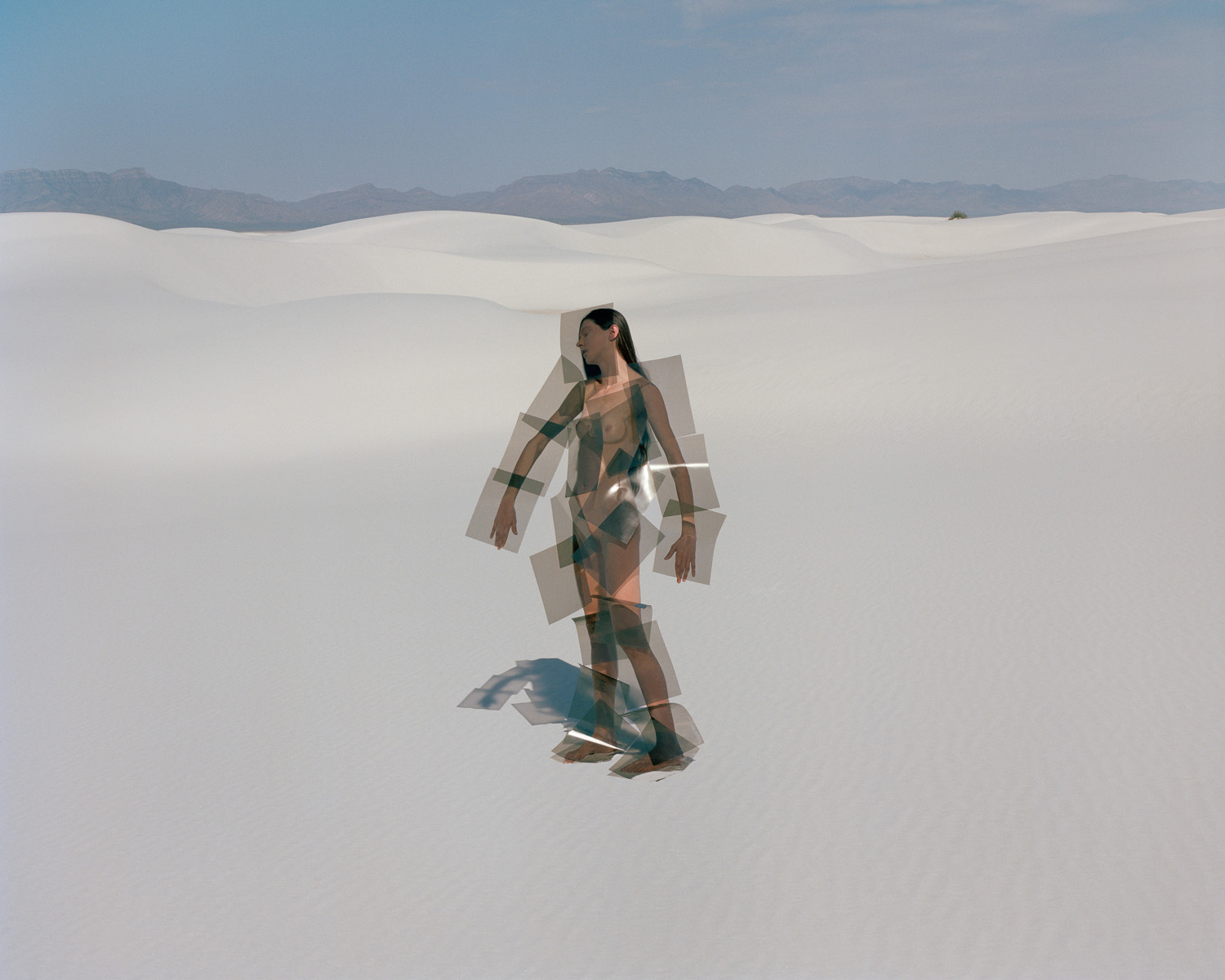 How do you choose locations for the shoots?
The natural environment is something that has always had a great impact on us, it influences our art immensely, as well as our souls. So we always pay proper attention to the actual process of organization and location scouting, when working on a project. We are both very devoted when it comes to our artistic activity: taking literally every turn to find a location when travelling, going to a glacier without equipment (event though it is kind of dangerous as you can fall into a crack), running away from police across mountains that are forbidden to walk on, fighting phobias all the time, escaping snakes in canyons, almost dying in a desert with no water. All that is left behind the scenes as long as we manage to reach a beautiful space.
Can you tell us a little about the technical side of your work?
We use high quality film cameras, both 35mm and medium format, which doesn't require a lot of post-production. We love to feel the value of the shot. Being aware of the limit of shots you have on film means you work on all the details of the shot properly and make 36 great frames, instead of 200 shots with a digital camera, all so-so. We only use digital cameras to make back-up images on commercial shoots or for big adverts – it makes sense for clients who print building size billboards.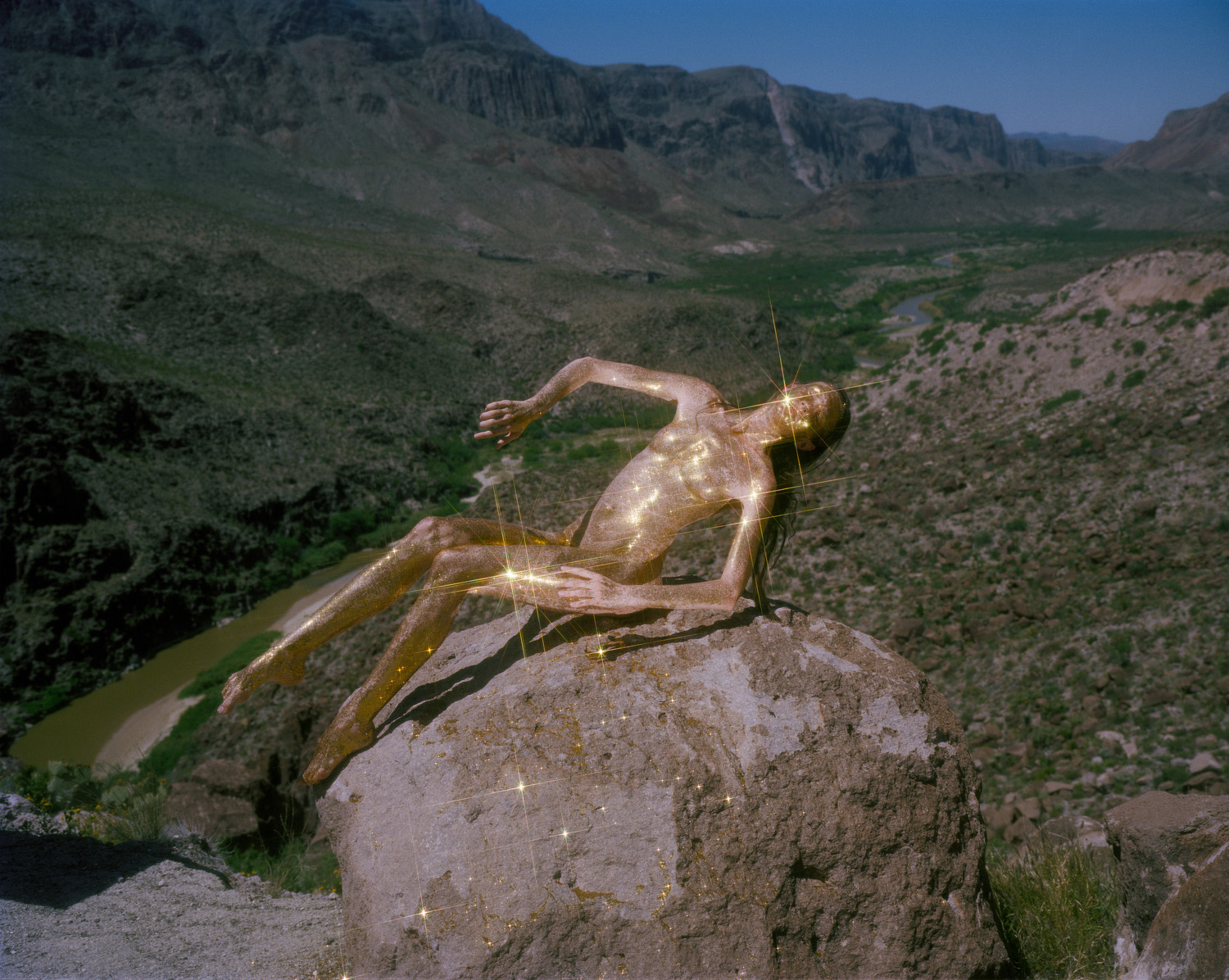 What do you like about shooting fashion assignments and how do they differ from your personal projects?
We quite like to have some balance between our art activity and fashion shoots: both require a lot of time and attention, but what we love is that they are different. There is something relaxing in the way our brains works on each kind of assignment, switching from one to another. It doesn't allow us to get stuck on one direction for a long time.
We feel comfortable in life in general. We like to do art, photos on assignment, make videos, play the piano together… We do a lot of things and they are equally important for our inner harmony. We even developed a charity project called Crystaltania where we sell unique jewelry made by Tania and donate all the money to help people who are in urgent need of help.
What has been your most bizarre photo shoot?
In 2015 The Dallas Contemporary commissioned us to make a solo show, so we went on a 4000-mile road trip across America, which turned out to be full of adventures, like getting stuck in sand with a jeep and having to build 10 meters of road out of all kinds of small twigs and stones we managed to find in the desert, or seeing a huge spider on a tree Tania was just sitting on, or our favourite – losing our car keys (our only hope for survival) in the middle of a vast land full of hills and rocks with no people for many miles around, just when the sun started going down. All these experiences made this project somehow important to us – it not only resonated with our souls because of the beauty it conveyed, but it was also an important part of our self-evolution.