10 minutes with Ivars Grāvlejs
Ivars Grāvlejs (1979) is one of the most internationally recognised Latvian artists. His works are often described as ironic, critical and provocative. In Latvia, one of his most scandalous projects was in the form of karaoke – An informative musical, visual and interactive insight into the work of some Latvian photographers, in which Latvian photographers' works were mixed with domestic hits, while the book Early Works was critically acclaimed abroad. Published by Mack (UK), the book included photographs, drawings and other artistic experiments from Grāvlejs' teenage years.
Grāvlejs studied photography at FAMU in Prague, and currently teaches photography in Brno and Bratislava. He has had more than 40 solo exhibitions in Riga, Prague, Budapest, Brussels and elsewhere. This year he is participating in the Riga Photomonth festival, the program of which mostly consists of various artist performances and mini-exhibitions in the urban environment. His performance will be broadcasted live on Facebook on May 28, 7.30pm (GMT+3). Grāvlejs' work will also feature in FK Magazine's annual Latvian Photography 2020, out at the end of June.
Can you reveal your plans for this year's Riga Photomonth?
The original idea had to be abandoned. I am in Prague and unfortunately I won't be able to travel to Latvia so soon. I will be doing what I have been doing for two months now – as a imprisoned scanner, I will be stalking people from my room window in Prague. My stream may be boring. As an alternative, I recommend watching Alfred Hitchcock's film Rear Window (1954).
How did you survive the pandemic?
I wandered the empty streets of Prague like a stunned fly. I traveled and got to know the Czech Republic without tourists. I tried to motivate my students by showing them striptease. I wiped the dust from my books because I couldn't read. I started running. I taught my daughter math. I washed my hands as little as possible, because the brutally chlorinated water started to damage my skin. I dreamt of what it would be like if the internet was turned off. It is likely that there would no longer be a virus and that there would be less adrenaline and cortisol in the human brain. I thought about destructive cynicism, aggressive media terror and isolation of information.
How has your daily life been affected by quarantine restrictions in the Czech Republic?
It can cost 400 euros to be in public in the Czech Republic without a face mask. Without a face mask, you are like a nudist in the city. Nowhere to hide. Not even in the woods. To increase the feeling of fear, you can often hear the sounds of sirens and feel the presence of the police. However, the police here are a bit more tolerant than in Latvia. At the same time, people are acting as the police themselves and monitoring each other more and more.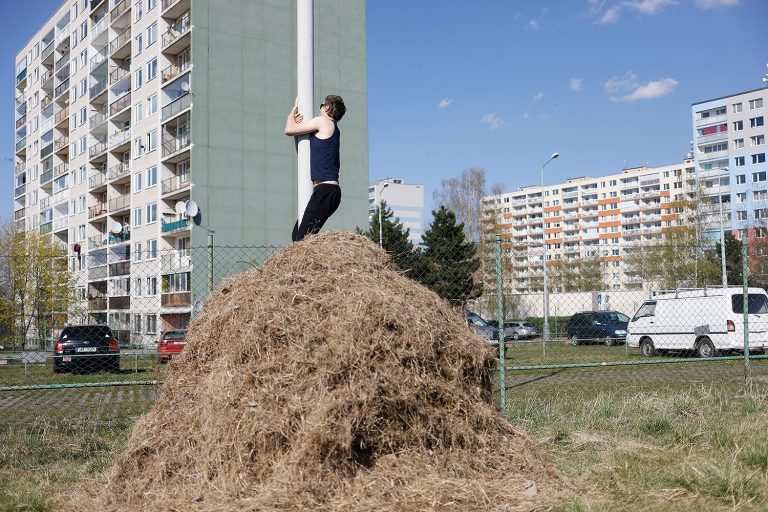 What projects are you currently working on?
Yes, there are some projects, but I only dream about them. For example, to give spray paint to passers-by who use face masks, to make them look like graffiti hooligans. Another project would be about movement and tracking. It could be called the Young Latvian Anarchists. To buy a lot of mobile phones with valid SIM cards in Latvia and send them to the Czech Republic. Then from the Czech Republic to forward them to Italy, and from Italy back to the Czech Republic.
How do you think cultural life will change in the pandemic era?
I don't know. It would be foolish to continue the same pattern of looking at the world and pretend that nothing has happened. At the same time, I will definitely be sick of art about the Covid-19 pandemic. In my opinion, this will only encourage the culmination of fear and totalitarianism. It is possible that what we have so far defined as pornography will become the dominant component of cultural life.