/ Karolina Gembara / Blog
Photojournalism as art
The ongoing protests in Poland have sparked several questions on the nature of photojournalism, engagement, subjectivity and aesthetics. Looking back at the history of this photographic genre it seems like an outdated discussion – repeating some of the old arguments against the so-called objectivity is a tedious activity. Being a photojournalist and being an activist, in my opinion, should not exclude from the noble community of journalists as without some of those devoted individuals the wider audience would never know about atrocities and daily violations of human rights. Being an artist and a photojournalist is also one of those combinations that seems to go against the orthodox understanding of the press world.
Perhaps it would be somehow helpful to overcome this dichotomy and propose a different way of looking at photojournalism or political photography. Since the inception of modern journalism in the 1930s press photographers in democratic countries had to submit to the rules of the genre and aim at objectivity and autonomy. The "unbiased" journalists were expected to deliver a high level of authenticity and in the case of photographers the images had to provide evidence (Mäenpää, 2014). Over the years the rules have shifted, for example, in the case of literary reportage where an individual style and a captivating narrative constitute journalistic values.
Images were always seen as a result of a mechanical process thereby able to prove that something happened. At the same time they were, from the beginning, subjected to aesthetic judgement. It is impossible to separate these two qualities of the medium but it is also not necessary to do that. Gathering facts is followed by their interpretation (Schudson, 1978) just like taking images at the protest is a result of artistic and individual decisions. In her qualitative research Anastasia Veneti (Veneti, 2017) questioned several photojournalists who cover demonstrations. "It is through the employment of hybridised strategies – where the artistic form allows for more nuanced depictions – that powerful and audacious images of protests can be created" she concludes the survey. So not only "bearing witness" but the application of artistic predilections stand behind the photojournalistic practises. Moreover, the "artistic form… (of the protest images – KG) allows us to see multiple facets of the event". Taking close portraits, attention to details, light, visual metaphors and colour are just some of the aesthetic choices that stand behind meaningful and b e a u t i f u l images (Veneti, 2017)
So let's look at photojournalism as art.
"(…) there are so many pictures made with documentary intent among the masterpieces of photography. But they have become masterpieces by transcending the documentary and conveying something that affects one more than mere knowledge could … The photograph has to tell a story if it is to work as art." (Greenberg, 1964) This statement is not only romantic but also true. It was coined by Clement Greenberg when literary journalism flourished and the most prominent reporters were praised by their individual, artistic style.
The similarities between the two industries – art and journalism – have been noticed and described by several researchers. Postema and Deuze list the challenges the practitioners or art and journalism share: precarious working conditions, intrinsic and affective job motivation, technological changes that shift the roles of the producers and audiences (Postema and Deuze, 2020). Both operate within comparatively established ethic systems and develop stances on the notion of truth. Both could be seen as "methods in culture for forming consciousness" (Adam 2006). Both industries care about the aesthetics – journalism looks up into creative industries to be seen as attractive, creative and innovative. In photojournalism authors seek for individual style, first of all to be able to break into the industry, second to be recognisable and attractive for the audience.
Beautification – as described by Sontag – always was adherent to photography, even when it aspired to tell the truth (Sontag, 1977). "Photographers were respected for artisanship: camera knowledge, film development, printing processes, aesthetic particulars such as dramatic composition, framing, depth of field or the use of colour and grain" (Postema and Deuze, 2020). Walker Evans and Dorothea Lange were hired especially for their "artistic" skills to produce symbolic pictures of the Great Depression era (not to mention to produce propaganda). Their work was supposed to combine art and (social) science and until today the two Americans are praised by the artistic value of their journalistic and documentary work (Åker, 2012).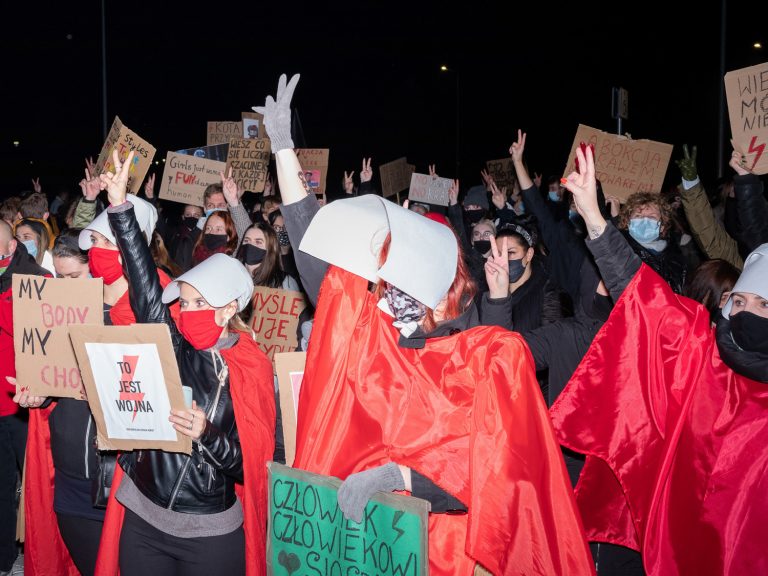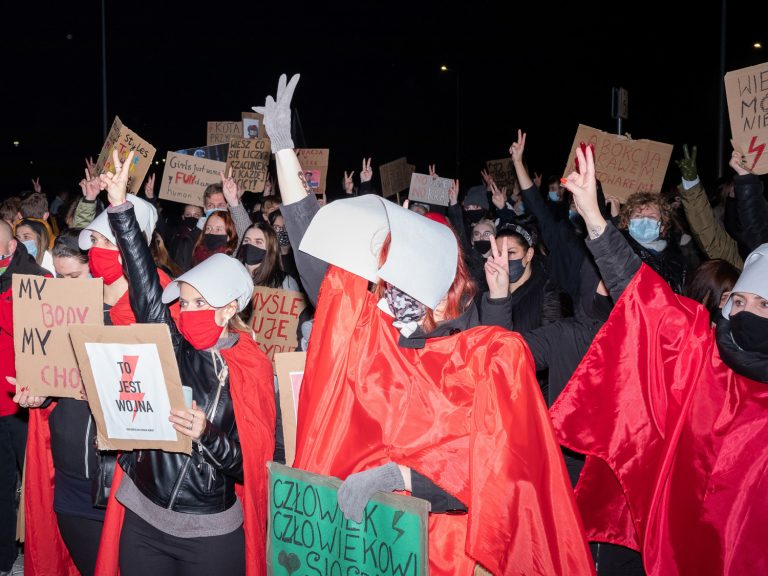 In the context of the protest, photographers often fulfil the requirements of the employers – they provide the viewer with the basic information (what, who, where etc.), show the size of the protest, demands and, if aiming at the international audience, they try to mark the geography of the protest. But as they start looking for more diverse, unique shots (often responding to the creativeness of activists, looking for emotions, reflecting the vibe) they start employing "hybridized strategies (…) as it is basically art photography that allows them to achieve more nuanced and multilevel depictions of the protests" (Veneti, 2017) At the centre of art photography lies the personal vision – an intrinsic trait of both journalism and art. "In order to be done properly, it needs to be done in an artistic way. Otherwise, you cannot communicate it. You cannot just be descriptive" says one of the respondents employed at Reuters (Veneti, 2017).
This is how I see the work of the photographers from the Archive of Public Protests. The photographers, the artists, the photojournalists exercise a wide range of artistic methods to show the events on the Polish streets in the most captivating way. Just as the respondents of Veneti's research they use dramatic lightning, close ups, film and sometimes create abstract frames of smoke, chaos and seething. It is often an "unusual sensitivity, unanticipated juxtapositions, pathos, irony and visual lyricism" that attract a wider audience. The beautification Sontag mentions does not delete the importance of recording. As Postema and Deuze explain further: "An arts and journalism continuum is proposed to move forward vocabulary bridge building beyond the binary. On this continuum, news forms can be pinpointed between the extremes of a matter-of-fact, plain style news brief and a multi-sensory stimulating art experience, between verifiable evidence (facts) and heartfelt engagement (affect), evoking various degrees of (emotional) response towards coexisting factual and felt truths" (Postema and Deuze, 2020).
***
On May 31, 8pm (GMT+3) Karolina will be hosting a discussion Photographers in the age of catastrophe that will be broadcasted live on Riga Photomonth Facebook page.
Bibliography:
Adam, S. (2006) Notes Towards a Definition of Journalism, in Journalism: The Democratic Craft, in R. P. Clark (Ed.), New York, Oxford University Press.
Åker, P. (2012) Photography, Objectivity and the Modern Newspaper, Journalism Studies, Vol. 13(3).
Greenberg, C. (1964) Four photographers, The New York Review of Books , 23 January,/ (30 May 2021).
Mäenpää, J. (2013) Photojournalism and the Notion of Objectivity – The Particularity of Photography and its Relationship with Truthfulness, in T. I. Tomani (Ed.), Past, Future and change: Contemporary analysis of evolving media scapes, University of Ljubljana Press.
Postema, S. & Deuze, M. (2020) Artistic Journalism: Confluence in Forms, Values and Practices, Journalism Studies, Vol. 21(10).
Schudson, M. (1978) Discovering the News: A Social History of American Newspapers, New York, Basic Books.
Sontag, S. 2008 (1977) On Photography. London, Penguin.
Veneti, A., (2017) Aesthetics of protest: an examination of the photojournalistic approach to protest imagery, Visual Communication, Vol. 16(3).