A privilege to be an artist. Interview with Liina Siib
Liina Siib (1963) is an Estonian intellectual who expresses strong ideas and opinion on art, mostly through still and moving image. Siib is also an educator, curator and editor. Her interests are rooted in the everyday and social space, in matters that go unnoticed or are silenced. She combines field studies and archival research with history, contemporary realities and contemporary art and film theories. She has had personal exhibitions in Estonia, Germany, Belgium, France, Italy, Sweden, Finland and Latvia. In 2011 Liina Siib represented Estonia with her project A Woman Takes Little Space at the 54th Venice Art Biennale. She showed her film Tallinn-1967 in the first edition of RIBOCA in Riga in 2018. Siib has an MA degree in Photographic Studies from the Estonian Academy of Arts where she works as a Professor of Graphic Art.
What are your plans for this year? How much the pandemic has influenced your work?
The pandemic has influenced quite a lot, actually. It wasn't so visible in 2020. I basically could do everything I had planned. I was co-curating one international exhibition (Resemblance Through Contact. Grammar of Imprint with Maria Erikson) with several artists and we could do everything we had planned. Some artists from abroad couldn't come to the opening, this was the only harm. But last year was maybe one of the worst years in my life regarding my artistic practice, nothing went as planned. One show that I had worked on for quite a long time was just closed down very early because of the lockdown. Now I'm working on a short film on Estonian artist Ants Laikmaa (1866–1942). He worked 100 years ago, and he was among the artists who started the scene of arts in Estonia. Somehow he managed to study in Germany but was quite a lot self-taught. He started an art school and he was a very vivid writer in magazines and newspapers. He was a popular figure in the cultural field. The film will be about his life and his artworks, but it will not be like a traditional documentary. Currently we are working on the scenario and how to create an interesting visual collage with the cinematographer Epp Kubu. So the form informs the content and vice versa.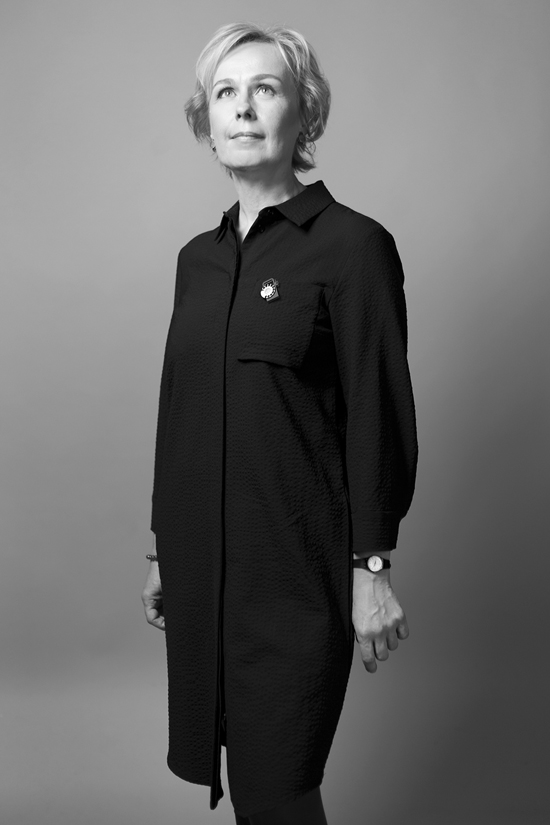 Why did you choose him as a subject?
That's a good question, I didn't choose – I was chosen. About six years ago, I was doing exhibition design at the Kumu Art Museum. I've done maybe 20 years of exhibition and graphic design, as a part of my income to survive as an artist. In 2015, I made the design for the exhibition on Ants Laikmaa that was curated by Liis Pählapuu. I got to explore Laikmaa's works closely and also designed the catalogue, thus I had some knowledge on what he was doing. He built his house in the western part of Estonia, in the countryside, and it was turned into his house museum. The organisation running the museum and Liis Pählapuu are currently working on the new exposition rethinking Laikmaa's heritage. Liis Pählapuu had the idea that I could make an art film on Laikmaa.
It seems like a lot of your work has been initiated through observation. What is your working process like?
I think it's true, I am an observer, I like to observe people. Some of my works are based on historical figures or are semi-fictional and research-based. I like to read history, work in an archive and read documents but the observation is a very characteristic trait. Researching Ants Laikmaa, I realized how close our practices are. He also liked to be in interaction with people, have a dialogue with people and make very quick, catchy portraits. Maybe I don't take portraits per se, I work with a theme but we still have this interest in social matters and affairs in common. I like to follow what is happening in the society and what people's everyday practices are. It depends on where I am and what I work on but it's quite a lot of, what they call nowadays, "post-studio practice". I recently found this term, describing Albrecht Dürer's practice because he was constantly working on the road as opposed to studio practice. I have a studio but it is not very big, I use it more for post-production or research but gathering material, photography or filming happen outside the studio.
During the pandemic a lot has changed in terms of how we see art. What have you found interesting in art lately?
Yes, quite a lot of resources were suddenly made open on the internet. I could watch a lot of films from the film archives, for instance. In terms of working online, we did a post-production of a short film In the Storm of Roses that we shot in 2020. This post-production was possible because we just stayed in a studio, working on it. Otherwise, I took walks every day in my neighborhood. Walking outside was allowed even during the lockdown. I started a photo project 2+2 that consists of photographs that I took while being out on my walks. I realized that there weren't many people around, but there were still quite a lot of building and construction works going on. Huge new developments took place while we were sitting inside, that was so interesting – how the capital constantly flows and keeps working even during the lockdown. It also made me think about many economic issues and how the capital tries to recover itself. What I learned is that change is the keyword; you can't really count on anything as a solid thing.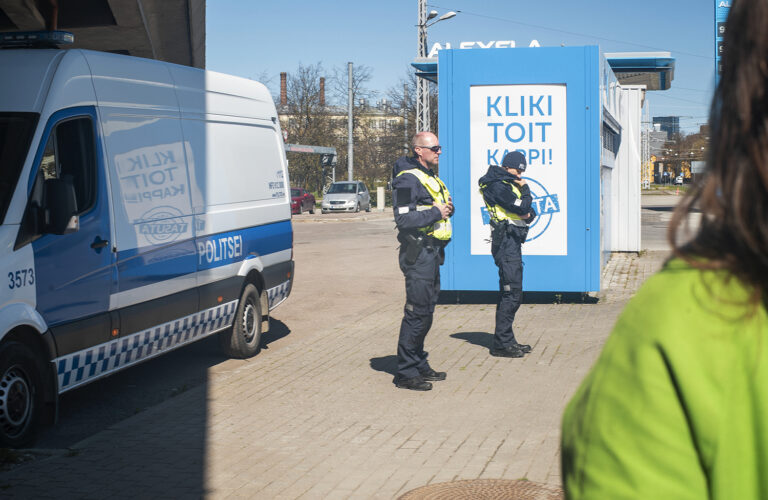 What is the meaning of 2+2?
The meaning of 2+2 comes from the behavioral rule during the pandemic – 2 m distance, 2 persons max together, very simple mathematics. The 2 + 2 signs are still visible in the public space but hardly anyone follows them anymore. So, I guess I have to finish this series very soon. It has worked as a visual diary from the Corona times for me, with waves of restrictions coming and going.
Since you don't have any of your writing on the website, one has to look for the answers for themselves. How much writing forms part of your process?
I write a lot when I do research. I have several notebooks and many, many notes but I don't like writing for the public. I've done some but it's not what I consider my practice because I don't consider writing as my practice. I realized that it's becoming even a problem for my website, but it was started as an archive of images. When someone is interested I can provide more material. During the lockdown I have also come to realize how important it actually is to conceptualize on the textual basis. I was just thinking about my project Urban Symphony in E-minor that I did in Finland 2016–2019, a research on Estonian women who work there as migrant workers. There were three exhibitions in Võru (South-East Estonia), Helsinki and Tallinn as three phases of research. A lot of material was accumulated, and now having a distance time-wise it felt I should do something with it too, some kind of documentation in a form of a publication. On the other hand, I'm also quite happy when people read my works as they wish, because there is certain open-endedness. There are more questions than answers. I like when my work is "wiser" than me, or the work shows something that I even didn't consider when I was doing it. Quite often people come and make their observations about my work. They are so interesting, and didn't occur to me at the time of making the work. I am also a bookworm, I like to read theory very much but I'm not very confident about my own texts. Maybe I should do it more and become more confident.
Do you teach?
Yes, I do. In our school the students should have, what we call them, positions. And of course, in parallel, I tried to be equal with them and think what is my position but it seems so strange, to be honest, because I come from a different culture and I have had a different system of education. Talking about your work wasn't taught so much. Also, I think it changes quite often, it's very dynamic.
You talk a lot about women and misconceptions, roles and myths. Have you ever felt missing out on something or even discriminated because you are a woman artist?
Yes, but only mildly and it's nothing really violent. But I've been thinking of it; it is a very difficult topic that one cannot avoid. Some 20-25 years ago articles about physical abuse of children and adolescent women began to appear in media. I think some of my works were born as a result of a shock that I experienced while reading them. Then, later, when we reached the state of mature capitalism, they started to talk about the pay gap and any inequalities of paying for women's work. Now domestic violence is discussed more. I'm very much interested in the reproductive work that a woman does when she is working and then caters for the family and does this emotional work. This work is unpaid. I'm very fond of Silvia Federici's social reproduction theory and how she sees economic exploitation of women and undervalued domestic labour. Even at the Art Academy, they just assume that a woman professor works more than a male one. Somehow it is believed that if you're a woman, you do this already.
A lot of your work compares historical and contemporary issues. What are the questions that seem not to be resolved but remain silenced?
I read somewhere that the more established we are as a society, the more conservative and patriarchal approaches are coming back. The Soviet period provided a very patriarchal society, but maybe in the 1990s up to the early 2000s people were more modest to express these views. Now for some people it has become like a norm to have a patriarchal stand, then, if it doesn't fit, you can always say that you were only joking. To be honest, I don't see that this question will be resolved any time soon. We are vulnerable, we get nervous and angry about these things. Any new issues we have, they are more vulnerable, like LGBTQ minorities, a lot of people who are very vulnerable in society. It's very important that they have a voice and they are respected, that their voice is respected.
Your probably best-known project is A Woman Takes Little Space that you represented Estonia with at the Venice Biennale 10 years ago. What has changed for women during these 10 years?
It would be untrue to say that nothing has changed; there has been a lot of change. I have followed some of the women that I have photographed. Many of them have become self-employed or entrepreneurs. People live better than they used to in 2007 and they have probably more self-confidence in every matter. It is getting better slowly. But of course, there are still quite a lot of things that have remained. We see how lockdowns during the Corona pandemic have put a lot of burden and stress mostly on the shoulders of these women who had to work as medical workers, or as mothers working from home and at the same time and at the same space taking care of their families. Also, the women who go to work in Finland, continue to act following the same pattern. They do their professional work and at the same time take care of most of the housework. The housework has not diminished over time.
It's interesting how in your video work Haeska you reverse the roles – it's usually the woman that is a victim. What was the intention of this piece and photo series Lla Ri Lli Ra where you play with a notion of a woman-seductress?
It was a conscious shift with Lla Ri Lli Ra. Since my childhood I have had in mind one visual scene from a film by Federico Fellini Nights of Cabiria, where a woman was robbed by her lover, and pushed into the river by him. This was Italian dramatic approach to discuss the things in society. When I was working with Lla Ri Lli Ra, I thought what if I reverse the roles – a woman abuses and pushes the guy on the shore. Probably the society would call these type of women "bitches". Sorry for the vulgar language. But all I did was to reverse the position. Haeska is based on a "devil story" which originates from Estonian folk heritage, where they discuss how the devil appears as a woman. Here I didn't reverse anything. It is also a bit a moral tale about someone who drinks a lot. This person will meet the devils who come as two white dressed noble women trying to drown the guy. I'm also very much interested in witch stories, but I haven't done work about my views on witchcraft and witches yet.
Not a witch, a feminist. Virginia Woolf seems to be an influence on you.
Yes, and her A Room of One's Own is even the title of one of my videos and installation from 2011. The way she writes is something that I often feel are my thoughts, I strongly admire her writings.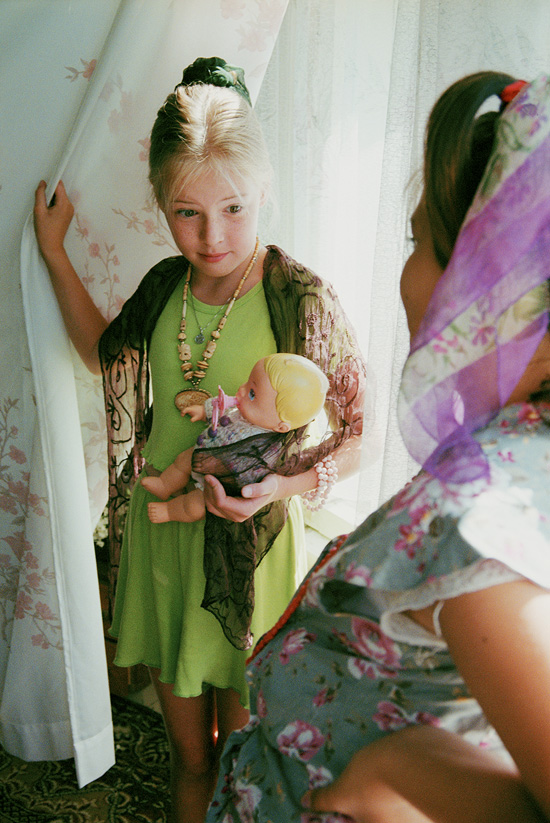 Any specific, potent ideas that you were attracted to?
This basic idea that a woman needs her own space to become, how to say, a subject, a person. It is so interesting that a woman is always described by children or by her work, or by her husband, or by her beauty, or, I don't know, by her ugliness, or by her beauty surgeries. I have always been interested in a woman as an intellectual person. Why do we put aside what a woman is intellectually? Or how she thinks? We know much better how a man thinks, because he never hides it but women do not speak so often about their ideas.
Presumption is a topic in your art, too. Do you see it as a problem in society?
I think we all have presumptions, me too. I have noticed when I put down the assumptions, I could make much more interesting work. Presumed innocence is a title of my earlier work where I was thinking about how we see things or how society sees things and how they change throughout history. Maybe this is how our psychic reality is working through these presumptions, because since we have them, I think we can't do without it. Maybe this is also a mechanism of survival, in a way. Maybe it's a very conservative opinion. I sometimes think that there must be a reason why we can't get rid of these things. Maybe fears are connected to presumptions, as well. There are two basic things, actually, that I have noticed, during my lifetime. One is the geopolitical situation which is more present and more immediate. Today, we are reading news constantly, there is the return of the repressed as we can say, something in history hasn't been worked through, that Avery Gordon calls "social haunting". This is something that I've also been interested in – how something that has not been discussed in society, some historical trauma or something that has been put aside or not discussed, comes back. I think that Estonian society has these issues that haven't been discussed, Russian society has them, and Ukrainian probably as well. I think in all societies, there is a big rush to go further with life, we don't want to stay and discuss these things. But the other thing is something that goes back, in my mind, to the tribal times. This is something that Claude Lévi-Strauss is describing as a gift society where a woman is a gift, like money, like an object of exchange. I think quite often, this latent and silent knowledge, it's still there, if you start looking for it, but we completely do not acknowledge it. We even don't think about it, but if you see how it comes from history and is still used in society… I went too deep.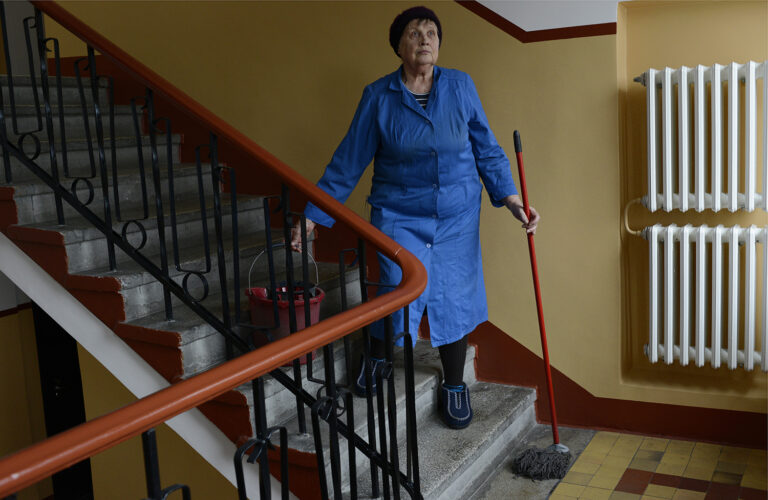 No such thing! However, you show a lot of the everyday in your works. Do you believe the biggest tragedies are behind the mundane?
Maybe I did believe, but now I'm revisioning. I was interested in seeing how an idea emerged in the everyday life, but since we haven't had much of the everyday life recently, I started looking inside. Now my everyday interest is inside people, the interior of our human being or how we can connect it to the relations, how we relate to each other, to the animals, to the environment.
Would you say that an artist has a purpose? If so, what is yours?
I don't know if this is a purpose but it is a responsibility to think. It's a privilege to be an artist. You have more chances to express, more chances to get closer to the things that people who are in the wheel of everyday. As an artist, one can interrupt this wheel or get closer to something at least. Someone said that you would know the purpose of your life in a flash during your lifetime. I think I haven't had this flash yet.
Have you been interested in art since childhood?
Yes, I think so. I remember going to the exhibitions with my parents when I was six, seven years old. And then I went to the art classes in our primary school. When I was a teenager, I was interested in so many things that art was put behind, but then it came back. Return of the repressed.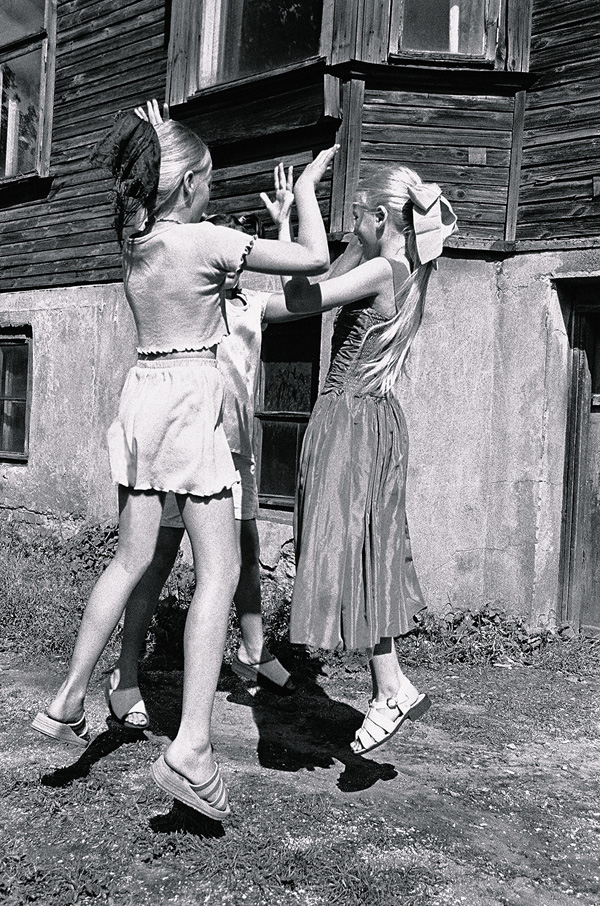 What are your most vivid childhood memories?
We couldn't go abroad during the Soviet period but we travelled a lot in Estonia when I was a child, it was such a good time. My very vivid memories are how we drove and went to the beaches and they were heavenly summers. We lived on the border of Tallinn outskirts. There were a lot of children my age, we were good friends and played together, mostly outside because the apartments were small. I remember a trip with my mother to St Petersburg. There was this exhibition on Tutankhamun's treasures and I wanted to see a mummy but for some reason there weren't any, I was so disappointed. But then we went to Hermitage and there was a mummy from the Altai.
You also have a work on children. What is the connection?
It's a direct connection. When I started to use photography as my main medium, I somehow had to learn it because I had some basic education in photography but I didn't feel as a photographer – I still was an artist, I just didn't have this approach of a photographer. When I was photographing children, they were very natural. This was something that I was looking for when I did my photos. I didn't want them to look staged or frozen, I just wanted them to be in a flux, natural like life is going on. I used my memories of the games that we played outside as children. I photographed children in the swimming pool where I learned to swim myself. I was so happy to see that it was still there as it used to be in my childhood. So nothing had changed in two decades. These childhood-related works have to do with memory very strongly. As a completely new thing in the 1990s was a model school and education from the very young age to teach how to look like a beautiful woman.
What are the things that you like about the photographic medium? What does it offer to you artistically?
Photography is very rapid, one can do it very quickly, not the edit though, that takes a long time. I'm obsessed with cameras, I like technology and lenses. I like the visual rhetoric that the different lenses and different cameras offer you. And I like the photographic image, maybe? It's realist, on the one hand, but one the other hand there is this optical unconscious. Also, one can read photographic images in so many different ways. Maybe this is something that suits me, the ambiguity.
What made you switch towards the moving image? Your video works, in comparison of how you describe photography, seem to be slow with interesting angles and cuts, and an observer's eye.
To be honest, I still love photography but I feel better when I make videos or films. Photography is a certain bridge between art and filmmaking but I still wouldn't consider myself a photographer because I think photographers work differently, they work with the distance. My pictures are visuals, like fine art images. It's very difficult to explain, it's more of storytelling maybe.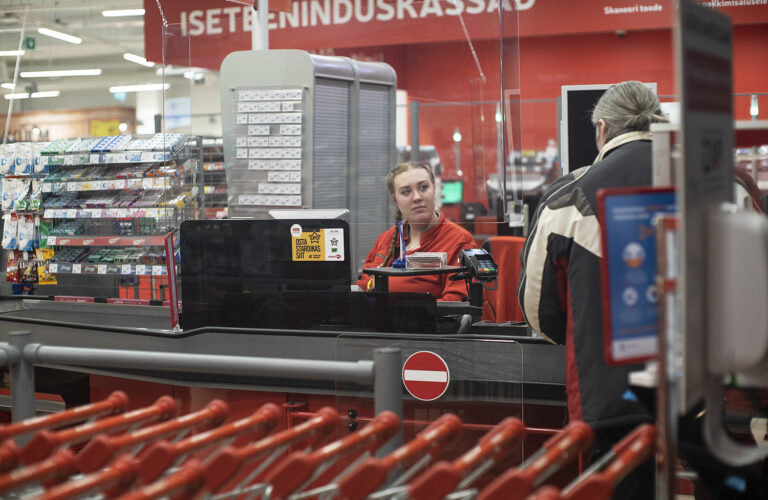 Are there any limitations for storytelling through photography?
Yes, how do you tell a story using photography? Film makes it more successful. Some photographers have been very successful telling stories too. I admire some of them.
Which photographers do you admire?
There are many photographers I like, just to name a few: Eugène Atget, Luigi Ghirri, Lee Miller, Garry Winogrand, Jo Spence, Claude Cahun, Francesca Woodman, Wolfgang Tillmans.
How is Estonian artists' community who work with still and moving images?
They could communicate with each other more. But it seems to me that everyone is a bit divided – there are filmmakers, and then you have artists and photographers. Sometimes they do things together but not too often. I am a member of the photography artists union FOKU. It's a very nice group of people.