Interview with Phillip S. Block
We know about the best photography organizations in the world – galleries, schools, residencies – and we take them for granted. Yet, not always we think of their origin and development. One of the most interesting non-profit organizations, which offers premises for the creation of new works and exhibitions is Light Work, which was founded in 1973 by Phillip S. Block and Tom Bryan. Also, for thirty years Phillip S. Block has been the Programme Director for one of the best photography schools – the International Centre of Photography (ICP). He started his career as a photographer, but later decided to direct his energy towards creating more opportunities for wider public, admitting that he wanted to be a small fish in a big pond and not vice versa. Phillip S. Block is a member of jury in many international competitions and an exhibition curator. He claims that in his pension years he could return to photography again.
I'd like to go back in the history, back to the 1970-ies and the Light Work…
Oh, my goodness!
Do you still remember how the idea originated?
Back me up here for one second – how do you even know about the Light Work?
To be honest, I don't remember how I learned about it, but to my understanding the Light Work is one of the best residency opportunities that an artist can have. Such renowned photographers today as Jim Goldberg, Boris Mikhailov and Cindy Sherman have taken part in it. Besides, the Light Work has a gallery and a photography collection among other projects of the centre.
Has the Light Work sponsored any Latvian photographers?
Alexander Gronsky who currently lives in Latvia had an exhibition this year but no Latvian photographer have yet taken part in the Artist-in-Residence programme – at least, not that I know.
So, it was in the 1970-ies. I had been a student in Syracuse and I had been a photographer. I was never a photography student and I had a chance with some funds from the university to establish a public community darkroom, a place where photographers could come together and share these facilities. With those funds I built this organization called Community Darkroom – a simple idea but very large darkroom. And then alongside with a friend of mine – Tom Bryan, we applied for and received a non-profit status for an organization called Light Work. A parallel organization that was the programming for this physical facility and the essential idea was, as a non-profit, to raise money from the government and the individuals to invite people to work as artists to use the facility. It was a simple conceive in its origin. In addition, we wanted, of course, to sponsor exhibitions in our gallery and bring outside artists to talk about the photography. That small idea was right for the moment and we were good not only at managing, but also at raising money to bring it all together, so a physical space and facility along-with the resources to invite other artists and to pay a small amount to the residents, to exhibit in the gallery and to publish, took off. The idea that we would pay artists to spend a month or so in Syracuse was radical at the time. For many people, it was a paid vacation to do what they did. At that time, not many artists had another career to support themselves and for them, this was the first time when we were able to acknowledge that their art production is important enough to be paid for and honoured to support them. We had no intention to do anything more than having them doing their own work and to use the resources of the facilities and the community. And it is still as vital today as it was. Our interest, of course, was not in established artists but in young artists, people that were at the cusp of what we thought was an important work or had shown those essential ingredients – persistence, passion, that level of patience where in, for example, in 20 years experience as an iron worker or a teacher, photography was something else they continued to practice. We wanted to allow them to be artists. Our selection process was to celebrate those who were not known yet, to see what they do.
What did make it a success?
We thought of ourselves as being facilitators, catalysts, not as being curators or directors. We were partners with the artists. Our job was to serve them and, of course, our success was based on their success, the more we could help them to be successful in what they did, the greater our success would be. In fact, today Light Work is essentially the same organization that it was – as expansive and perhaps more diverse but the same core ingredients are there. There was a secret ingredient in that project and that is Syracuse like Latvia is not Paris or New York, or London, or Moscow. For us, it was a way to share our passion for the region with a range of artists and, for photography as a medium of representation and documentation, invite people there to see the area we lived that they might have never done. Some remarkable work has been produced. Secondly, it was a way for us to broaden the conversation, to create a community of artists that could participate in the dialogue. There was no obligation for them but we did ask though to make themselves available if someone wanted to meet and speak to them. Nothing more formal than that. It gave an opportunity for the artists who lived in Syracuse to meet a range of other practicing contemporary artists from around the world. We created these opportunities to make those intersections happen – we always did an artist's talk, introduced the artist to the community, attempted to do exhibitions, small discussions about the practice, we always engaged the public whatever the projects were. We were looking for the partnerships. If you proposed a project to work with our regional church or the police department, or the university, it was really interesting and we liked that the artists were making everyone part of the larger community because it is our belief that the photography is a part of a larger conversation about the world. Tom Bryan and I stayed for over a decade and both of us realized that, besides our job at the Light Work and the local museum where we were co-curators and were also building a collection of artwork, we can expand with an infusion of a new leadership. Both of us felt that while we could have remained at the Light Work forever there were other opportunities that we wanted to explore. By that time we had forged a very strong relationship with the university and we were able to transition from our shared relationship to select another leader and to move on for me, as for Tom Bryan, he wanted to pursuit another interests. I was not tired but I wanted to be part of a broader conversation. I didn't want to be a big fish in a small pound but a small fish in a big pound.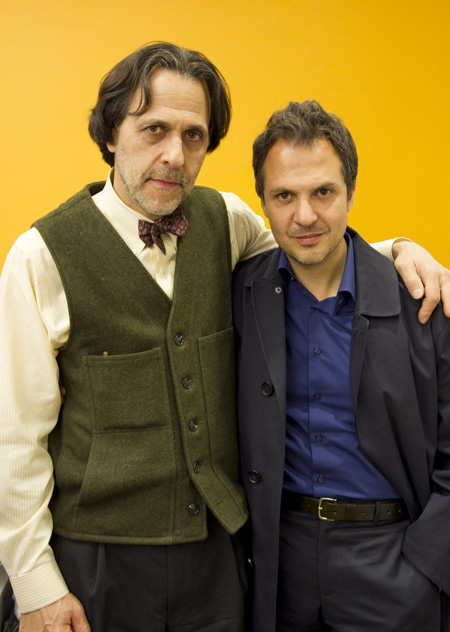 Where did you swim away to?
I spent a year in London and worked with my other interest which is in the books and binding. Once back in New York, I had an opportunity to consider how to make ICP what it is now. Cornell Capa, who was the founder of ICP, was interested in building a school with a solid educational programme, it was always his vision that ICP would be a museum and a school. Cornell invited me to talk and I liked him from the start. He was a very engaging, entrepreneurial kind of gentleman, someone who had a big idea, a great ego about what he could do and even without a clue how to do it, he didn't stop. He was as much entrepreneurial, as enterprising, taking every opportunity that came along and was tireless and fearless. I liked that kind of casual spirit, his embrace in photography was very wide, he himself was a documentary photographer but hugely open to a broader discourse – the many tendencies of picture making practice. I saw a great possibility and greater resources, I thought how great it would be to again build something that could sustain and thrive. I thought that I could maintain my practice as a photographer and Cornell laughed when I told him that. He didn't tell me that that was his vision when he started ICP – that he would work 6 months at ICP and 6 months on his own photographs but it didn't work out for him nor it begun to work out that way for me. I realized within the first year that this was more than a full time job. Within five years I understood that the choice I had to make between institution building and my own practice and I realized the great promise – I loved working with people and helping people. For the past, I'm surprised to say, 30 years I've helped the institution to grow to the place where it is now.

Please, tell us more about ICP!
The school is huge – 6000 students are taking classes from 50 countries around the world! Many of our students are out in the world actively practicing photography. Friends of mine who travel come back and say: "Phil, wherever I go, I meet your students!" We can see their work in magazines, in festivals, among the laureates of international prizes, our students are doing great things. The sense of community is still very alive at ICP. Even though ICP is a more formal school as Light Work, it's still about the same thing – about sharing the passion that we have for image making. Our understanding, supporting and building the network of community of people as ourselves, that love and think pictures, make it different. All pictures play a role in our lives, in the world. We believe that photography matters. We are willing to share our enthusiasm for those who want to join us. You come to New York to do the great things within you.
What was important for you to bring to ICP when you started working there and what significant components are still there that differ from other institutions?
What attracted me at ICP was the interest of education, practicing within a museum context. Modern museums have moved away from fundamental principle of welcoming the public to produce, to encourage them to be practicians. That's a modernist conceive, I believe. In the 19th century, there was a sense that you could visit a great wonder capital, a museum, and bring your pencil and pad and draw alongside the masters. Education was very much encouraged, it was a noble pastime, a learning within the walls of a museum. In the modern times, they are ivory towers, they are places where we see the fine art named by masters that are greater and different than you and I. Truthfully, I don't believe that. I believe that the entry in the field of photography is absolutely flat, that anyone can be a photographer. In fact, with the advent of our cell phones, our smartphones, we are all photographers. The difference is now, when we all are photographers, some of us will be stronger, more communicative, more productive, more analytic image makers. That's where I see our function at ICP. This great opportunity to do something different attracted me at ICP, to build a school within an institution, a museum with its collection, so our students could participate in all levels of experience, they could enjoy the richness of the collection, work alongside with the curatorial staff, enjoy the library of 25 000 books, and all the busyness and activity of the museum. At the same time they can pursue their own photographic studies. With the richness of that community of people right there – they can look at the original prints of Robert Capa, Weegee, Robert Franck or Mitch Epstein or they can go talk to the curators, or walk into the library and see all those important photography books, they can sit down and read all of them every day of the week! The students have read every book in the library, they've looked at every photograph in the collection, they have every email address and telephone number of every staff member of ICP, they've spent late nights at the digital lab or the darkroom, they've slept on the floor, waiting for the prints to process – that's what constitutes the success! It's not about the great photographs they will make, it's about the years they've spent living in the richness of the school and New York, that's the fuel you're going to use later. After all, there are 5 P's you need to be successful in no matter what you do – passion, persistence, perspiration, perseverance and persuasion. Our goal is not to make great artists, that's presumptuous, but to share our passion and let people find their way within the medium.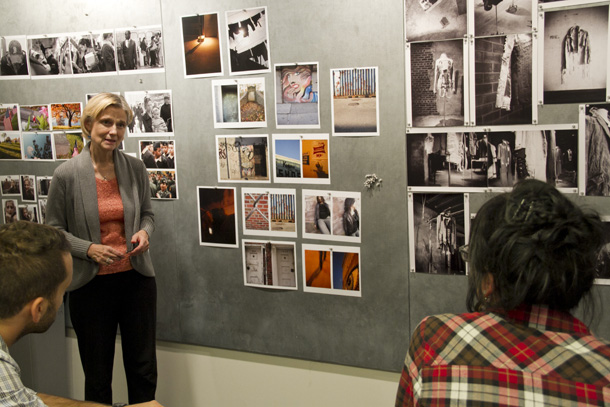 Don't you think that the students are also so engaged because the programme costs what it costs?
Perhaps, it is hugely expensive, we fully understand that and the circumstances of American higher education. In America, there is no support in the ways than there is in France or other areas to support the education, so it's up to the institutions. Our scholarships are modest, against the cost of tuition. And also, the cost of New York, it is not cheap to live there. For us, at ICP, the greatest problem is that we haven't been able to raise the resources to sustain the support. Fully acknowledged! One step at the time. I said earlier, when I came to ICP, I took me some five years to realize that I won't go back to picture making practice because building a school at ICP was far more complex than what I did at Light Work. There is still so much to accomplish after 30 years! From your mouth to funders ears! I hope that the cultural community in Latvia that have sources could support a student to spend some time at ICP. What we like to think, when the students go back, they are multipliers of this enthusiasm.

You mentioned a few times that you left the picture making behind. Do you still hope to go back to the practice one day?
Of course, I still think about it but I know that the journey of an artist is a singular journey and you need to give yourself to the practice. It doesn't mean that you can't have a day job, working as a bartender or an office worker, for example, but you can only commit yourself fully to one thing. I'm committed to this building, to this institution – the Centre of Photography. It's not that my time has passed but ultimately my work as an artist will start again perhaps when I leave ICP. But I start again where I left 30 years ago, you don't just add them. All my piers have 30 years of practice in their journey. For me, as an artist, I don't just wake up and I am where I should be, I'm 30 years back, I'm still a baby as an artist.
How can one orientate in the mass of images which, as you also said, is created by everyone?
There are many things making good photograph, I'd like to think that we know that. These are all the things we've talked about – people who are committed and active in their practice for a long time, who are dedicated, who are not casual but dedicated cell phone photographers who have an intent and a content within their work. We see what we see, we know when it's present. Many artists work for years in isolation, they need a range of distribution channels, such as yourself, places like ICP, they need a community. I like to think that what I do at ICP is to build a community. I would hope to think that is what you do in your magazine in Latvia. People in the community share passion, as we talked about it, they understand how pictures function. When I mentioned those students reading the books and sleeping on the floors, getting everyone's email, it's also about building the community. Elina can call Phil and say: "I want to talk to you, I need to show you what I am doing!" We are not alone, we all stand on everyone's shoulders and that support comes from the community, it sustains you and you are participatory to sustain your community and vice versa. If an artist realizes that, they will thrive. It will take time, they won't be the flavour of the month, their pictures won't be on the walls of a fancy hotel but overtime it can work out the work will be known. If you maintain all those multiple P's in all the ways and do the things for good reason, all of a sudden a friend at Aperture will mention the name of Gronsky and people will realize that it is an interesting work. Photography is changing as we speak. It's moving to a screen based practice, I don't know about the evanescence of screen based versus print based practice. The nostalgia that I feel for books, is it a false nostalgia? Can I get the same sustenance from a e-book? Do I need a real book as a form of reinforcing of who I am? I join you on the journey of discovery, trying to understand all the places that photography will reside in the future and the ways that we all are going to use. For every answer that I have, I have five questions to ask. I don't know where the world is going but I know that the photography will play a role. A still image will remain. If a photographer starts using multimedia or video, it will still be a part of how he talks about the issue, how he describes and thinks about the real world because pictures can be grounded in the real world, that's one of the strengths of photography. They can be about the interior, the personal life but the essence is that they come from the real life, how we shape and play with them, give the great strength.
You were one of the nominators who chose three candidates for the Discovery Award at this year's Les Rencontres d'Arles. What is a discovery for you?
The three photographers I chose to nominate – Sam Falls, Lucas Foglia and Hannah Whitaker, they touch a range of contemporary tendencies within picture making practice. Their ideas are resonant with today, they help us understand who we are, what the medium can do. Three is not enough, there are so many different tendencies that I would like to talk about – from those people who are in the world, talking about the environmental issues to those who are talking about how to embrace all the multimedia aspects. And in Arles, I've been introduced to work that, of course, I didn't know, much of the work of other artists, presented at the Discovery Award flew under my radar, I knew some of it. All the discovery awards are new to me in a fantastic way. And then, all the work that I can't name yet, the discoveries and rediscoveries are wonderful because the truth is – do I know Henri Cartier-Bresson well? Yes! But did I discover something new on him, did I rediscover him after seeing Cartier-Bresson's century? Yes again! In fact, every time I'm in an environment, such as a festival, it's all about a discovery and rediscovery. Every day is ultimately a sense of a discovery. I'm here and I've been involved in the field for forty years and then I see a work of someone whose work I've known for thirty years, Bruce Gilden. I brought him to Light Work over thirty years ago as a young, unknown photographer, never had shown before, not a member of Magnum yet, and now I rediscovered his work again! Every day is a rediscovery! When Robert Capa was traveling around Russia in the late 1940s, early 1950s, a journalist from Norway asked him: "Mr. Capa, please, tell me if you have any advice for a young photographer?" Capa said something very surprising: "Like people and let them know it!" The great simple thing, you do that and you can't fail.