Interview with Jan Brykczyński
The Polish photographer Jan Brykczyński has gained considerable international recognition during the last couple of years, mostly thanks to his project Boiko. It depicts a small village in the Carpathian Mountains, Ukraine. In Jan's photographs this place is represented as a mythical land we know from fairytales – far from the restlessness of the 21st century and modern city life.
Boiko is on display at the Latvian Museum of Photography until October 26.
What is the project Boiko about and where did the idea spring from?
Boiko is my first long-term project that I started six years ago. It's a story about life in one village in the Carpathian Mountains in Ukraine next to the Polish border. I spent three years shooting this series.
The village is stuck in time – life there looks the same as it might have a hundred years ago. I've used this place and the people there as a metaphor for the way of life in the countryside of the past, referring to the archetypes and ideas we have about it. Because of modernisation, in a lot of European states we don't see examples of this kind of life anymore, but we still have ideas about it from fairytales and other stories. I really wanted to find images that would correspond to my ideas about life in the countryside.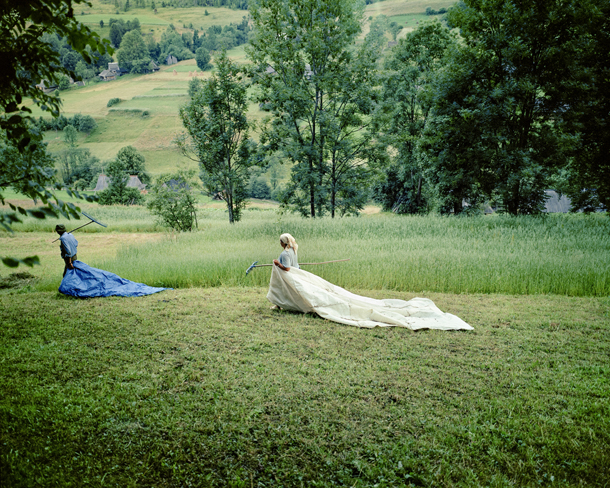 You've emphasized the surreal and fairytale-like aspects of the project – could you expand on this?
On the one hand, I knew I didn't want to do a project about the local folklore. I wasn't interested in that at all. On the other hand, I wasn't interested in a realistic story about an Eastern European village – showing the hardships of life that are obviously also there. I focused intentionally on the beautiful and surrealistic aspects of it. That was a very deliberate choice – I went to the village only during the winter or summer, when the nature there is beautiful. And [during editing] I chose only the photos that have this fairytale quality.
In my work it's always important to create some kind of ambiance – to create a world, and to invite the viewer to enter it. It's important for me that the world is not too realistic, because that's what you can find when you go there on your own. Therefore, the photos are very colourful and aesthetic. Of course, you can also find references within the work to, for example, [the paintings of] Pieter Bruegel.
Where does the title of the project – Boiko – come from? What does it mean?
On the one hand, Boiko is a general story about this kind of life in Central – Eastern Europe, but it's also about one specific village and its people. The people who live there come from an ethnic group that lives in the Eastern Carpathian region, and they're called Boiko. It's quite a large ethnic group that lives in the mountains and around them. They have their own culture and their own identity. I gave this title to the project because, firstly, it's a tribute to them – to those people who hosted me there during the three years I went there, who invited me to their world and allowed me to photograph it.
However, on the other hand, this title says nothing to most people – it's this kind of magical and strange word that makes you question it's meaning. You become curious, and you want to find out what it means. As it is not a well-known word there's some mystery behind it.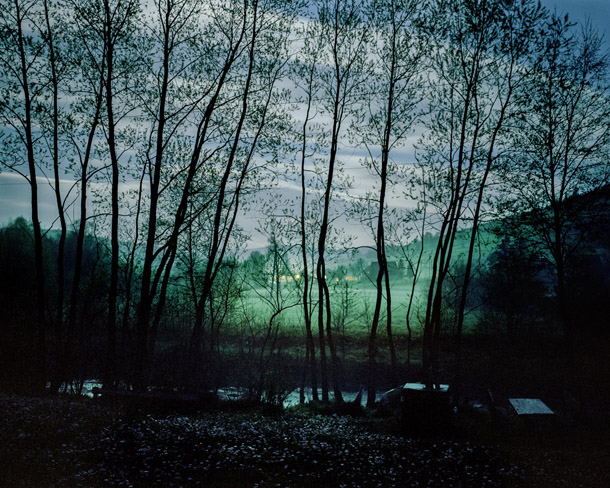 The project began when Sputnik Photos (a collective of documentary photographers. Jan is one of the founders of Sputnik. -I.R.) got a grant to photograph Ukraine. The result was a bigger project titled U which also includes work by other Sputnik photographers. Do you think your project and the work of your colleagues has gained another meaning now with the difficult political situation in Ukraine?
First of all, our work always focuses on a very narrow aspect of reality – we hardly ever comment or deal with more contemporary issues. Speaking of Boiko – as long as there's no war, and these people aren't sent to the army or kicked out of their houses, the situation doesn't really change a lot for them.
But, of course, the project got more attention because of what's going on in Ukraine, and people are obviously more interested in Ukraine now. I think the work is beyond the specific political context, but as an answer to your question, I would say that the series shows the cultural diversity of Ukraine. This project was done in Western Ukraine, which is much more European. What is interesting about the place is that the people who live in this village have changed their passports six times during the previous century without moving from their homes – that's quite something.
I think it's a bit similar to other projects we did in Ukraine – everyone photographed an aspect of reality there, and I think what it proves is the cultural diversity there.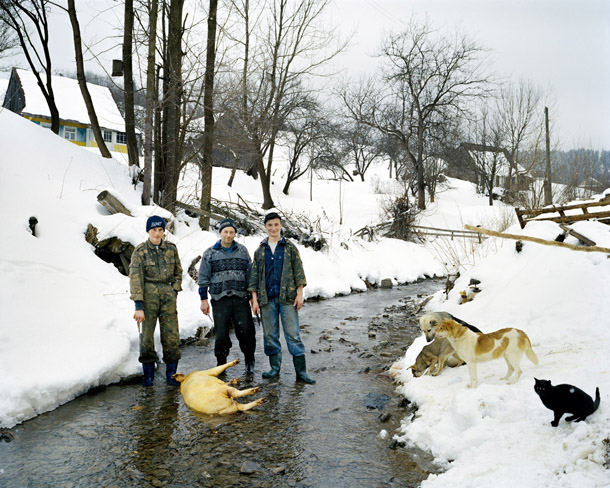 Returning to Sputnik – tell me a bit about the organization. What is it, how does it function and what's your role there?
We founded Sputnik in 2006, and it's kind of a mix of artist collaborations and personal work. We always do projects together in the areas and regions we're interested in, but in the mean time [during these collaborations] we're always free to work on whatever we want – there's complete freedom in choosing what you want to photograph and how. In the end we try to put the projects together, and create a book or an exhibition out of them to add another context to the work [of each individual photographer]. So, in this sense [the projects we do together] are artist collaborations. From the very beginning books as a medium have been very important to us as a way of presenting our series.
Our work is very structured, and this has a lot to do with the way our projects are financed. Often we apply for grants, and then you always have a very strict timetable and deadlines. This usually gives us one year to complete a project. I would say this [kind of work structure] is actually very good for an artist – you have deadlines and you have to submit your work on time or otherwise you don't get paid. During the last eight years we've found a way of working that has allowed us to work on our own series, and at the same time to create larger projects together. I think there's quite a good balance between our collaborations and our individual work.
Now, after those smaller assignments we did in single countries (projects – U about Ukraine (2008 – 2009), IS(not) about Iceland (2010) , Stand By about Belarus (2011 – 2012) –I.R.) we understood that at the moment we really want to work on a larger project. So now we're working on a project that is about territories that were once part of the Soviet Union, and now Russia is working on getting them back. It's called – at least for now – Lost Territories; this got another meaning with the situation in Ukraine.
Basically, we're focusing on all the ex-Soviet countries, so the series we've already created in Ukraine and Belarus will be included. The goal is to photograph all these republics and to publish [all the work together in] one book for the 25th anniversary of the collapse of the Soviet Union, which will be at the end of 2016. Last year we were photographing the Caucasus, and next year we're planning to go to Central Asia, where we will photograph all the five "-stans" [Kazahstan, Kyrgyzstan, Uzbekistan, Turkmenistan and Tajikistan]. Hopefully we'll also photograph the Baltic States.
Before, we were doing a project a year or every two years, but now we really want to work more long-term. We're continuing to work as we have done before – each photographer is focusing on what he's really interested in. It's a way to speak about a large area from different perspectives, and in a limited amount of time.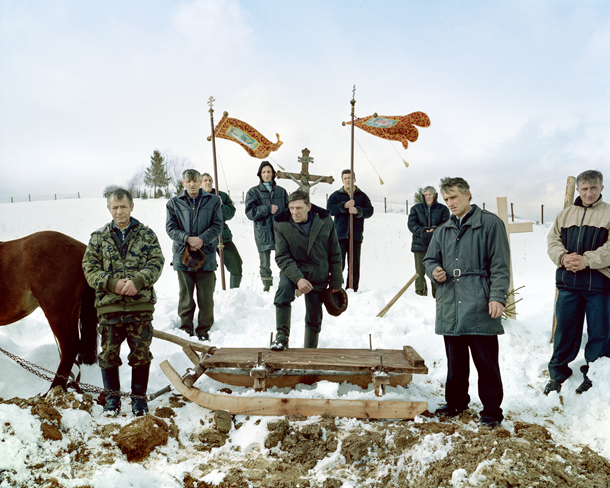 You also have a mentor programme at Sputnik, where you teach emerging photographers. Tell me what the youngest generation of Polish photographers is like – are they promising?
It looks great! The people who join our programme are usually quite mature already – they're photographers. We try to help them develop long-term projects – during this year they have to complete one project from the beginning till the end, from research to presentation. Some people are young but some are our age, while at the same time I would say that most of them are very young and fresh in the way they look at reality. They don't come to us for the same purposes they would go to a regular photo school, because we're not a photo school in the traditional sense. What we offer is a very specialized course in documentary photography, and people come to us in order to learn how to tell a story. So it's a lot about learning to build a narrative.
The process [of creating the series] is the most important thing for us. The results – some are better, some are worse, but their starting points are also different. The way the idea will develop is always unpredictable. This can be scary and that's why we're there for them during that year. We have some great students, so it's really exciting.
You have already stressed the importance of the book – as a final stage of a project – for Sputnik, and you have self-published one recently out of the Boiko series. Could you tell me a bit more about your book, and the process of making it?
This is my first book, and it's self-published so [during the process] I learned all the steps of what it means to make a book. This was a huge learning opportunity for me. It took me three years after shooting to put it together, and it showed me that there are some steps in the process that you can't speed up. [Making the book] was all about finding the right form for the project – as there is almost no narrative in this series, the editing and sequencing was challenging. Even though I had a very focused and consciously produced body of work, I still had a lot of questions on how to put it together.
For me a book is a big collaborative process – I can't imagine making a book all by myself. At Sputnik we have a great designer – Ania Nałęcka who has designed all the Sputnik books and who also worked on this one. Working with her is really a pleasure for a photographer. Ania listens to your ideas, and she really has her way of translating what you want to say in the design of the book.
Editing the book was very hard for me. I had two editors – the first one was Erik Vroons (GUP Magazine editor-in-chief) who helped me in narrowing my vision. And then there was Rafal Milach (also a Sputnik photographer) who did the final edit and the sequencing.
I think self-publishing is a great learning opportunity – it forces you to take responsibility for all the decisions you make. You have to organize all of the work, and to promote and distribute the book afterwards. But at the same time you don't have to make any compromises when you publish it, while [when working] with publishers sometimes there's pressure to do things one way or another.
Another important aspect for me was the text that's included in the book, which was written by a contemporary Ukrainian writer – Taras Prokhasko. The text works in parallel to my photos, and in the book we arranged it in a way that it's not a part of the story but at the same time it's next to it. It's very important to find the right text for the work, because you can really destroy a book with text that doesn't fit the photographs. Of course, there are a lot of people who don't read it but if someone wants to go deeper in the subject, the text can reveal it from a completely different perspective.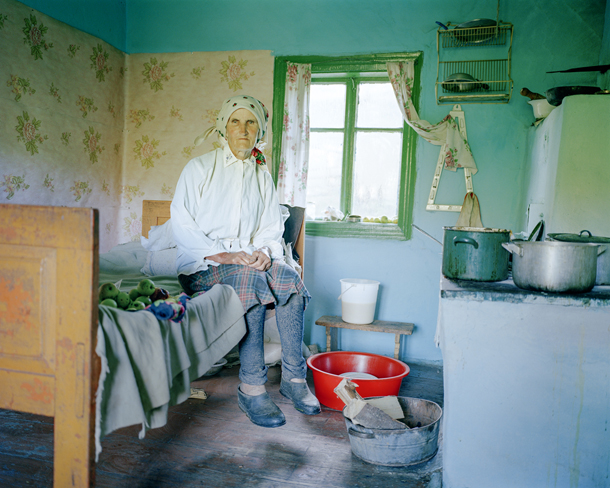 What are you working on now?
Now I'm working on two things. One is related to the Syngenta Photography Award I won last year, which allowed me to do a body of work on urban farming in some of the biggest metropolises of the world. I chose to photograph the low-income communities in the outskirts of these cities who grow food there. I focused on the way they choose to arrange their gardens and the structures they build from re-used materials. This book is going to be published in March 2015 by Dewi Lewis Publishing, so now I'm working on editing the work.
The other thing I'm working on is very different – it's a book about the life of one person. I am photographing in one house in Belgium where I try to trace the life story of one person and the social class she represents. I can't tell you much more about this at the moment, but [the work is about] memory and the way the objects that surround us function. The story is kind of a collection of objects that this person has gathered, also involving her archival photos. It's very different from what I've done before but that's also why it's exciting – it allows me to experiment.