Interview with Rafal Milach
Polish photographer Rafal Milach's (1978) latest book The Winners (GOST Books) pictures the winners of various state and local competitions supported by the Belarusian authorities. It was shortlisted for last year's Paris Photo – Aperture Photobook Award and sold out within a few months. Kick yourself if you missed it (like me), because now there are only special editions left. Smartly and beautifully executed, it includes the most beautiful dog, the most efficient potato kolkhoz, the best welder, the best couple in love, the best Jennifer Lopez lookalike and the most beautiful staircase in Minsk among other exciting, sometimes sad and sometimes amusing subjects.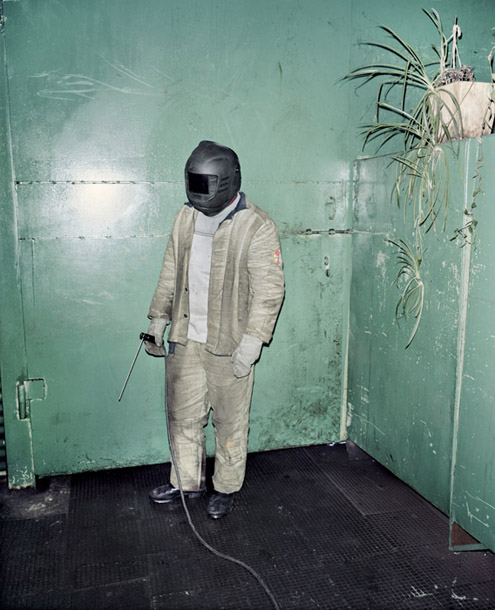 Because of the cool, detached and flash lit aesthetics, Rafal might seem an outsider in the world he depicts, but he has been working in Russian speaking countries and Central and Eastern Europe for more than ten years. During this time he has documented former circus artists in Poland, life by the Black Sea in Ukraine and in contemporary Russia, and tried to figure out what different people find beautiful. He also took a detour and went on a road-trip around Iceland with writer Huldar Breidfjord. They drove for ten days with Rafal obsessively photographing everything he came across, and the writer silently contemplating. From Breidfjord's sharply observant and witty text in In the Car with R, I vividly remember his comment that "traveling with a photographer is a bit like shopping with a girlfriend that wants to look at all the clothes and try everything on – a never-ending drag". Slowly moving from documentary observations to more ambiguous photographic approaches, Rafal's curiosity about the world around him and an eye for a great image is what makes him stand out.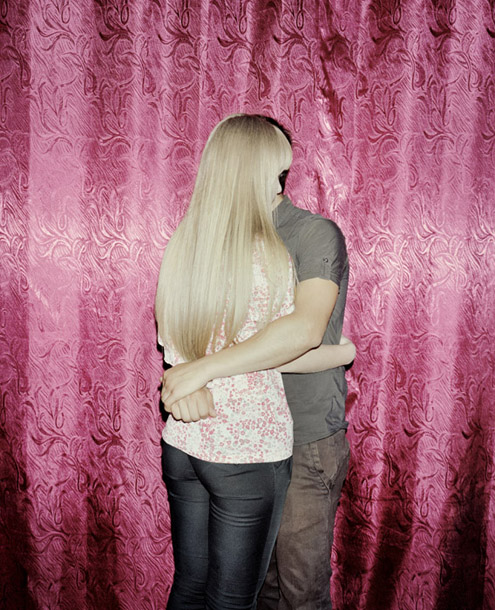 Rafal is part of the Sputnik Photos collective, who are currently gathering funding for a journey to five former soviet republics – Kazakhstan, Uzbekistan, Turkmenistan, Tajikistan and Kyrgyzstan – to work on a weighty project, Lost Territories. They plan to finish it by 2016, the year marking the 25th anniversary of the collapse of USSR.
Last year Rafal was teaching a masterclass at the ISSP 2014, thanks to which this interview was possible.
How has your work changed since the beginning, when it was more documentary compared to the recent projects?
I think it's always changing from project to project. When you find some kind of a solution for telling a story, it stops being interesting to continue in the same way. It isn't a question of [the project] being documentary or conceptual or whatever, it's rather that if you feel that you could tell the story in some particular way, you just pick the tool to do that. The method is also a question of your personal signature, which really annoys me, because people get very attracted to one form of storytelling, especially when it's successful. But it's a trap. It's always linked to the ego of the artist – people get attracted to things that are successful, that work good, that they feel comfortable with. To me, feeling comfortable is the last thing I would like to achieve, because being comfortable makes you lazy. That's why for me everything is constantly changing, and I hope it will continue the same way. I don't think [working in different ways] is a fragmentation of your signature or of your personality. It's fascinating to do new things, and maybe sometimes to go back to the things you have done before. It's just a question of the right tool.
How do you find themes that you want to work on?
I have the impression that they rather find me. I circulate around some certain topics or geographical areas. Recently I've been interested in propaganda mechanisms. I like to explore how things work and then to deconstruct them – whether it's some region or stereotypes, some issues dealing with communication, spreading information, manipulating information.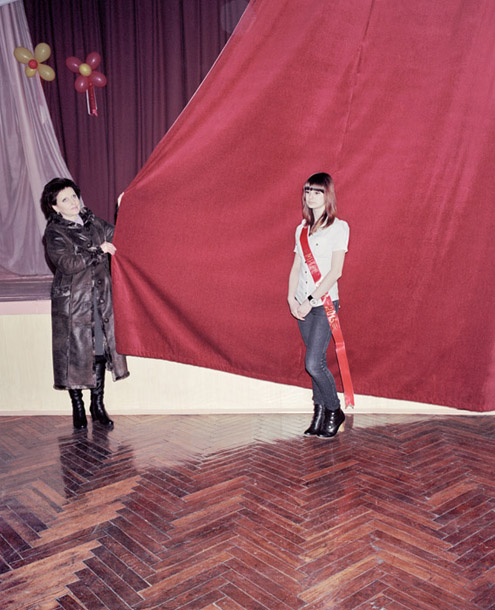 You are kind of a road-trip photographer – most of your projects are done outside Poland. Do you feel a need to travel to make work?
It used to be like that – for many years my personal work has been linked to remote places or at least a region I come from, but not necessarily my closest surroundings. I have been an assignment photographer for many years and I had the need to get away from it. But for the last two years, I don't work that much on assignments and I'm getting closer to the point where I'm ready to start working more in Poland. It's quite a new experience for me. But I usually try not to go to places I don't understand or don't relate to. Maybe Iceland was an exception; that's probably why it was the most autobiographical of my projects. But, for instance, Russia, Ukraine or Belarus, these places are linked to the history of my family. These are, of course, quite remote links, but these places mean something to me. It's like discovering your own backyard from a different angle. In the post-Soviet region we have common knowledge, a common past, common experiences of transition. I guess another topic that I have always been touring around is transition. This is part of my experience, more or less conscious, but it's there, it builds you.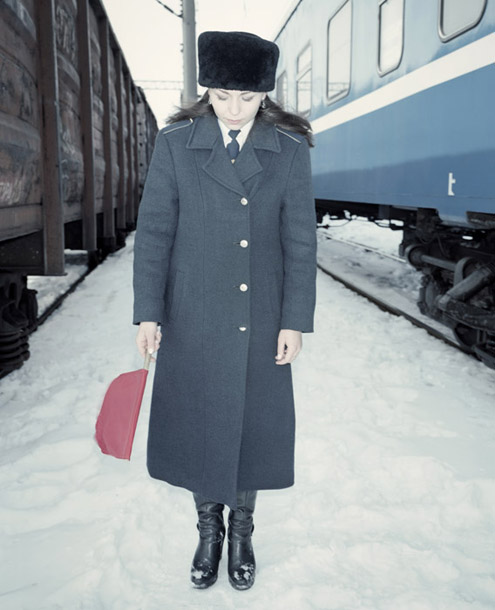 It seems like text is also very important to you.
Yes, in the books. Since I started to publish most of my work in book form, text became really important. Unfortunately, I cannot write. I'm a much better photographer than writer. Sometimes the text is contextualising, sometimes it's adding information, sometimes it's like a parallel that creates some space in between the pictures. The interaction between text and pictures can be quite loose, or they can meet only in few points, but still it's around the same core. Regarding the different use of text in the books, for example, in In the Car with R the pictures are not the reference point to the text, it was the travel itself. While in 7 Rooms the text adds some information. It doesn't refer to the pictures in an illustrative way, but there is a direct link between the pictures and text. And in The Winners the text is contextualizing things. The role of the text is quite reduced and it's not informative, but it adds a certain context to the project. I think it works in the structure of a book in so many different layers, because on one hand it's giving you some information, on the other hand it's hiding some information, directing you, pointing to different directions. It can be understood differently depending on the point of view. We are used to text giving us information, but The Winners is about confusion.
And disinformation?
Disinformation, yes. So maybe in The Winners the text has been used most consciously. I haven't written any text myself because I didn't want to give any statement. I'm using an existing text. This project was about eliminating this artistic gesture or your personal input in the story.
So you didn't want to point out to people what they are supposed to think?
I tried to. I don't think I entirely succeed, but I tried to withdraw as much as possible. Of course, I know it's impossible to be entirely neutral because you have your own history, you come from somewhere and this already adds context to your work. Maybe it could have been done in a more neutral way, maybe I wasn't radical enough, but I felt this was the right way to do that. It is always the question of personal integrity, because want it or not, it's you who is doing this work, so for some reasons it's important for you. It already means that you are not entirely neutral.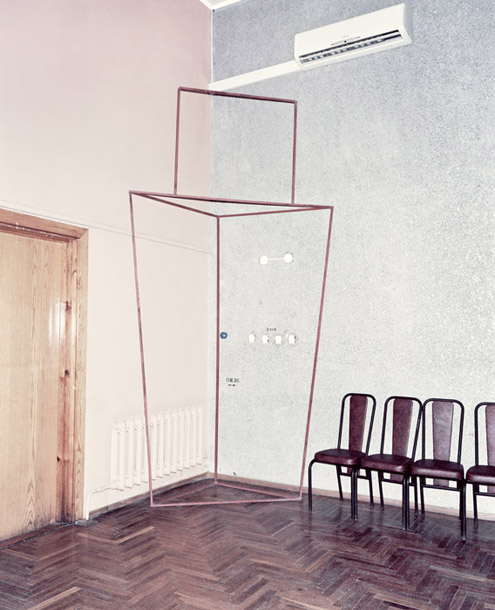 I thought it was interesting what you said about The Winners – that for the first time you didn't want to know anything about the people you were photographing.
Yes, this was one of the elements of withdrawing as a photographer, as a person in the first place. Usually I'm very much interested in people I photograph. Also, this project is about people, but it's not about individuals. It's about people in some certain circumstances, being part of a bigger system.
Do you think if you had more information about these people, it would influence your concept of being as neutral as possible?
I mostly make friends with the people I photograph. Of course, you're not able to form a deep relationship in all cases, but its a kind of exchange between the person and the photographer. Sometimes you protect yourself by not getting too involved with your subject, but this time I didn't want to deal with these intimate emotions. It may seem cynical and it might seem that I treat my subjects as objects, but in a way this was my goal, because that's how people are treated by the system. So I decided to work like that on purpose. It's very much about how you can underline the message you want to give by your way of working.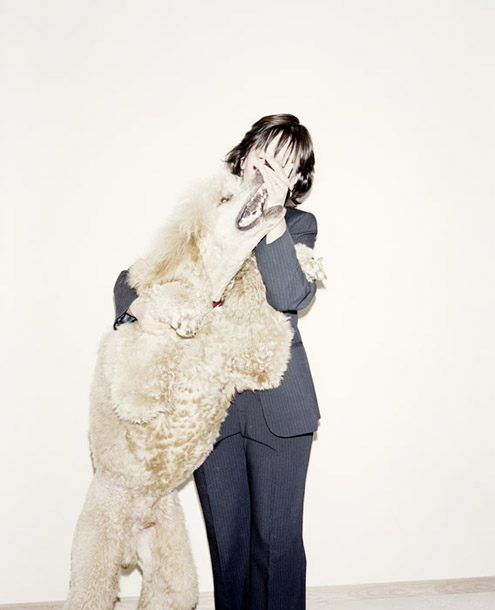 Do you still work commercially as well?
I have to. I have to live off something. But as I said, I don't do as many assignments as I used to. With Sputnik I can try to get some funding to develop my personal projects, at least to cover their expenses. I'm definitely lucky that I can do a few assignments a year that allow me not to feel that stressed about surviving, but of course it depends on the needs you have. I don't think I have such great needs, so sometimes I refuse jobs because I prefer to focus on personal work. But some jobs I have to do and some of them I do with pleasure. The fact that something is commercial doesn't mean that it's a pact with the devil. If you have too many assignments then you obviously don't have time to do your personal work, but it's a question of the right balance. This balance is different for everyone.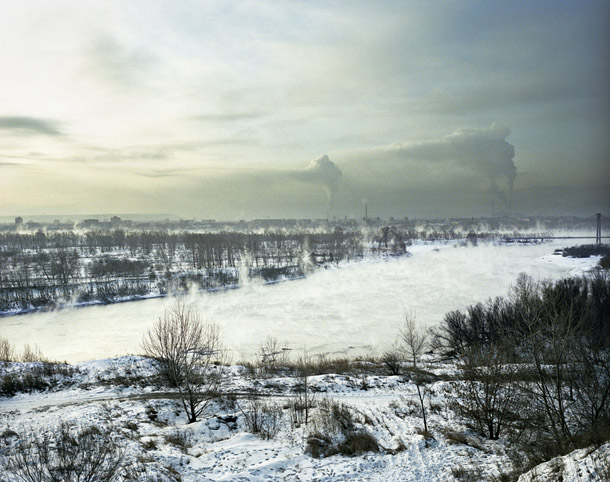 When you work on your personal projects, do you always thinking about making a book already from the start? Do you prefer books over exhibitions?
Yes, for the past few years I think about making a book, but it's not that fixed. I think some projects work as a book, like The Winners, but for the same big project about propaganda I did another thing in Georgia, and I think it's going to be an exhibition or an installation using photography. At the moment I don't feel a need to make a book. Maybe if I find a proper solution for the book, I will do it because I like books. But in general, it's like selecting the proper tool for what you want to say. If I have a need for a three-dimensional aspect, I would rather think about how the project can look in space, and if it has to be a book, then I do the book. But of course, I'm addicted to books. I believe that books give you a proper space to tell your story, but it's not the only solution. I try to put the message first .
As an addict you probably have a few books yourself. Have you seen any lately that you really like?
There are not many things that I like to possess, but I really like to possess books. I could spend a fortune on books. And there are so many good books. A lot of crappy books as well. I've been too late for many books, because they are out of stock and you cannot get them except for some crazy prices. In some cases it takes really long time to get to the book – because when you get 20 books and put them on the shelf, you don't have so much time to go through them carefully. Maybe the question is not about going through them, but having the possibility to go through them. It's a nice feeling.
Well, that's the problem with photography books. You can always go to the library and get the novel you want, but photography books are not that easily available, and when they are gone, they are gone.
Yes, I think photographers should really take care of this – we should all try to get our books to be in libraries, at least in the National Library.
Sometimes I discover books that are already well known, but I discover them for myself. I'm quite impressed by young Ukrainian photography, which is really strong, like the work of Sasha Kurmaz or Synchrodogs, the Shilo Group Euromaidan book. I like books which are about pictures, because photobooks should be about pictures in the first place. Sometimes a crazy design can kill the book. I like simple solutions. But I also like books that are nicely done in a conceptual way, or books that deal with archives in a smart or in a funny way. Frowst by Joanna Piotrowska, the winner of the Mack first book prize. I like this book a lot, it's so simple, very thought through. The project itself is strong, the execution in book form is strong. The books by Erik Kessels with the crazy archives. What else? There is a very nice little book Salix Polaris made by Polish photographer Anka Sielska about her trip to Spitsbergen Polish Polar Station. War Porn by Christoph Bangert – this is not my kind of photography, but it is a great project and a great solution for the book. Highly recommended.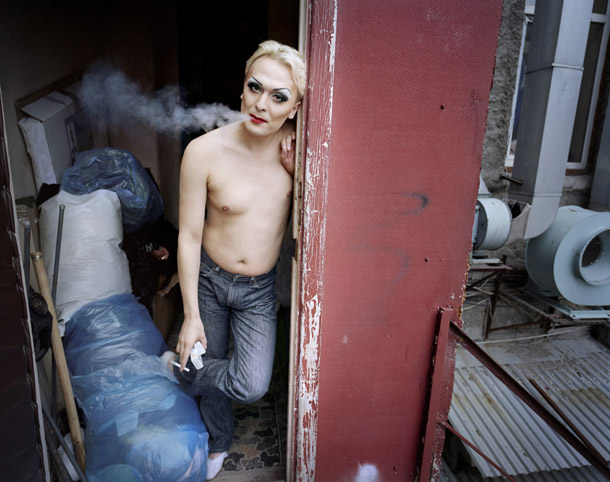 And what's the next thing for you? Ania (Rafal's girlfriend – E.G.) told me you are interested in sculpture.
Yes, this is quite a weird thing. I hated sculpture when I was studying fine arts, actually. It's quite surprising what a loop I have made. I'm really attracted by the sculptural approach in photography, but also by sculpture itself. I would like to do something with sculpture and space. I don't know if I would use photography or not, but I'm definitely into this interaction between sculpture and photography. The project I did in Georgia is kind of an architectural project, and then I did a little story in Belarus about the interior design of ZAGS [marriage registration office – E.G.]. The Georgian project will be very much about the space. So this is next. And, of course, the propaganda project will be developed.
Are you going back to Belarus to make more work?
No, no, Belarus is done. I have to continue the work in Poland I started a while ago. We also want to finish the Sputnik project Lost Territories for the 25th anniversary of the collapse of Soviet Union. We are doing a new project for this year's Hamburg Triennial, working with the archives of three museums in Hamburg and doing some new stuff. Also finishing up the film we started on Iceland last year. The film was an interesting experience, it almost turned everything I thought I knew about photography and storytelling upside down.
Why so?
Because film is much more literal than photography, in terms of construction. It is a bit similar to a book, but a book is much more abstract because it is about the flow, about the stills, while in film you need to have a clear construction to have a proper flow. At least if we speak about short documentaries, not about feature films. There is much less space in between the frames than in still photography, this is the major difference. In terms of storytelling, I'm used to having a more and more abstract approach to photography. The film tilted my perspective a little bit. I'm really curious what is going to come out of it, all the editing and cutting process is still in progress.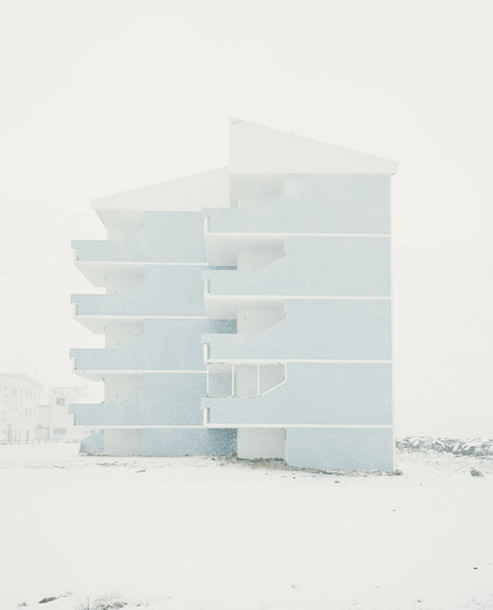 How did the idea of working in Iceland come about, since all the rest of your work is done on Eastern Europe?
Well, this is quite strange actually. We started to work with our project coordinator Marzena who was in love with Iceland and she found this grant. I was quite sceptical about it because it wasn't my interest at all, I would rather use the money to produce something in Eastern Europe or further East. But as we are a collective who lives from grant to grant, we try to use different opportunities, because we have to survive somehow. However, it was a really good experience, so after a few years we decided to go back again to make films. Aside of the fact that Iceland is absolutely beautiful, for me it was super challenging because I have never worked and don't feel familiar with nature photography or photography which doesn't involve strong human traces. Iceland generally is like a big village. I had to find a way to photograph, because visually it was something totally new for me. I always consider myself more as a urban photographer, but I think I managed to overcome this issue somehow.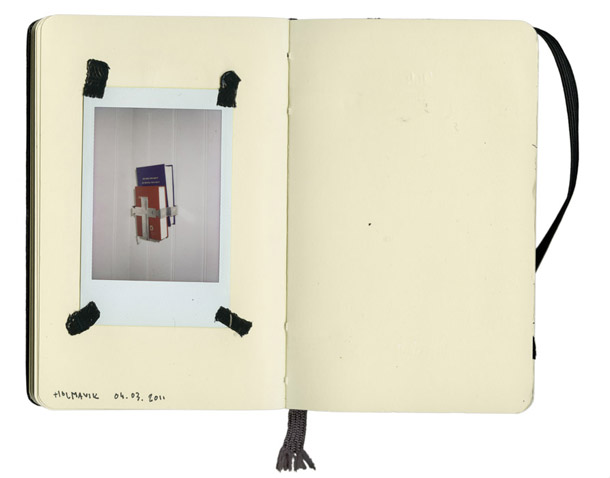 So that's why you used such a wide range of approaches to photography in In The Car with R?
Yes, and that's why this story is so autobiographical. I tried not to show Iceland at all, but to show myself.
And it goes for the writing too. It speaks a lot about photography and the road trip.
Yes. But it's about us, the writer and myself, in the first place, not about the place itself. I don't know if I could work in such a spontaneous way again, but at that time I needed it. It was a very important project in terms of my approach to photography.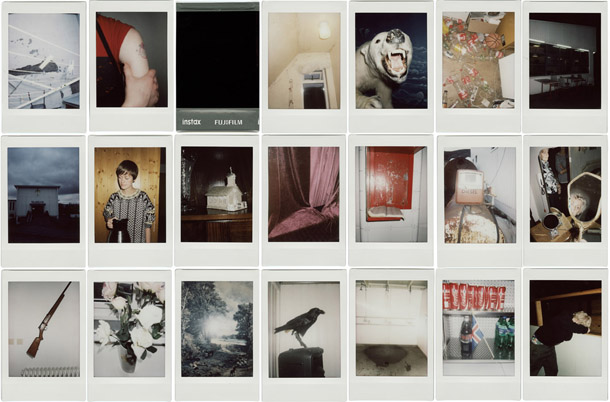 Do you feel like something changed after trying to work in a more personal way?
Yes, definitely. Somehow I managed to rework the approach I had in 7 Rooms, The Black Sea of Concrete or Disappearing Circus. All these stories were based on a similar feeling and they were also pretty much coherent visually. I felt that I had to do something else, otherwise I would be stuck with this one approach. I don't think that's wrong, but returning to what I said earlier – it's much more interesting for me to look for something new and then to find a solution of how to show it.