Interview with Shilo Group
Until 14 June 2015, the Creative Studio of the Arsenāls exhibition hall of the Latvian National Museum of Art hosts an exhibition Euromaidan by Ukrainian artists Sergiy Lebedynskyy (Сергій Лебединський) and Vlad Krasnoshchok (Владислав Краснощек). Both authors represent the Shilo Group, which is considered to be a direct heir of the distinctive Kharkiv school of photography, whose one of the most vivid representatives is Boris Mikhailov (Борйс Михáйлов). Photo series Euromaidan was created over several days, spent by the artists at the Independence Square documenting the protests in Kiev in January 2014. The photobook released a few months later was recognized as one of the best photobooks of the year in the prestigious Paris Photo–Aperture and the Kassel Photobook Festival competitions, but this year the Shilo Group has been nominated for the prestigious Discovery award at the Rencontres d'Arles.
Lately there have been many on-going discussions regarding the information warfare between the West and Russia. How has it impacted you?
Vlad: We gather information, analyse and skim it and try to understand what is actually going on.
Sergiy: The information warfare has various strategic steps. If Russia lowers the bar and openly lies, the West manipulates with the manner the information is provided putting emphasis on some issues and omitting others completely. We are somewhere in-between. In the very beginning Ukraine lost the information war to Russia, because Russian TV channels covered a huge territory of the country. Yanukovych's government supported Russian information politics, therefore, when Maidan broke out, long time had to pass since the channels started to broadcast Ukraine's opinion. We also have propaganda now, but I think it has more rights to exist than the Russian, because it's about survival. It could be defined as the defence propaganda.
What goes on now in Ukraine, started in 2004 after the Orange Revolution. What is currently called Novorossia then was called the South-East Ukrainian Autonomous Republic. Over this decade the information basis was produced, creating various websites and altering the history. Many people have been involved in this project and now we have to deal with it and fight.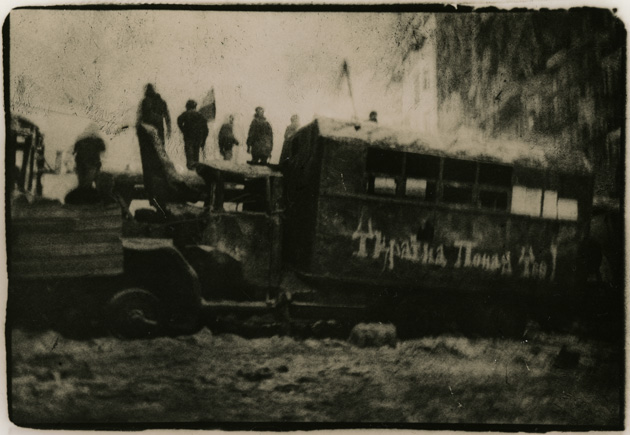 How does the war in Donbas affect Kharkiv?
Vlad: Seeing what is going on just next to us, no one wants the same scenario in Kharkiv. Even those, who are loyal to Russia. In this aspect, Putin has united Ukraine.
Sergiy: In Kharkiv there is a powerful Russian orthodox church and only a few Ukrainian churches over the entire region.
Vlad: Ukrainian churches try to separate from the Russian influence. I can definitely ascertain that.
Sergiy: It's hard to judge, but in Kharkiv it's very obvious that despite the challenging economic situation, new churches appear in the city centre like mushrooms after the rain. Our city mayor exploits this situation for his own good in order to keep his chair. Every time there's election, the religion, language and history cards are played out, as well as the World War II.
Vlad: Lenin's card was already played out (last September in Kharkiv Lenin's monument was destroyed – A.B.)
Were you interested in politics before Euromaidan, too?
Vlad: We were very much interested in the war theme and the Ukrainian Insurgent Army. It is a taboo subject and most of the documents are still confidential and even today we only know what we have been fed to. This subject has always been sensitive and it was interesting for us to play with it.
Sergiy: One of the independent Ukraine's symbols was the Ukrainian resistance movement against sovietisation. When Bolsheviks seized Ukraine, some districts in the 1920s and 1930s fought back, but in the end they all were called the Nazi yes-men. And today, too, all those, who do not want to be together with Russia, are called banderas and Nazi, although we, for example, speak Russian and live in Kharkiv. History is repeating itself.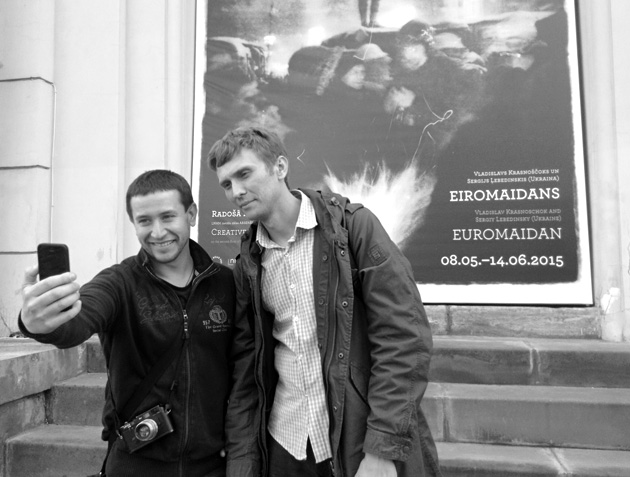 Does mobilisation relate to you, too?
Vlad: Friends and colleagues work in the war zone. If I were recruited, I would go.
Sergiy: Vlad can be recruited anytime as a doctor. I live in Germany, I work there and my daughter attends kindergarten. If I lived in Ukraine, I would not have an excuse to shun.
We all lived with rose-tinted glasses on and thought that there is peace and freedom in the world and that we don't need an army. But it turns out that we do need! Ukraine never expected aggression from Russia, but now it seems – the trouble comes when least expected…
Vlad: Simply the Soviet Union is not dead yet, people waved goodbyes too soon. Russia wants to restore the empire, but it shall not go through with Ukraine. Project Novorossia has also failed.
Have you got a feeling that Ukraine fights the war for the rest of Europe?
Vlad: The main thing is that Europe has to be aware of that.
Sergiy: I cannot really imagine that something like that would go on in Kharkiv. For many people it has been a huge tragedy and nothing can be done about that. First, you must fight for yourself, but Europe has to understand that it is their problem, too.
Vlad: Europe is not fully aware that it's their problem, too. Everyone has forgotten that the World War II was initiated by Germany and the USSR, dividing Poland among them in 1939.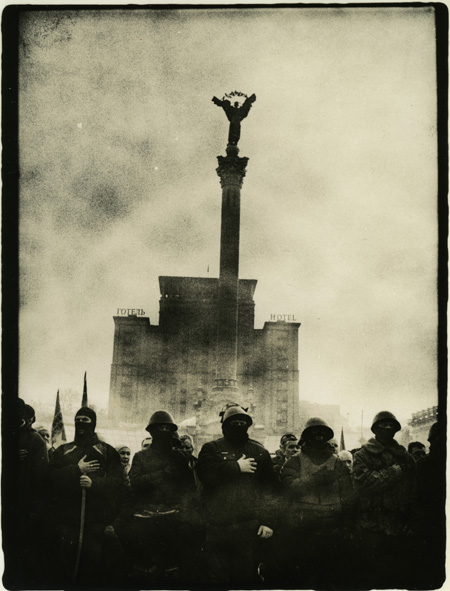 Has your attitude changed towards the 9th of May?
Sergiy: It's the Victory Day. In fact, it was a huge tragedy, since due to the fault of the soviet power structures there were many casualties. The tragedy was replaced with pretentious slogans about the victory. In your childhood you celebrated it with balloons, but now you understand that to speak passionately about the victory over Germany is rather bizarre. Especially, if you compare the living conditions in Germany and Russia. This bombast over the Victory Day is ambiguous.
Vlad: It is a soviet kind of show-off. What I feel sorry for is the fact that those veterans are only remembered on the 9th of May, but they are unwanted for the rest of the time. I still remember from childhood that in the 1980s many war-affected people were on the streets – people with no arms and legs. Now due to the warfare, such people will appear on the streets of Ukraine again, and they will soon be forgotten again.
How has the Euromaidan photo project changed your lives?
Sergiy: For us, it was a logical continuation for our on-going projects. Now it has come to the forefront and is demanded enough. However, we also had other successful projects before this one.
Vlad: Maidan turned out to be the essence for what we did before. In this project we had an opportunity to showcase our knowledge and skills. When we started to take photographs, we knew for all 100% what the result would be like. In the beginning we did not know that it would turn out to be a project, we rather tried to create one powerful photo. Instead, we got more and then the series came along.
Sergiy: Neither we hide something in the drawers. We try to show everything. Recently we had a discussion among ourselves and came to a conclusion that there's no one in Ukraine that could do this better than us.
One of our previous projects was about Timoshenko. When she was arrested and put behind the bars in Kharkiv, which counts as a Russian city, it was unbelievable that there would be people who would go and fight for her. It was clear that she wasn't a saint, however she was imprisoned due to political motives. Till then something like that was out of question in Ukraine, therefore it made people anxious. We shot a provocative series on this subject.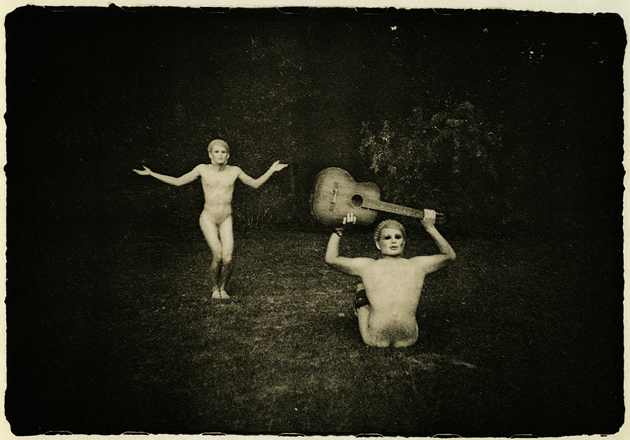 Tell us a little bit about the technical process of your works.
Vlad: We photograph on the black-and-white film, develop it by ourselves, enlarge in bathrooms and labs. Each of us has his own enlarger. Lately we use a certain black-and-white process, which is called the lith-print. We use the photo paper from the soviet times and a high contrast developer that has been liquidized with a great amount of water. Exposure is several times longer than usual. As soon as the image put in the developer is satisfactory, it must be quickly pulled out from the water, washed and fixated. With this technique it's impossible to have two similar images. And it is quite time-consuming.
Was it a deliberate choice to follow the Kharkiv school tradition?
Vlad: In fact there's no such school, as there is no such an institution or faculty that would teach anything to anyone. The Kharkiv school was a group where famous photographers such as Boris Mikhailov, Evgeny Pavlov, Yuri Rupin operated. Initially it was founded as the photographic group Vremya (Time – A.B.), but for a long time it had no successors.
Sergiy: For a school to exist, there must be successors. Nothing like that existed before us, thus, to some degree, we pushed this process forward, as we were decent students. One of our first projects was The Finished Dissertation, when we took Boris Mikhailov's book and pasted our photos in. It turned out to be a gesture in Kharkiv's style. And so we shamelessly claimed that on your (Mikhailov's) images a new generation has emerged and you simply have to get along with it. And that was the time when people started to speak about the Kharkiv school. But now it has become a comfy concept for everyone and we don't have to explain where we are from.
Do you feel that in the West a certain stereotype exists regarding photography from Eastern Europe, namely, that certain themes are expected from you and if you don't satisfy these expectations, you are risking of being unnoticed?
Sergiy: All post-soviet artists are still fed by the Soviet Union theme. It was demanded, when the border was still closed. Unlike photographers abroad, we don't have anything – no market, no schools, therefore creative work is the top priority for us. We succeed due to the image, not because we want to sell something.
Vlad: A crucial aspect is the fact that photography is not the prime source of our incomes. Each of us works in his own profession and we don't have to rate our works as those photographers, who maintain their livelihood with photography. Our situation is far more beneficial.
Sergiy: Sometimes I feel sorry to watch how older photographers try to follow the latest trends and then frantically sell something. It is important to follow your own guidelines, especially, if you are confident of what you do.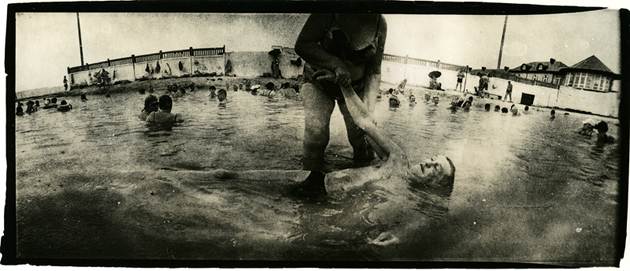 Is Euromaidan a commercially successful project?
Sergiy: In principe, yes.
Vlad: Euromaidan is in many museum collections. It has also been bought by several private collectors. It is a great pleasure to know that your photos are preserved somewhere and become part of the history. You will be gone, but the images will remain.
Sergiy: It is pleasant that your work is appreciated. We have become aware of how small, in fact, the art world is. In 2011 we went to the portfolio review in Moscow and we immediately got accepted for Houston. Somehow we got it rolling from the very beginning.
Do you feel like visiting Donbas?
Vlad: Yes, constantly.
Sergiy: We have some images from there.
Vlad: We would like to show war without photographing war. In fact, Maidan is a catalyst for all those events that take place in Ukraine and the rest of the world at the moment. Nothing is finished yet in this country.
What's the project you are currently working on?
Vlad: The last shots are from the territory of the anti-terrorism operation.
Sergiy: Now we have to work on a book. One of them will be a double-book titled Healing Procedures. One part will contain photographs that Vlad has taken at his work in a hospital, but the other part will contain images from health resorts in the South-Ukraine. We also want to publish Euromaidan, since there are many images that have not been published yet.
Vlad: We have been nominated for the Discovery Award at the Arles Festival. We are hoping to bring a new book with us. We will also have shows at the Tate Modern, the MoMA, and on the Mars…