Interview with Jodi Bieber
It seems, no other photograph has recently become so famous as the portrait of Afghan woman Aisha as photographed by South African photographer Jodi Bieber (1967). The winner photograph of the World Press Photo in 2010 is so popular that even people who are not interested in photography would know it. Currently Bieber is in Latvia and in the framework of International summer school of photography (ISSP) has spent a week teaching on photography in the master class in Pelči, Kuldīga. Today, on 14 August at 6pm together with another lecturer Phillip Toledano she will be giving an artist's talk at cinema Splendid Palace in Riga. Admission is free.
How does it feel here at ISSP?
I am a very good psychologist. I try to help my students to find what they want. It's not so much about me, it's about them. I teach all over the world. I am interested in what young people are coming up with, and also in sharing stories. Sometimes we don't even speak about photography, but about something that's happening in their personal lives that obviously affects photography, too. Landscape here is beautiful! We are staying in a lovely guest house. It is quiet and angelic. And the Latvians I have met are really warm and responsive, and people in the school are very enthusiastic.
Have you seen some Latvian photography before?
No. You know I come from South Africa and for us Latvia is like… I don't even think I have ever seen a single photograph and it's never on news. It's too far from us.
In a way South Africa is also a country in periphery, but in terms of photography you have David Goldblatt…
It's a strong photographic base. If you just look at David Goldblatt, Guy Tillim, Peter Hugo, Roger Ballen, there are a lot of different photographers. South Africans have a strong base to start – because our country is so political and we've got so many issues in our society that we have to talk about. I don't have a word to describe it, but it has more realism in it than fantasy.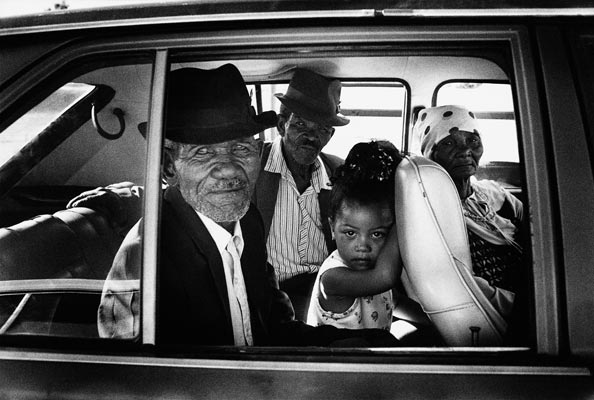 How would you sum up your interest in photography?
I think at the very beginning it was definitely about coming from a middle-class background and photography for me was just a vehicle to be able to explore my country and to see what my country was made of, different communities and people. But at the same time I spoke about different things in my photographs. Like, Between Dogs and Wolves speaks about struggle and the darkness and the light in all of us. When I was in my forties, I did the project called the Real Beauty, because growing to my age I feel better with myself, but at the same time looking at the magazines and thinking – why do we all think that there is something wrong with us? Maybe it has something to do with the way we are presented? I think that it sort of gives me a voice to say what I want to say. I have seen the world and I have been very lucky through my projects and assignments that I have done. I really have seen the good and the bad and it's not so much that I feel I am learning now about humanity, because I've seen a lot. Now I collaborate with the people I photograph to take them slightly out of reality and to look at the issue of identity. For me it is a new way of working completely different from the one before. But that's where I am right now. And I'd like also to explore such things as writing. I have an idea for a book but it takes courage to do it. But it is just a dream for now. And I would like to direct a movie… In some respect photography is not doing it all for me, for me it's about learning and growing as a person.
What were your first series?
I was a photographer at Market Photo Workshop and I went to photograph homeless people living at the Salvation Army. They had an advertising agency and my first work was published in posters and the advertising world gave it an award. And the next was on the crime prevention unit where I spent six months with police in areas that were not stable at the time.
Which year was it?
I am not good with years… In 1993 I started to photograph professionally and now I am 45. It must have been 1990 or 1991.
It was the time when big changes happened in South Africa. How did it affect you?
It was amazing, I was witnessing history. At the time I worked for the Star newspaper. So many things happened that we didn't care if we work or not, we were all part of it. It was amazing but obviously it was also traumatic losing my colleagues – I saw quite a lot of deaths. But it's a big thing to witness history.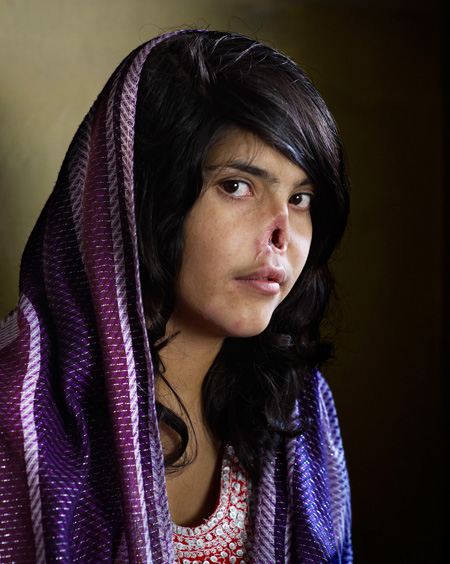 Your best shot – a photograph of Aisha…
It's not the best but it's my most well-known.
But is it your best shot?
Not really… I don't have the best photograph. The one with Aisha is a very significant photograph both for Aisha and for me as a photographer. That photograph has been discussed all over the world for different reasons. Also the fact I went back to America and Aisha was there and seeing her again.. it's probably something that one couldn't believe that it happened. And it's significant for my photography because I have created a lot of bodies of work and this image sort of opened up the doors and a lot of people would say "oh, yes, we remember Aisha". When I was photographing in Shoreditch and Łódź, it was hard for people to give their trust, because as soon as I tell people I took that picture of Aisha, most people know it. It's a picture that many, many people know.
If you look at your work in terms of series, which is the most important for you?
Between Dogs and Wolves – that's my first ten year series. Las Canas, Illegal immigration, Soweto, Aisha, they all are significant for me, there is not one that is more important than the other.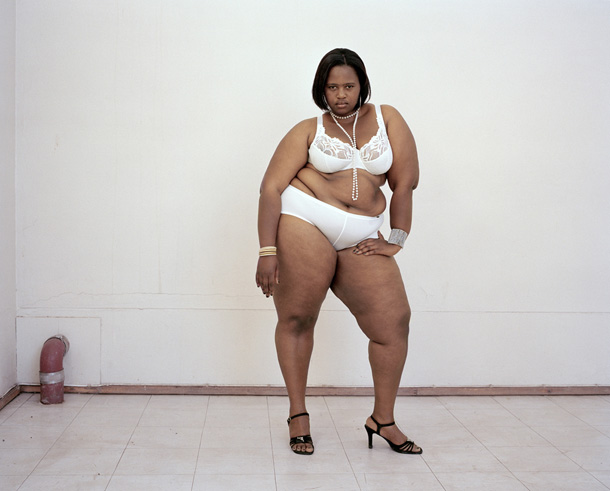 But sometimes when you look back at your work you see it differently…
I have done lots of other work and that work doesn't come with me. I leave it behind. The work that I speak about comes with me every year. I have done a lot. As regards the work that I don't like anymore, I don't look at those files.
How did your life change after you won the World Press Photo?
All of a sudden I was put onto live television and radio. I went to many countries and rather than being behind the camera they were staring at me. For me it gave a chance to explore Jodie the person and also to communicate, because I had to stand on the stages and speak to people about what I was thinking, so it made me look at all my work and think about it. And it gave me the platform to show to people other work that I have done.
Did winning World Press Photo change your life financially?
No, no. Not for me personally. Don't you know everyone wants everything for nothing? It has not changed things financially. But I am very pleased because I have always have been able to do what I want to do. I live a very fine life, I can't complain. I am not a great business person, often it's your own fault for your financial situation.
Isn't that after all that you get creative crisis?
No, I don't find it an issue. I don't see myself as something higher. If you watch me here I very often look very insecure. If I had only Aisha, that would be something else. But I have created a lot of work, and that's not including only assignments. It's more about what I really want so say and that's important. If there is anything I have to say, it's not to do with Aisha, it's more to do with Jodie. And I am doing now two projects. The one in Shoreditch [London] and other in Łódź [Poland] and it's only the beginning. And I can do that even in Latvia.
You have lately moved away from exploring South Africa in your photography…
Sort of, but if I have moved away, it means I have nothing to say right now, and it's fine for me. Maybe I'll become a writer, wouldn't that be nice?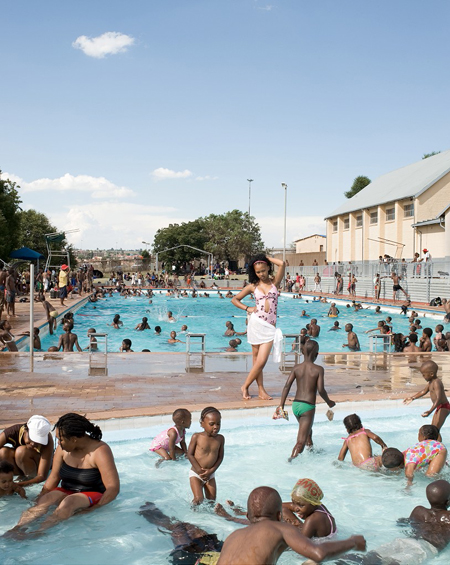 How does your daily schedule look now?
It depends. Just before here I was in Łódź. It was hectic. I did like a million TV interviews plus I photographed. We drove thousands of kilometres in Łódź alone looking for photographs. That was a really intense work for 2 weeks. Then I was home for 3 days. Before Łódź I was in Germany setting up my exhibition. Now I will go home and will have time to be at home. When I am not shooting which is often, I am working on my computer and then I try to see my friends, family, go to movies. Then I will be teaching on the World Press master class again and then I am going back to Poland because with the work that I have been doing in Łódź, they are going to create this art based on calendar. They will sell it to support different children charities in Łódź. But I hope that now I will travel less because I have been on the road all the time for work. I rarely get work for South Africa, it's mainly for international clients. So I travel a lot. And I teach a lot. That is also one thing that has changed with the photograph of Aisha. And I just mentor one student. He won a grant and part of the grant was that he can spend a year with me. It comes from the Market Workshop, that's where I had my training. And I exercise a lot when I can. I go to gym, I listen to iPod and I like music and dance.
Ethics in photojournalism is a big issue. And the question is not just about using Photoshop but also the way images are presented when captions and layout influence the way we perceive reality. What is your attitude?
I don't really see myself as a photojournalist. I believe if you do news that's one thing, but if you create a story line around something, I don't mind interpretations. As soon as you start editing, you're editing the truth and reality, even when you choose what to photograph. There is no real truth, actually. When creating visual narratives or stories around real things, you can start doing it in a very interpretative way, maybe more aesthetical way rather than a literal "this is what it is" kind of way. But you still tell the story be it the artist's statement or written word. I hate that in photojournalism one is looking for the worst of things or clichés. I don't like it. And even if you tell me that you are the purest photographer and working for a publication those publications are often offering their own truth. But if in the photograph there is something that you don't like and you edit it, then I disagree with that.
Every year World Press Photo is won by a picture that portrays sad and horrible events. We can always predict from which geographical region that photograph will come from.
I think you should look at the World Press Photo as a bigger thing in terms as not only the front cover, meaning the overall winner, but to look at different bodies of work. And if you look at different years there has been an evolution, in a way that people are more free to interpret, and the mix between aesthetics and journalism can be incorporated. I think there is evolution. I think even Aisha was something new for World Press Photo.
You have done thousands of interviews. What is the most typical question being asked?
How did you meet Aisha?