10 minutes with Katarzyna Majak
Katarzyna Majak (1972) is an artist and curator from Poland. She has a PhD degree in Photography from the Poznan Academy of Fine Arts. For several years she was a co-editor of a currently non-existent photography magazine Kwartalnik Fotografia. At the moment she is managing the festival Warsaw Photo Days. Majak has also been a successful photographic artist and in her latest series Women of Power captures the earth-worshipping Polish women who are powerful among their particular spiritual sectors.
This year Majak is also one of the jury members of the FK Prize 2016. Emerging Latvian photographers can still apply for the award until 25 April, but the finale will take place on 20 May at the co-working space The Mill.
What is the idea behind the Warsaw Photo Days and how does it differ from other photo festivals in Poland?
The Warsaw Photo Days is a small, thematic festival based in Warsaw. As there have only been three editions, I still consider it a newly established and emerging event. We invite curators to work on the main theme exhibitions. Historical curatorial exhibitions form the most important part of the Warsaw Photo Days. There is a huge traveling show Photo Objects, Female Metamorphoses of the Interwar Period in the Polish Creative Photography of the 1920s and 1930s. Another show is Signature – an overview of artists' hand intervention into their photographs.
As a young festival, we, of course, continue examining what works best. We launched the first Polish edition of Slideluck, a competition for emerging photographers to get their work purchased by the owner of Many Hands Make Light Work. We also organized a performative symposium Gesture Towards Photography at Zacheta National Gallery. During this symposium the process of exploring the images was carried out not only through a discussion, but essentially via the exchange of gestures. All these events were unique in Poland.
Could you characterize the photography scene in Warsaw in general?
Documentary photography is trendy as in many other places in the world. There are amazing people working to deepen photography practice and research. In this regard, I would like to mention the Archeology of Photography Foundation aimed at protecting and bringing to light archives that were left behind by leading Polish photographers. There are so many young emerging talents, numerous photography schools and exhibitions in the most prominent cultural institutions like the Zacheta National Gallery, Museum of Modern Art Warsaw, contemporary centre of art Ujazdowski Castle. On the other hand, not a long time ago yet another private photography gallery Lookout Gallery closed down. It had been running for a few years and I had the pleasure the curate the first show there…
What are the biggest challenges for you as an artist?
The biggest challenge was to find a way to make a living as an artist, not to need to deal with making money in other ways. I do not feel an artist so much any longer. After the Women of Power project grew into a social project with almost 17 000 followers, soon-to-be published extensive book on female spirituality in Poland (which I purposefully call a book and not a photobook), and an online platform of female empowerment, I have become more of a feminine empowerment advocate, women's spirituality expert and I see myself gradually moving away from art making.
Nevertheless this does not mean 'a divorce' with photography, which I continue loving! I keep curating and coordinating shows, work as a curator and advisor for a growing private photo collection.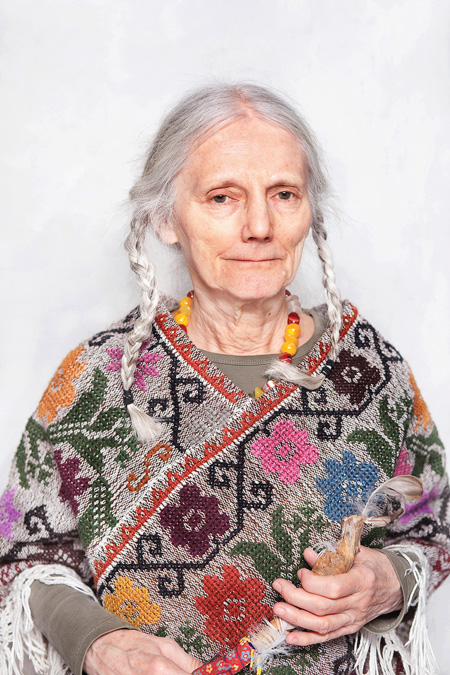 What has been the most exciting or bizarre experience when photographing modern witches?
The whole process of becoming a traveling photographer has been so exciting! Working with strong personalities. As the project has been continued for quite a few years now and I keep including new heroines, I see how despite my effort to keep the series coherent my idea of how the witches "should be" portrayed changes along with my personal growth: the images get softer and more feminine. But the most "bizarre" experience was to never get a chance to photograph a whisperer or "babka" (one of those who live on the Polish-Belarusian border and heal using wax, and the power of prayer), whom I visited 5 or 6 times driving 400 km back and forth. Every time she promised to let me photograph her upon my next visit. The moment came when I had to let the idea go – to my regret she would simply keep sending me away… Quite a lesson of humility.
What is your advice to emerging photographers who have just started out?
Well, I will be very honest and will only say what the experience of having been an artist taught me. Just follow your heart, do not get fixed on the idea of how amazing or unique it is to be an artist. Making art may direct you to places and people who can teach you much more about how amazing life outside the art ghetto is… In other words, treat art as a means to change something in the world, not just feed your own ego.